Promoting Falun Dafa at A Qigong Exhibition in Russia
January 20, 2001 | Russian Dafa Practitioners
[Clearwisdom.net] On January 7 to 14, 2001, the beginning of the first month of the new millennium, Russian Falun Dafa practitioners participated in a Qigong exhibition titled "New Epoch---2001." The exhibition lasted 8 days, and the results were very successful. Falun Dafa practitioners won two awards issued by the Organizational Committee: "Award for the Best Practice Performance" and "Award for the Best Booth Design".
At the exhibition, we met many people who had been "looking for or waiting for something."
Some people said, "I have been thinking of finding an appropriate practice for myself. In recent days, I have been looking around, and I feel only you [Falun Dafa] deserve to be a practice.
Another said, "The field here is so peaceful, may I stay a while longer?"
A family of four from Ukraine had so much interest in Dafa that they came three times to our booth in three days. They were reluctant to leave until they got the Dafa materials that practitioners hurriedly made for them.
During the exhibition, the more people we met, the more we felt that we have done too little. We felt that there are many people with a predestined relationship that haven't obtained Dafa, that there are so many who know nothing about Dafa, and there are still many who are being deceived by the evil Jiang Zemin's concocted lies. We feel that we must try our best to keep abreast of the process of Fa-rectification, and enable more people with a predestined relationship to obtain Dafa.
Meanwhile, we all are increasingly amazed by our Teacher's immense benevolence. We all enlightened that everything is actually the manifestation of our Teacher's immense benevolence.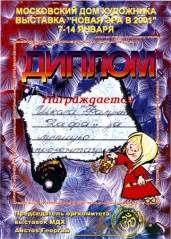 January 17, 2001