U.S. Ambassador at Large Recognizes World Falun Dafa Day on Twitter
(Minghui.org) May 13, 2023 is the 31st anniversary of Falun Dafa's public introduction and the 24th World Falun Dafa Day. The U.S. State Department's Ambassador at Large for International Religious Freedom issued a statement on Twitter on May 13 to celebrate World Falun Dafa Day.

U.S. Ambassador at Large Rashad Hussain made a Twitter statement.
The statement reads, "I am pleased to join the Falun Gong community in recognizing World Falun Dafa Day, a time to remember the peaceful ideals of truthfulness, compassion, and forbearance in solidarity with the many practitioners around the world who continue to suffer for their beliefs."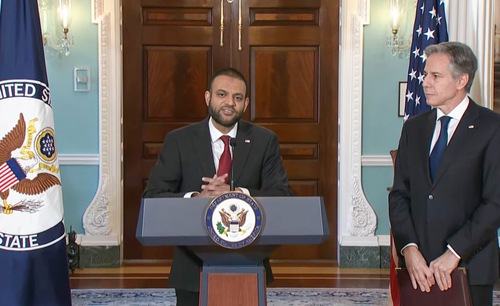 U.S. Ambassador at Large Rashad Hussain speaks in a press conference.
On May 15 this year, the U.S. State Department released the 2022 Report on International Religious Freedom. Ambassador Hussein said at a press conference held that day that the Chinese Communist Party (CCP) had arrested and imprisoned Uighurs and continued to persecute Tibetan Buddhism, Christians, and Falun Gong practitioners, many of whom fled China because of the mistreatment.
He said we needed to redouble our efforts to ensure that everyone's freedom of belief is respected. We will continue to stand with those who seek to live out their faith.
Ambassador Hussein met with representatives of Falun Gong practitioners on April 25 last year at the State Department. He listened carefully to their briefing on the current situation of the persecution and their appeals, and reiterated his support for Falun Gong practitioners and his condemnation of the CCP's persecution.
Hussein said that the CCP's cruel persecution of so many Falun Gong practitioners is absolutely unacceptable and intolerable. He was indignant about this persecution.
All content published on this website is copyrighted by Minghui.org. Minghui will produce compilations of its online content regularly and on special occasions.