Opposite Fates of Two Mothers – Commemorating Mothers Who Have Lost Their Lives in the Persecution of Falun Gong
(Minghui.org) Jennie Sheeks is a young mother in Philadelphia of three children. In 2012, when her children were the ages of 5, 4, and 2, she searched on Google for a stress-relieving practice, and found some information about Falun Dafa.
"I was looking for a way of giving myself more energy to educate and raise my kids, reduce my stress, and make me a calmer mother," she said.
Jennie came to the Liberty Bell and found Falun Dafa practitioners on a chilly morning in January 2012. She recounted, "These nice people started teaching me Falun Dafa exercises. Two months after I began doing the exercises, my chronic health problem, which had made me want to die at times, was completely gone. It never came back. It's such a real and happy surprise. Cultivation in Falun Dafa has greatly reduced my stress, and deeply changed my life."
Six years later on World Falun Dafa Day on May 13, 2018, which happened to fall on Mother's Day, Jennie could not wait to share her happiness with everyone, "Falun Dafa has helped me become a better daughter and helped me become more calm and closer to my kids."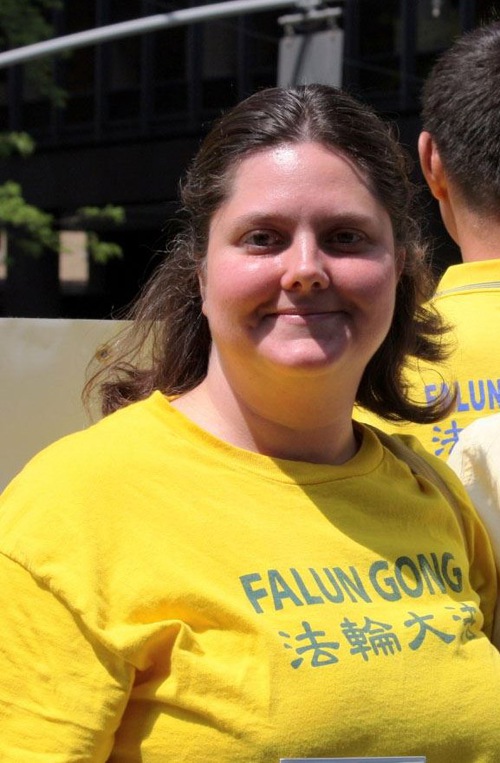 Jennie at the World Falun Dafa Day parade in 2014
In contrast, an 84-year-old mother across the ocean in China was not so lucky.
Three days before Mother's Day in 2017, Ms. Xu Guilan passed away, without seeing her daughter again, as the young woman was incarcerated for her faith in Falun Dafa.
The daughter, Ms. Li Min, had been arrested at her apartment in Dalian City, Liaoning Province on May 25, 2015. She was later taken to the Yaojia Detention Center. On July 1, when Ms. Xu was waiting for the bus in front of the detention center, right after visiting her daughter, several guards came over. They dragged the then 82-year-old for a long distance and threw her into a police car. Although she was released the same day, she struggled to overcome the traumatizing experience for a long time.
But fear did not stop Ms. Xu from making regular trips to the detention center, because she believed that her daughter needed her. For two years, she traveled every month by herself to the detention center to visit her daughter. Each trip required three bus transfers. After a few trips, the traveling proved to be extremely physically demanding for her. She had to save money to call taxis.
During her visits, Ms. Xu either made cash deposits or brought changes of clothes for her daughter. Though her visits were denied sometimes, she still went there, believing that when she was nearby, her daughter could feel that she missed her.
Ms. Xu also went to the police station, procuratorate, and court, trying to convince the police, prosecutor, and judge that her daughter was innocent and tell them about how the practice of Falun Dafa has improved her life.
With insufficient evidence to press charges against Ms. Li, the prosecutor kept her detained and kept returning her case to the police for more evidence. The case eventually made it to the court, but the judge kept delaying announcing the verdict after conducting a hearing of her case.
Meanwhile, Ms. Xu continued to live in fear and anxiety, which took a toll on her health. Three days before Mother's Day on May 11, 2017, she passed away. Ms. Li was later sentenced to three years and released a year after her mother's passing.
Ms. Xu's plight wasn't an isolated case. In the now 24 years of persecution, countless mothers and fathers endured the same agony of losing their children or dying in the persecution themselves. As the 2023 Mother's Day is just around the corner, let's not forget the families who are still suffering persecution in China. But no matter how the Chinese Communist Party persecutes Falun Dafa, tyranny will never conquer faith. May the persecution end sooner and families reunite with each other.
Related article:
A Mother's Gratitude for Falun Dafa
Related article in Chinese:
Views expressed in this article represent the author's own opinions or understandings. All content published on this website are copyrighted by Minghui.org. Minghui will produce compilations of its online content regularly and on special occasions.