Sichuan Woman Now a Vegetable after Suspicious Fall While Serving Time for Her Faith
(Minghui.org) When a Mianyang City, Sichuan Province, woman was released on July 20, 2022, after serving three years for practicing Falun Gong, her family was devastated to see this once-healthy woman had become a vegetable.
Ms. Liao Guanghui, born on February 26, 1953, fell down on March 10, 2021, while incarcerated in Sichuan Province Women's Prison, which is located in the capital city of Chengdu. She has remained unconscious ever since. The prison denied her family's request to release her on medical parole and held her in custody until the end of her term. Due to her prolonged coma, the prison hospital declared that she has become a vegetable.
Because the prison hospital didn't properly fix her skull during the craniotomy, she has a large sunken area on the right side of her head. She also has a suction tube in her throat, a feeding tube in her nose, and a urinary catheter. Her entire body is stiff.
Not knowing how to care for her and remove the sputum in the suction tube, her family took her to a local hospital hours after she was sent back home from prison. A week later at 8 a.m. on July 27, she suddenly had a whole body convulsion and her lips and upper body turned purple. Although she survived after resuscitation, her family worries she may have developed epilepsy due to the injury to her brain.
Arrest and Prison Sentence
Ms. Liao was arrested at home on July 20, 2019, for her faith in Falun Gong, a spiritual discipline that has been persecuted by the Chinese communist regime since 1999. The police spent hours ransacking her home and then took her to the Mianyang City Detention Center.
The Fucheng District Court held a trial of Ms. Liao on September 1, 2020, but her family wasn't allowed to attend. When her son went into the gallery, the judge ordered the bailiff to remove him. While the judge sentenced Ms. Liao to three years with four and a half years of probation at the end of the court hearing, he changed his mind later and revised her term to three years in prison with a 3,000-yuan fine. Ms. Liao was taken to the fifth ward at Sichuan Province Women's Prison on January 21, 2021.
Unconscious after a Fall
Ms. Liao's family received a call from a prison guard and was told to go to the Huaxi Hospital at 5 a.m. on March 10, 2021, to sign permission for her to have a craniotomy. The guard claimed that she "fell and hit her head while using the restroom," but the doctor revealed that she had injuries to her trachea and one of her lungs.
When Ms. Liao's husband, Mr. Li Shuangquan, and her son visited her in the hospital on March 14, her head was wrapped with gauze and she was on oxygen. Devastated to see her in a coma, her son called her, "Mom, mom!" But Ms. Liao didn't have any response, and she didn't even move her eyes.
While she still remained in a coma, the prison guards deceived her family into signing the consent form agreeing to transfer her back to the prison hospital, which had inferior care quality, on March 30, 2021. The guards promised that it would be easier for the family to visit her there, but they never allowed them to see her for the next 493 days or ever responded to their requests, either in writing or phone calls, to release her on medical parole.
Six days before Ms. Liao's scheduled release, on July 14, 2022, her husband demanded the prison cover her medical costs going forward. But the prison refused, saying that they had already spent a lot on her.
Mr. Li and his son went to the prison hospital on July 20 to pick up Ms. Liao. The guards didn't allow them to enter the prison hospital but sent her home in an ambulance. Only then did her family see Ms. Liao for the first time since their last visit to the hospital.
Financial Devastation
While Ms. Liao was serving time, the authorities suspended her pension, citing a policy that bars retirees from receiving benefits during incarceration, although no Chinese labor law has such a stipulation.
Before that, her husband encountered similar ordeals and had his pension suspended between July 2012 to July 2017, when he also served time for practicing Falun Gong.
Now with mounting medical costs for Ms. Liao, her family is facing a dire situation to make ends meet.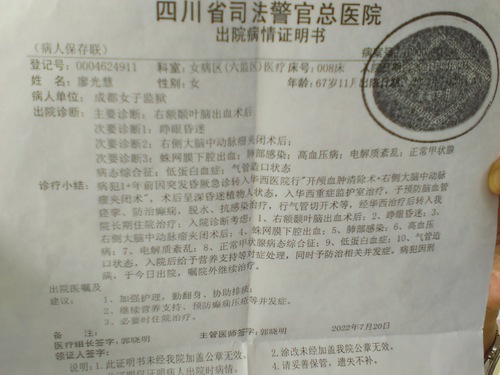 Ms. Liao's hospital discharge summary (in Chinese only)
Perpetrators' contact information:
Wu (吴), prison guard: +86-18010650330Wang Yaheng (王雅恒), secretary of Chaoyang residential committee: +86-13658111840Chen Hui (陈辉), head of Fucheng District Domestic Security Office: +86-13981185400Zhao Yijiang (赵一江), officer, Fucheng District Domestic Security Office: +86-13730702336Rong Quan (荣全), secretary of Mianyang City Political and Legal Affairs Committee and Mianyang City Police DepartmentLiu Shicheng (刘世成), head of Fucheng District Police DepartmentZheng Tao (郑涛), officer, Huayuan Police StationWu Qian (吴倩), presiding judge of Fucheng District CourtHe Mei (何梅), judge of Fucheng District CourtChen Hong (陈虹), judge of Fucheng District CourtLiu Yuping (刘玉萍), clerk of Fucheng District Court
Related reports:
Sichuan Woman in a Coma for Three Months and Counting After Suspicious Fall in Prison
Falling into a Coma 40 Days After Imprisonment, Sichuan Woman Still Unconscious One Month after Brain Surgery
Woman in Her 60s Suffers Brain Injury Two Months After Being Imprisoned, Remains in a Coma
Four Mianyang City, Sichuan Province Residents Recently Sentenced for Their Faith
All content published on this website are copyrighted by Minghui.org. Minghui will produce compilations of its online content regularly and on special occasions.