Denmark: Introducing Falun Dafa in Copenhagen's City Center
(Minghui.org) Practitioners from Denmark and Sweden held activities in Copenhagen's city center on August 20, to introduce Falun Dafa to tourists and local residents. They displayed posters and banners, distributed information about the ongoing persecution in China, and collected signatures on a petition to end the atrocities taking place there.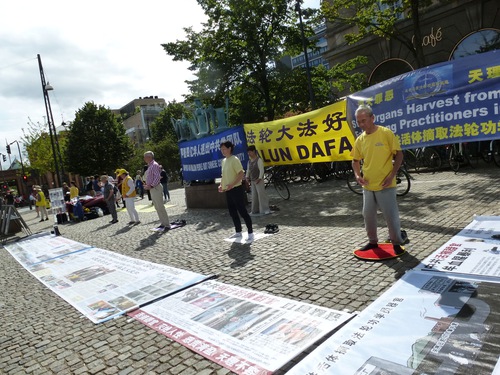 Practitioners demonstrate the Falun Dafa exercises at Copenhagen's city center on August 20, 2022.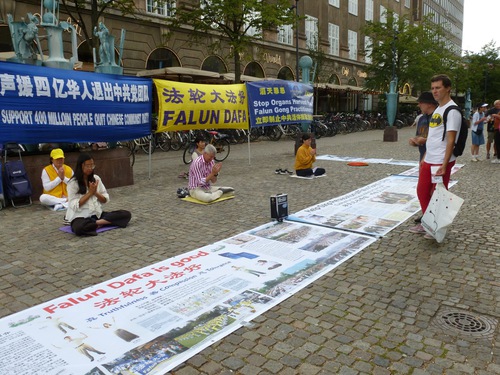 Posters and banners expose the suppression in China.
One of the oldest inhabited sites in Scandinavia, Copenhagen is ranked as one of the most livable cities in the world. The cultural, economic, and government center of Denmark, it attracts tourists from around the world. Practitioners held their event near the Tivoli Gardens, the third-oldest operating amusement park in the world. Many people come here for popular outdoor activities. 
Stopping Brutality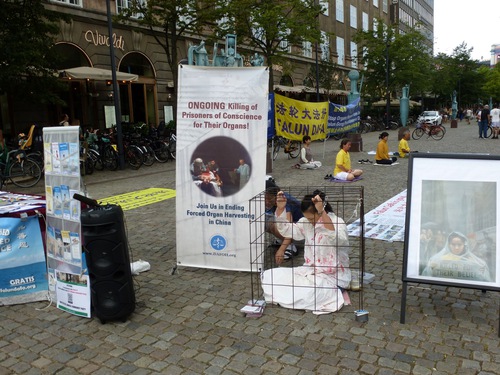 Exhibition exposes the torture of Falun Dafa practitioners in China.
Practitioners put up banners with information in both Chinese and English: "Falun Dafa is good," "Support 400 Million People Who Quit Chinese Communist Party," and "Stop Organ Harvesting from Falun Gong practitioners." They demonstrated the Falun Gong exercises, handed out informational materials and told passersby about the persecution in China. In addition to an exhibition exposing the CCP's torture of Dafa practitioners in China, practitioners performed songs and instrumental pieces, encouraging people to help end the atrocity in China.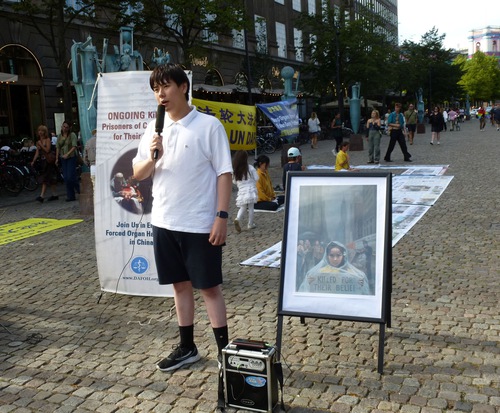 Young practitioner Rui sang a song at a recent event in Copenhagen. 
Carole, a Swedish practitioner who lives in Malmö, explained to people what Falun Dafa is and discussed the persecution in China. "A meditation system based on the principles of Truthfulness-Compassion-Forbearance, Falun Dafa is beneficial for mind and body. Because the number of practitioners exceeded members of the Chinese Communist Party (CCP), former CCP leader Jiang Zemin started to persecute the group in July 1999 and the tragedy has gone on for 23 years."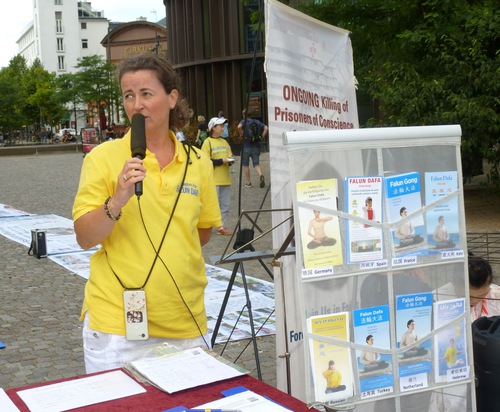 Carole explains what Falun Dafa is. 
"Freedom of belief should be respected everywhere on this planet. We hope more people can help end the brutal suppression against innocent people for their belief." 
"These Tragedies Break My Heart"
The practitioners' event drew many people, most of whom had not heard about the suppression in China. After reading the posters and talking with practitioners, they were shocked to hear that such cruelty still continues in today's China. 
Dafa practitioners tell people about the mistreatment experienced by practitioners in China for their belief. 
Many passersby signed petitions calling to stop the brutality in China. "Events like this are great!" one person said. "Please continue and inform more people about what's going on in China."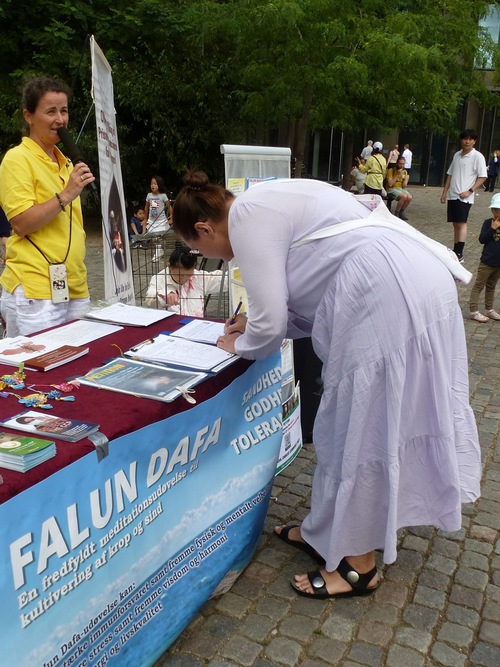 People sign petitions to end the persecution of Falun Dafa practitioners in China. 
When two middle-aged women heard how the CCP kills practitioners and sells their organs for profit, they were in tears. "These tragedies break my heart," one of them said as she signed a petition. The other one hugged a practitioner and said, "We won't forget this."
Two deaf people also read the posters. They communicated with each other using sign language, then gave practitioners a thumbs up. Before they left, a practitioner gave them two paper lotus flowers. They indicated that they were glad to receive the gifts and thanked practitioners by holding the flowers and pamphlets high above their heads.
Background: What Is Falun Dafa and Why Is the CCP Persecuting It?
Falun Dafa (also known as Falun Gong) was first introduced to the public by Mr. Li Hongzhi in Changchun, China, in 1992. The spiritual discipline is now practiced in over 100 countries and regions worldwide. Millions of people who have embraced the teachings, which are based on the principles of Truthfulness, Compassion, and Forbearance, and have learned the five exercises, have experienced improved health and well-being.
Jiang Zemin, former head of the Chinese Communist Party (CCP), perceived the spiritual discipline's growing popularity as a threat to the CCP's atheistic ideology and on July 20, 1999, he issued an order to eradicate the practice.
Under Jiang's personal direction, the CCP established the 610 Office, an extralegal security organization with the power to override the police and judicial systems and whose sole function is to carry out the persecution of Falun Dafa.
Minghui.org has confirmed the deaths of thousands of practitioners as a result of the persecution over the past 23 years, though due to the difficulty in getting information out of China, the actual number is believed to be much higher. Countless practitioners have been imprisoned and tortured for their faith.
There is concrete evidence that the CCP sanctions the harvesting of organs from detained practitioners, who are murdered to supply China's organ transplant industry.
All content published on this website are copyrighted by Minghui.org. Minghui will produce compilations of its online content regularly and on special occasions.