Kuala Lumpur, Malaysia: Locals Hear about Falun Dafa at a Health Expo
(Minghui.org) Falun Dafa practitioners participated in the Tastefully Health Expo held at the Mid Valley Exhibition Centre in Kuala Lumpur from August 5-7, 2022. This expo offered food and wellness and attracted over 30,000 people.
The Falun Dafa practitioners' booth attracted the attention of many people. They wanted to hear more about the Dafa cultivation practice, do the exercises, and experience the preciousness of Falun Dafa.
Practitioners demonstrated the exercises, distributed handmade paper lotuses, and handed out Falun Dafa informational fliers in both English and Chinese. Many locals accepted the fliers and came to inquire and learn more about the practice.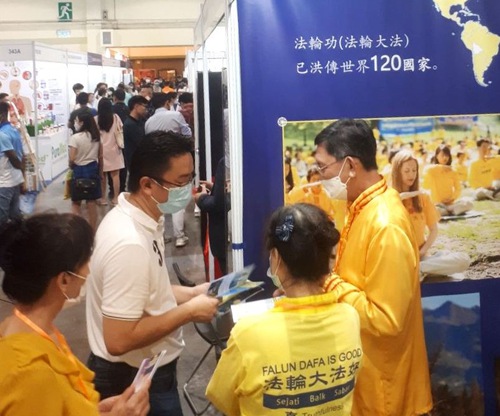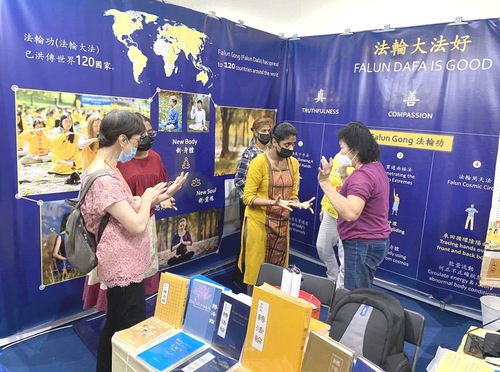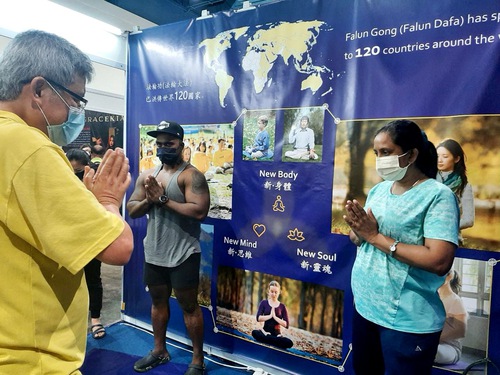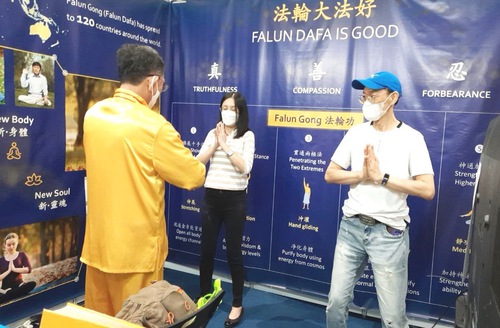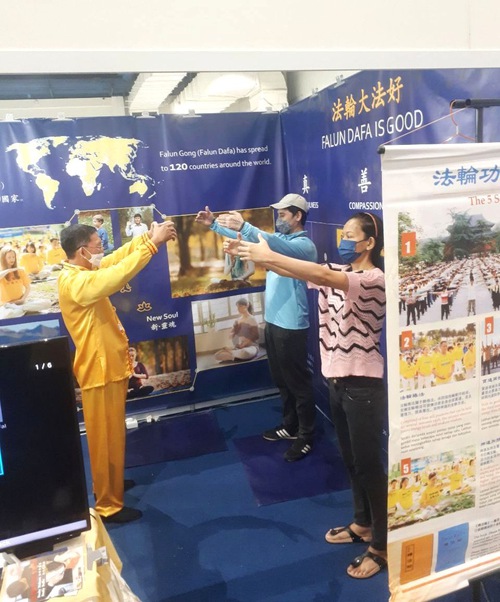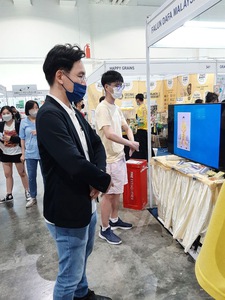 The practitioners' booth attracted the attention of many people. They wanted to hear more about the cultivation practice and to do the Falun Dafa exercises.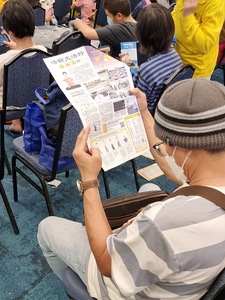 Locals read the Falun Dafa informational fliers.
Streams of people passed by Falun Dafa's booth. The founder of Falun Dafa, Mr. Li Hongzhi, first taught the practice on May 13, 1992, in Changchun, Jilin Province, China. The principles of his teachings, "Truthfulness-Compassion-Forbearance," have guided people to higher moral standards. Falun Dafa is welcomed by people in over 100 countries worldwide.
A mother of two saw the instructional videos of Falun Dafa and said to her son and daughter, "Aren't both of you interested in qigong practice? This is it here." The lady and her two children learned to practice Falun Dafa exercises for almost an hour at the booth.
With the help of the expo's organizers, practitioners were able to demonstrate Falun Dafa's exercises on stage on August 7. Practitioners dressed in yellow T-shirts and white pants demonstrated the exercises, while listening to the peaceful and calm music. They exhibited their synchronized movements. Practitioners seemed like unsullied, pure lotuses in a chaotic world. Many passersby were drawn to the practitioners on the stage, and watched them do the exercises.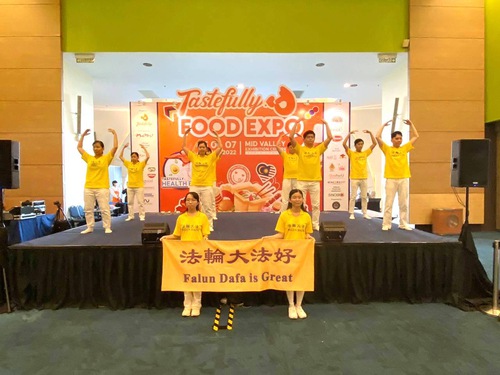 Practitioners demonstrate Falun Dafa's exercises.
A local said, "I truly admire these young practitioners. How can they sit for so long in a state of tranquility?"
Some spectators began imitating the practitioners' movements. A 7-year-old and her grandmother began following along with the practitioners while talking about the practice with each other.
Roseline, a Falun Dafa practitioner from Australia, was very happy to encounter practitioners at the expo. She wished for more Malaysians to study Falun Dafa and benefit in mind and body, just as she did. She began distributing fliers with the practitioners.
All content published on this website are copyrighted by Minghui.org. Minghui will produce compilations of its online content regularly and on special occasions.