Texas: Members of Houston City Council Condemn Persecution of Falun Dafa
(Minghui.org) Falun Dafa practitioners in Houston held a rally in front of the City Hall on July 20, 2022, condemning the Chinese Communist Party's (CCP) persecution which was launched on that date 23 years ago. They called on people to see the true nature of the CCP and to work together to end the egregious human rights violations. Houston City Council members Tiffany Thomas and Letitia Plummer, as well as supporters of Falun Dafa, condemned the CCP for the persecution.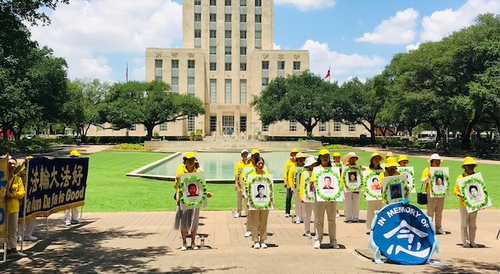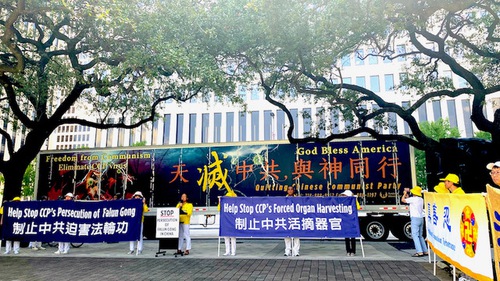 Practitioners held a rally in front of the Houston City Hall on July 20, 2022.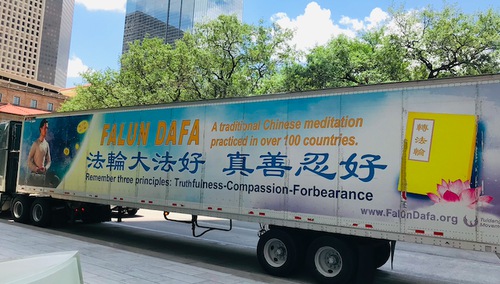 A truck with messages about Falun Dafa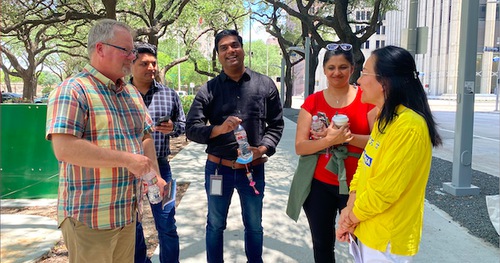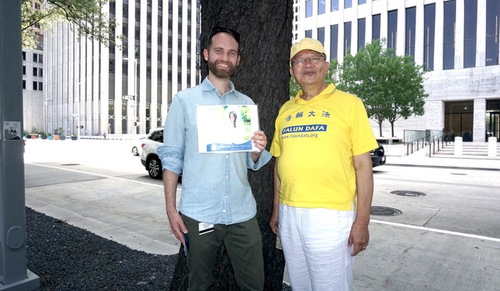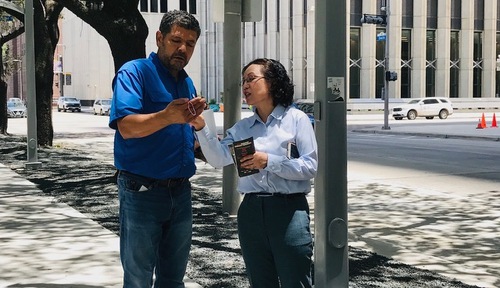 Local residents learn about Falun Dafa.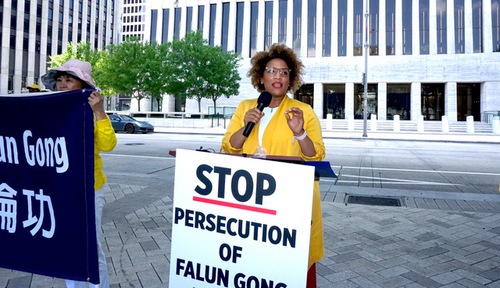 Houston City Council member Tiffany Thomas addresses the rally.
Houston City Council member Tiffany Thomas addressed the rally and said, "Falun Dafa practitioners live in Houston, a culturally and ethnically diversified city. I promote freedom of belief, hope, and pursuit of a better life." She condemned the CCP's persecution of Falun Dafa, and expressed her wish for all people in the world to enjoy their right to follow their beliefs.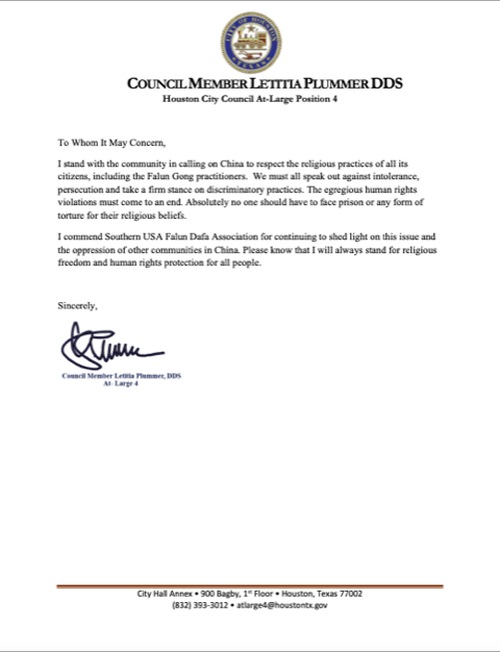 Letter from Houston City Council Member Letitia Plummer
Houston City Council Member Letitia Plummer wrote a letter to the Southern USA Falun Dafa Association, calling on China to respect the religious practices of all citizens, including Falun Gong practitioners. "We must all speak out against intolerance, persecution and take a firm stance on discriminatory practices. The egregious human rights violations must come to an end. Absolutely no one should have to face prison or any form of torture for their religious beliefs."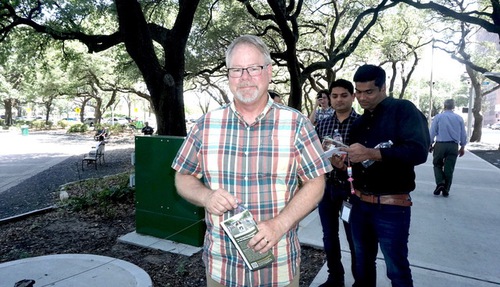 Mr. Tom Lawson attended the rally to support his Falun Gong practitioner colleague. He hoped more people would see how cruel the persecution is and avoid purchasing products made in China's labor camps.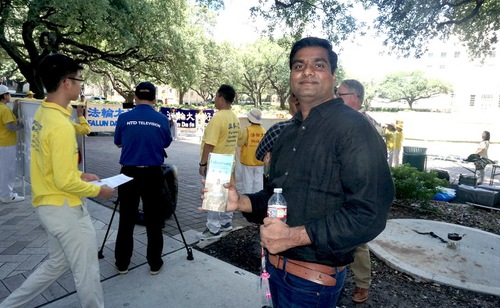 Mr. Sreekanth Nagapanti, an engineer, said he supported one's freedom to do spiritual cultivation practice and praised the rally's message.
Practitioner Ms. Wendy Yang recounted her personal experience of being persecuted. She was incarcerated in detention centers and brainwashing centers four times, and was tortured. "One time, I was handcuffed to a window and deprived of sleep for three days. My husband was arrested and imprisoned when I was three months pregnant. He didn't see our son until he turned one."
Xiaobin Liu, a former police officer in Dalian, China, said at the rally, "I'm here today to testify with my personal experience that the CCP has persecuted Falun Dafa practitioners in an organized and systematic way." He explained how the CCP's organ harvesting from Falun Dafa practitioners had a connection with Dalian based von Hagens Plastination Factory. Its plastination exhibition previously toured Houston. Xiaobin called for an investigation of and an end to the commercialization of such cruelties.
Background: What Is Falun Dafa and Why Is the CCP Persecuting It?
Falun Dafa (also known as Falun Gong) was first introduced to the public by Mr. Li Hongzhi in Changchun, China, in 1992. The spiritual discipline is now practiced in over 100 countries and regions worldwide. Millions of people who have embraced the teachings, which are based on the principles of Truthfulness, Compassion, and Forbearance, and have learned the five exercises, have experienced improved health and well-being.
Jiang Zemin, former head of the Chinese Communist Party (CCP), perceived the spiritual discipline's growing popularity as a threat to the CCP's atheistic ideology and on July 20, 1999, he issued an order to eradicate the practice.
Under Jiang's personal direction, the CCP established the 610 Office, an extralegal security organization with the power to override the police and judicial systems and whose sole function is to carry out the persecution of Falun Dafa.
Minghui.org has confirmed the deaths of thousands of practitioners as a result of the persecution over the past 23 years. The actual number is believed to be much higher. Countless practitioners have been imprisoned and tortured for their faith.
There is concrete evidence that the CCP sanctions the harvesting of organs from detained practitioners, who are murdered to supply China's organ transplant industry.
All content published on this website are copyrighted by Minghui.org. Minghui will produce compilations of its online content regularly and on special occasions.