Paris: Candlelight Vigil Calls Attention to 23-year-long Persecution
(Minghui.org) A candlelight vigil was held at Place d'Italie in Paris on July 20, 2022 to commemorate those killed by the Chinese Communist Party (CCP) in the ongoing 23-year persecution of Falun Dafa. Dafa practitioners talked to the public about the persecution and called for an end to the suppression in China.
On July 20, 1999, former CCP head Jiang Zemin decided to launch a nationwide campaign to wipe out Falun Dafa, due to its growing popularity. Twenty-three years later, more than 4,828 practitioners are confirmed to have died as a result of this persecution.
Place d'Italie is a public space in the 13th Arrondissement of Paris. There is also a large commercial center in the vicinity. Though the day had been rainy, the rain stopped and the sun shone as practitioners prepared for the candlelight vigil. Many people stopped to watch and said they were moved when they learned that practitioners in China are persecuted for living by the principles of Truthfulness, Compassion, Forbearance and worse still, lose their lives. Some said they admired practitioners' courage and conviction. Many people signed the petition calling for the brutalities to end soon.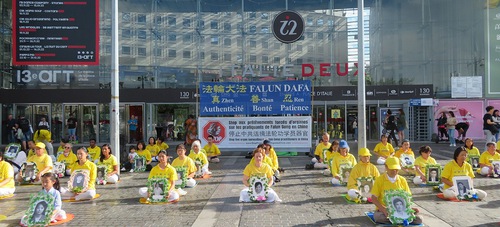 Falun Dafa practitioners held a candlelight vigil on July 20, 2022 at Place d'Italie to commemorate those victimized by the persecution in China.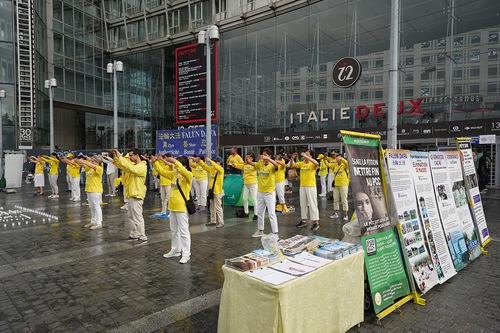 As part of the day's events, practitioners demonstrated the Falun Dafa exercises.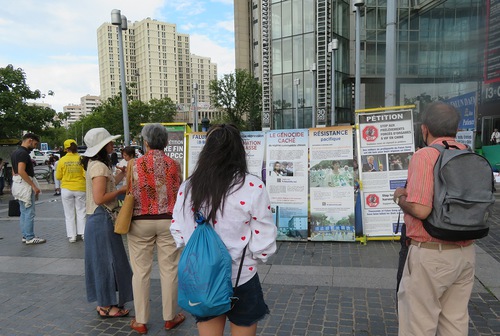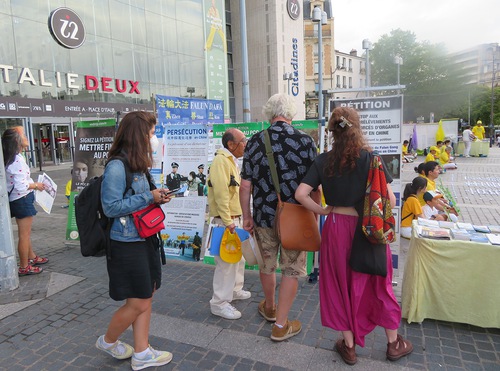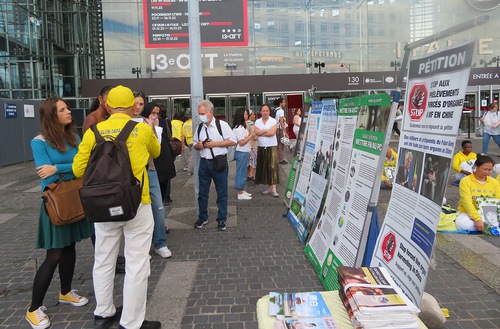 People stopped to read the information and talked with practitioners in order to learn more about Falun Dafa.
It Is Important to Be Aware of the Truth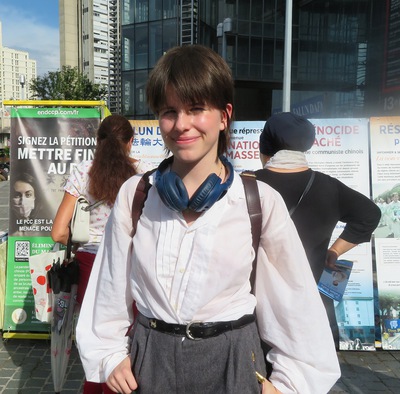 Augustine, a university student, thinks it is important to know the truth.
Augustine, a university student studying animation, said, "The CCP gives me the impression that everything is secret, hidden in places one cannot see, in particular about the pandemic and the persecution of minority groups. They try to cover things up. But we can hear the voices in the background, and know what is happening. So, understanding the facts is important. It enables us to see further. This directly affects our future."
Thomas Rivière, 22, is a university student who works part time while studying marketing. He said, "The persecution began in 1999. More than two decades have gone by, and people are only talking about it now. This is the first time I heard of this—through this event today." Thomas said he was anguished to hear of the brutal persecution.
"France is one of the world's superpowers. Why doesn't the media report on this? I think it is not just because of the CCP, it is a global issue. It also goes to show that organ harvesting has been going on all these years, taking organs from healthy people without their consent; who is benefited from this?
"I think it is strange that we don't know about this. Perhaps we should open our eyes to look outside, beyond the country's borders. In France, people pick over small things yet they are not aware that people in China are losing their lives."
Thomas also believes that, "The CCP wants to turn its Party into a religion so that it is supreme and above the law. This is dangerous for Chinese, Asians and the whole world. When a political party becomes so strong and omnipresent, when it launches a bloody suppression, I think it is a huge risk to everyone in the whole world."
He concluded by saying that he encourages practitioners and those who support Falun Dafa to be brave, and he hopes the persecution will soon end!
All content published on this website are copyrighted by Minghui.org. Minghui will produce compilations of its online content regularly and on special occasions.