New York: Falun Gong March Peacefully Protests 23 Years of Persecution
(Minghui.org) One thousand Falun Gong practitioners gathered in New York's oldest Chinese community, Chinatown in Manhattan, on July 10, 2022, for a march to protest 23 years of persecution, and to celebrate the nearly 400 million Chinese citizens who have withdrawn from the Chinese Communist Party (CCP) and its affiliated organizations.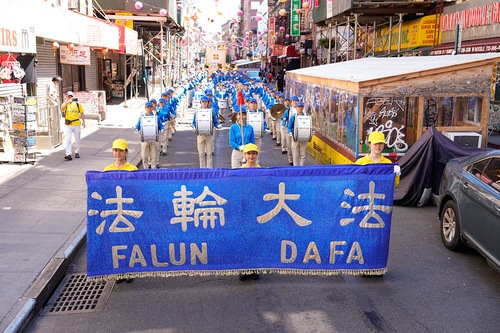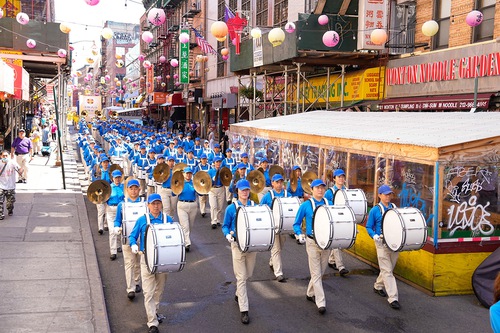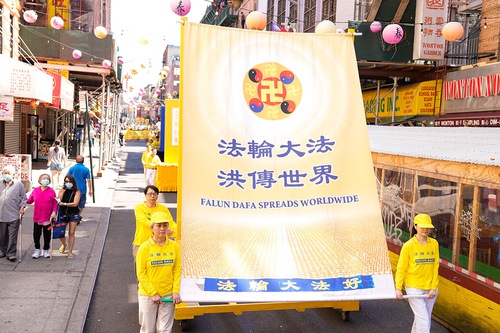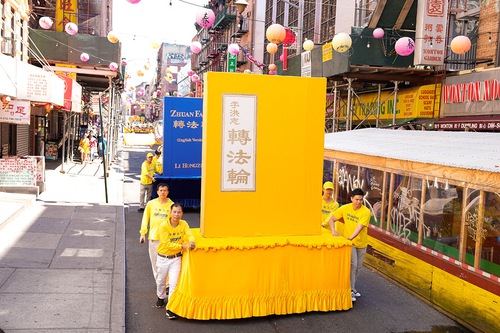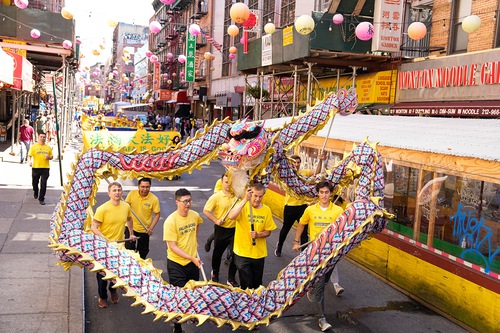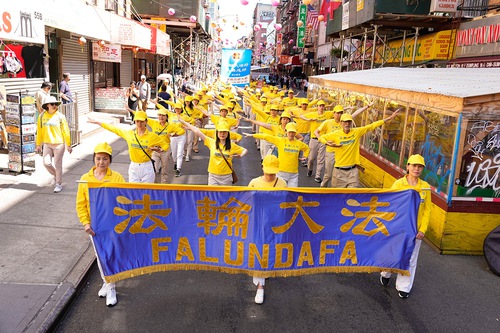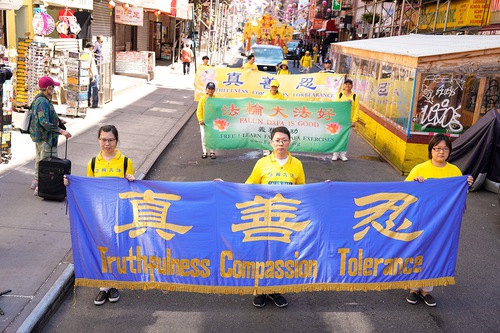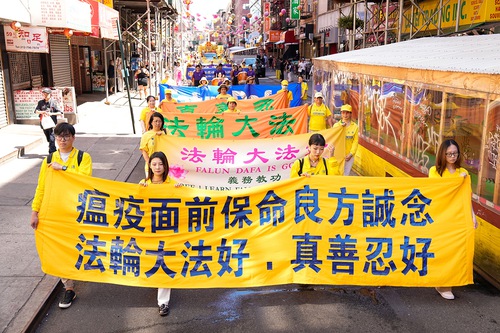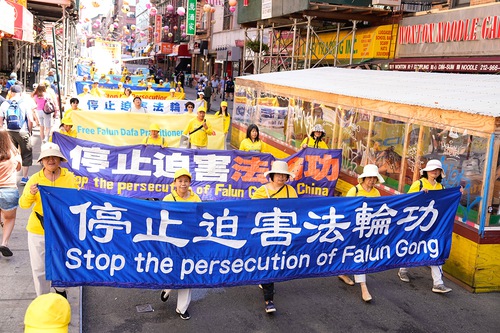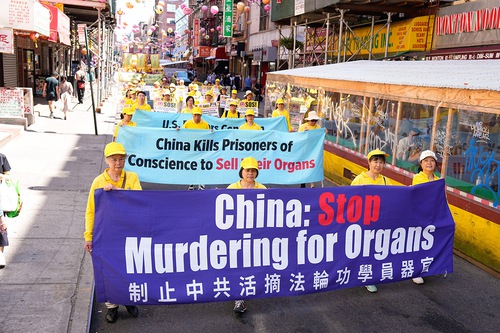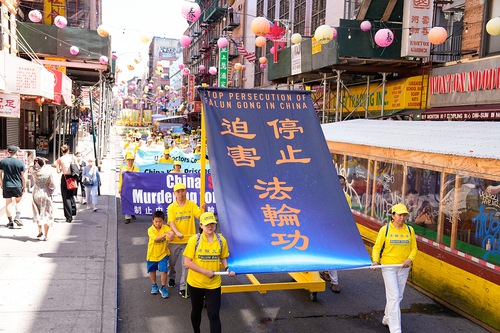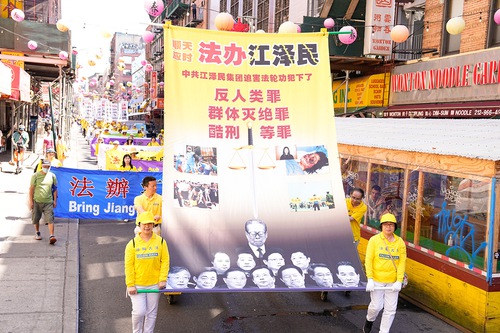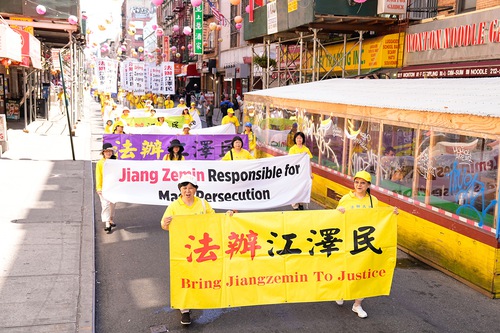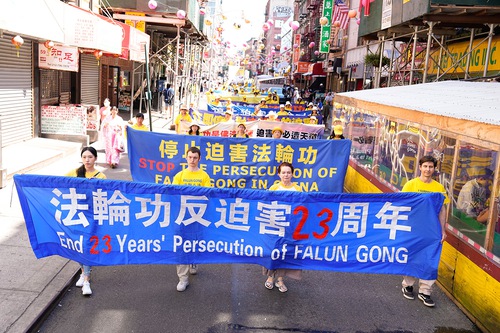 Falun Gong practitioners hold a march on July 10, 2022, in Manhattan's Chinatown to mark 23 years of persecution.
This was the first time Falun Gong practitioners have held a march in Chinatown since 2017, and Chinese residents in the area were delighted to see the event return. A Chinese national said the march could not be seen in China, and if people had been able to practice Falun Gong, also known as Falun Dafa, in China freely, there could have been several hundred million adherents in China by now.
After 23 years of persistent efforts to raise awareness of the persecution, more and more people now support Falun Gong. People approached practitioners to chat and learn more about the practice. An elderly man who was selling vegetables on the street spoke to practitioners, and said, "What a great parade! Falun Dafa is great!" When practitioners suggested he renounce his membership in the CCP, he replied, "I have already done so." He then pointed at the man selling wares next to him and said, "He has quit too."
A middle aged man stopped practitioners and asked, "Why are you holding a parade today?" A practitioner told him that this year marks 23 years of persecution in China. He took a flier and said loudly, "I know all about it. It is very chaotic in China now. China is good, the CCP is bad."
Yi Rong, chairperson of the Global Service Center for Quitting the Chinese Communist Party, was at the parade. She said Manhattan's Chinatown has more older Chinese migrants and some of them have close ties to the Chinese consulate and have been misled by the regime's lies that vilify Falun Gong. It is therefore important to show them how amazing Falun Dafa is and to show them the principles of Truthfulness, Compassion, Forbearance.
Yi Rong said that to date nearly 400 million Chinese citizens have quit the CCP. She said this really is great news and is beneficial for world peace. "We hope the older Chinese migrants in Chinatown rid themselves of the brainwashing by the CCP and realize from watching this parade that many people practice Falun Gong, including Chinese and Caucasians. Chinese nationals should be proud of Falun Gong," she said.
Falun Gong Should Return to China
Chinese residents stood on both sides of the streets watching as the parade passed. Some started reading information about Falun Gong on the fliers from practitioners. Some of the spectators were visitors from China who had recently arrived in the US. Several people expressed hope that Falun Gong could be freely practiced in China soon.
Ms. Chen, 76, came from New Jersey to see the parade. It was the first time she had seen a Falun Gong parade in Chinatown. She accepted a lotus flower with the message "Falun Dafa is good" on it. She said, "Falun Dafa is good, Truthfulness, Compassion, Forbearance is good. I will remember this!"
Fujianese immigrant Mr. Chen arrived in the U.S. six months ago from Changle. He lived on a street next to the parade route. It was his first time seeing so many Falun Gong practitioners, so he took some video recordings to show his family. 
"The freedom one enjoys in America is amazing. There are even police officers protecting practitioners during the parade," he said. Mr. Chen said he knew there are still many people practicing Falun Gong in China, but "this parade is something you cannot see there."
Mr. Yang who lives in the Bronx said it was his first time seeing practitioners hold a parade in Chinatown. "I feel that Falun Gong is righteous because they teach people to follow the principles of Truthfulness, Compassion, Forbearance. This is important." 
Mr. Yang said he learned about Falun Gong from watching New Tang Dynasty Television. 
"Watching the parade makes me feel good, there are many young people in the parade, I welcome them to Chinatown. The whole world now knows about the CCP's persecution of Falun Gong," he said.
A young man named Tom stood on Mott Street watching the parade intently. He said he had seen similar parades on Eighth Avenue in Manhattan and in Flushing, Queens, before. "I welcome Falun Gong to Chinatown," he said, "In fact, their parades should return to China because people there need Truthfulness, Compassion, Forbearance the most."
Mr. Liu had come to America to visit his relatives and was filled with emotion after seeing the parade. "This is truly a free society where people have freedom of belief. This is the kind of social environment humans should have," he said.
"Truthfulness, Compassion, Forbearance are values the world needs," he said. "If everyone follows these virtues, the world would be a better place, wouldn't it? Kind-hearted, righteous people aspire to follow these principles, but we cannot do it because most people will give up in the face of personal gain. That is why Falun Gong practitioners call this cultivation. Only those with firm conviction and tenacity can do it because they truly understand the ultimate meaning of these principles."
Mr. Liu said it is greatly significant to China and the world that in spite of two decades of brutal suppression, Falun Gong practitioners continue to stand up against the persecution peacefully. 
"They uphold moral values in human society. This group of people who believe in Truthfulness, Compassion, Forbearance will raise the moral standards of society. Why are there so many people practicing Falun Gong? It is because they gained the approval of the masses. Because people have kind innate spirits. I hope Falun Gong can return to China someday," Mr. Liu said.
Mr. Chen has lived in Chinatown for more than 40 years and said the parade was wonderful. He said people who practice Falun Gong are composed and talented. He also said the parade brought business to restaurants in Chinatown. 
"I still remember a dozen years ago after you held a parade here, there were many people in a large, local restaurant. Because there are so many of you," he said. "I also remember many years back when you condemned Jiang Zemin for genocide outside the city council office and held an exhibition about the torture practitioners experience during the persecution."
Mr. Chen said he had been a customs border inspector when he lived in China. "If one could freely practice Falun Gong in China, I estimate there would be several hundred million doing it now; because Falun Gong has been around for 30 years, 20 years ago there were already 100 million people practicing it in China [before the persecution started]."
Another man said, "I have been in the U.S. for more than 30 years. I see hope when I see you. You have worked hard. I support you." 
The man then pointed at the children on the float, "Look at these kids, how cute they are. You did the right thing. I was a Communist Party member and fought in a war when I was young. It is a mess within the regime. I recall a phrase that was mentioned in a program on New Tang Dynasty Television: 'Lies written in ink cannot hide the history written in blood.' I think that was well said. I know how evil the CCP is. Thank you for your hard work!"
Practitioners Call On International Society to Help End the Persecution
Falun Gong practitioners from China who experienced the persecution firsthand called for international community to pay attention to the horrific human rights atrocities against Falun Gong that have continued in China for 23 years. 
Han Fei a practitioner from Chongqing said he began to practice Falun Gong in 1994. After the persecution began in 1999, his house was ransacked, he was harassed and threatened and then illegally detained.
His wife was threatened when she was pregnant: "If you don't give up your faith, the baby in your body will be aborted, then you will be sent to a labor camp for three years." Six people in his family were persecuted. Two were incarcerated in a forced labor camp.
Han Fei was incarcerated and subsequently fired from his job at a bank for refusing to give up the practice. He later found a job with a private financial institution and he worked his way up from an ordinary employee to the section general manager of a Fortune 500 company through following the principles of Truthfulness, Compassion, Forbearance. 
Han Fei said, "I hope the international community will pay attention to the brutalities in China and bring about the downfall of the CCP. I also hope Chinese living overseas will treasure this free environment. This is a parade that Chinese nationals cannot see. Practitioners have risked their lives to tell you this precious truth, it concerns your future and we hope you will cherish what we say."
Many Chinese nationals along the parade route decided to quit the CCP. According to figures from the Global Service Center for Quitting Chinese Communist Party, 208 spectators renounced their memberships in the CCP after watching the parade that day.
All content published on this website are copyrighted by Minghui.org. Minghui will produce compilations of its online content regularly and on special occasions.