New York: Falun Dafa Practitioners Shine at Long Island's Memorial Day Parade
(Minghui.org) Falun Dafa practitioners participated in the Little Neck-Douglaston Memorial Day Parade in Long Island, New York on May 30, 2022. Memorial Day is a national holiday which honors those who died while serving the U.S., and also supports active service members' families and veterans.
The parade started off on Jayson Avenue and Northern Boulevard and ended on Douglaston, a one and a half mile-long route. The practitioners' entry consisted of an exercise demonstration, flag team, and waist drum team. Practitioners greeted people and distributed flyers and handmade lotus flowers along the parade route.
The practitioners, dressed in vibrant colors under the intense blue sky, received rounds of applause from spectators. Some took pictures and applauded, while others smiled and called out, "Thank you!"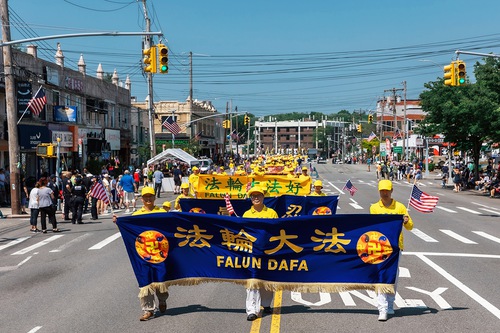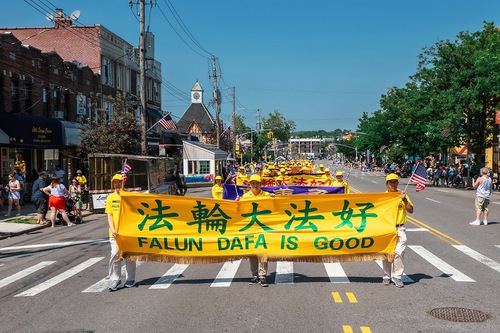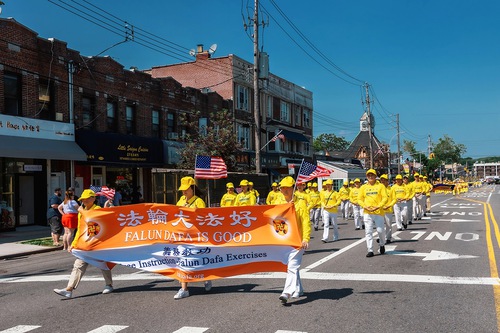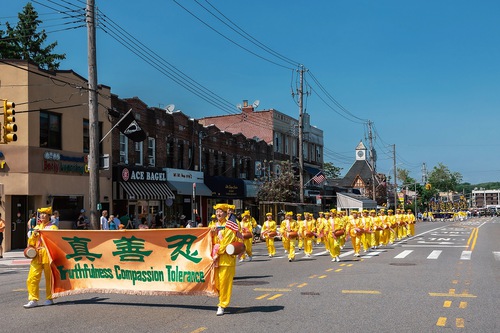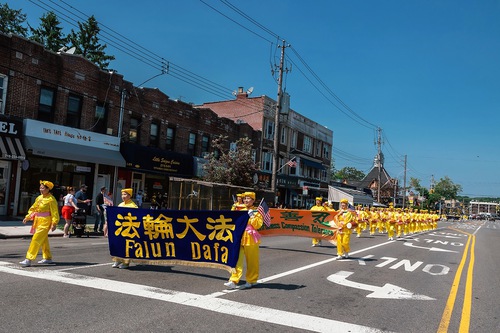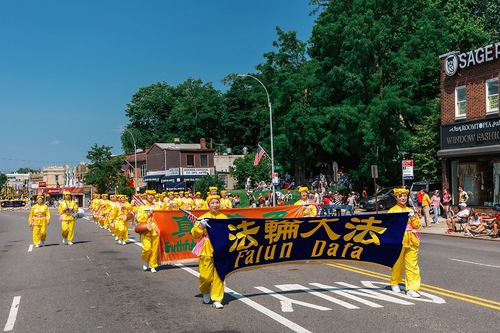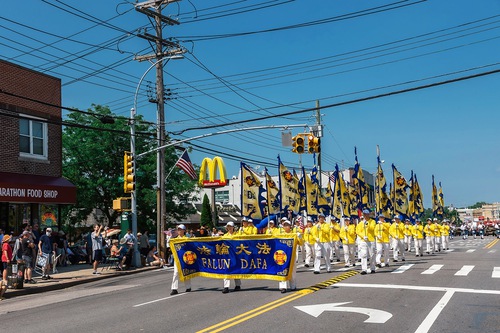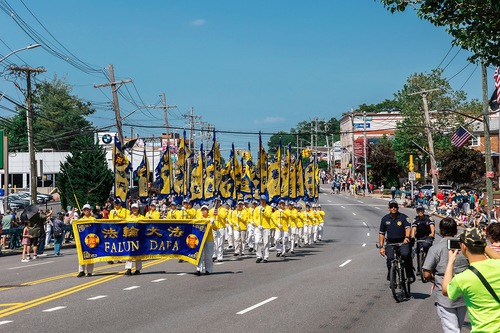 Practitioners participated in the Little Neck-Douglaston Memorial Day Parade in Long Island on May 30, 2022.
Practitioner Michael Yu said, "Falun Dafa practitioners abide by the universal principles of Truthfulness-Compassion-Forbearance. We stand together with veterans promoting peace and traditional values. I hope everyone will have a happy and healthy life. I hope for peace and a better world."
Former New York mayor Rudolph Giuliani also came to the parade, and took a photo with Michael Yu. He said that he knew about Falun Dafa and gave him a thumbs up.
Nancy Yin, a local resident, said after watching Falun Dafa's procession, "I agree with the principles of Truthfulness-Compassion-Forbearance. We should promote these principles. Human society will be in chaos if people aren't compassionate. Everyone should have high moral standards and compassion if society is to thrive. This is very important."
A practitioner told Ms. Yin, "Falun Dafa is good. The most righteous path is one arranged by the Heavens. We need to follow a righteous path."
Ms. Yin said, "COVID-19 is still ongoing and now there is the monkeypox outbreak. No one knows what will come next. Only when people's hearts turn toward goodness will the pandemic subside."
Some spectators happily said, "I am very proud to see Falun Dafa here. Their group is beautiful and splendid!" Others said, "They are the highlight of this parade!"
All content published on this website are copyrighted by Minghui.org. Minghui will produce compilations of its online content regularly and on special occasions.