Theatergoers in Italy, Czech Republic, Austria, and United States Enjoy Shen Yun: "Extremely Moving"
(Minghui.org) From May 22 to 29, 2022, the New York-based Shen Yun Performing Arts presented 29 performances in eight cities in Austria, Italy, Czech Republic, and the United States.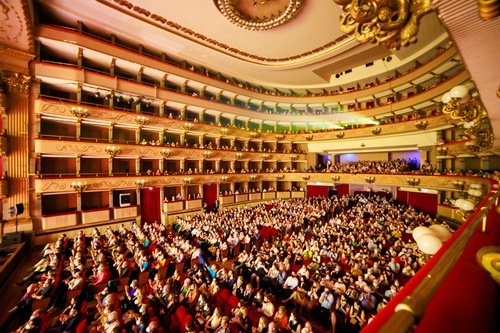 The Shen Yun New York Company at the sold-out performance at the Teatro Verdi in Florence, Italy, on May 28. The company presented five performances in Florence May 25–29, all to packed houses. Tickets were sold out two weeks prior to the performances. (The Epoch Times)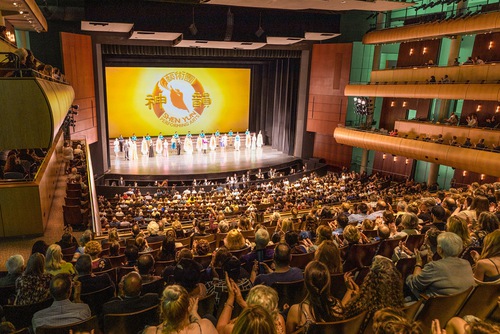 The Shen Yun New Era Company at the DeVos Performance Hall in Grand Rapids, Michigan, on May 27. The company presented two performances in Grand Rapids May 26–27. (NTD Television)
The Shen Yun World Company presented three sold-out performances at the Prague Congress Center in Prague, Czech Republic, May 28–29. (The Epoch Times)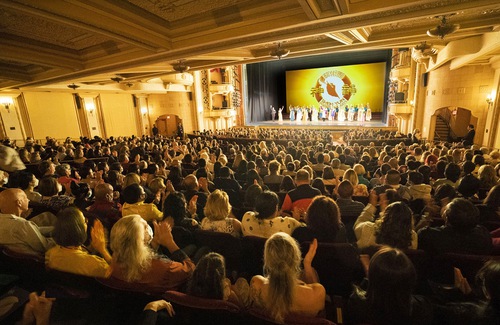 The Shen Yun Global Company at a packed house at The Granada Theatre in Santa Barbara, California, on the night on May 28. The company presented three performances in Santa Barbara May 28–29. (The Epoch Times)
"The Artistic Director Is Definitely a Genius"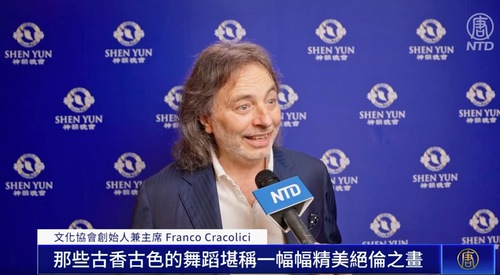 Franco Cracolici at the Shen Yun performance in Florence, Italy, on May 25. (NTD Television)
Franco Cracolici, the director of a school of Chinese medicine, saw Shen Yun in Florence, Italy, on May 25.
Mr. Cracolici sent his compliments to the Artistic Director of Shen Yun. "The Artistic Director is definitely a genius. He's an extraordinary man, and I hope that for many years he will carry on a show like this," he said.
"You Just Look at It in Amazement"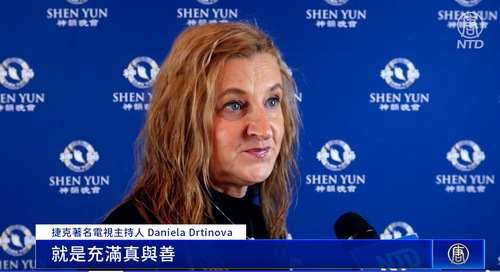 Daniela Drtinová at the Shen Yun performance in Prague, Czech Republic, on May 28. (NTD Television)
Moderator and journalist Daniela Drtinová saw Shen Yun in Prague, Czech Republic, on May 28.
"I have beautiful impressions," Ms. Drtinová said. According to her, the art of Shen Yun dancers is out of the ordinary. "It was just a movement that is completely supernatural. It's something you can't even evaluate anymore or you don't have words for, because you just look at it in amazement."
According to Ms. Drtinová, the performing arts company, whose mission is to restore traditional Chinese culture, which was almost irretrievably destroyed during communist rule in China, conveys profound messages.
"What I perceived most strongly is truth, mercy, compassion, and that is very close to me... What I perceive is what I saw right now—I saw truth and compassion," she said.
"It's the same as when I leave a church that is filled with my faith. I realized at this show that it didn't matter how it was expressed in the end. If the performance or whatever carries these values—values of compassion, of mercy—then it doesn't really matter what religion it is, how it is expressed," Ms. Drtinová said.
"Compassion and Love"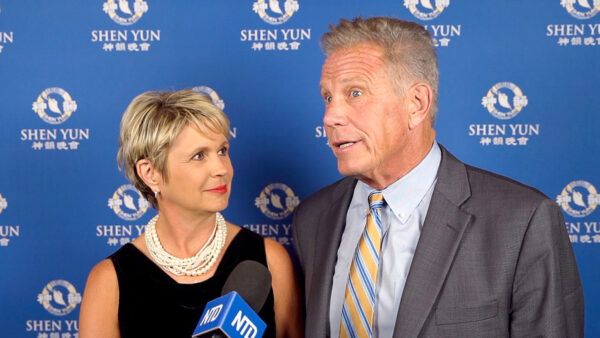 Christy and Bill Vogel at the Shen Yun performance in St. Petersburg, Florida, on May 27. (NTD Television)
Christy Vogel, CEO and Founder of Marketing Direction Outsourced Marketing Experts, and her husband Bill Vogel, a voice professional, model, and actor, saw Shen Yun in St. Petersburg, Florida, on May 27.
"Absolutely fantastic. Everyone is in perfect step. I've seen a lot of Broadway shows, and usually the ones in the back aren't quite as perfect as the ones on the front. Everyone is in perfect step, so everyone on that stage could be the lead dancer, which is very unusual," Christy said.
"It's extremely moving. I think one of the reasons that I feel so moved about it is that when you associate China in present times, you don't think of happy and free and love. And that's everything that we're witnessing on that stage. And the color, the coming together of the people to help each other out, especially in hard times, you don't think about that in present day. So it's so wonderful to be able to see that that was once the way things were.
"I was both impressed and surprised at the religious aspect and the godliness and speaking of heaven—and even showing heaven. Because for me, when you think of China and heaven, that's never been a connection for me. And so to see that they basically went to heaven and brought down the fruits of heaven was really intriguing to me," she said.
Bill said, "I was somewhat disappointed that the individuals in China can't do this type of production anymore, which really is very bad for the Chinese people and for the world as a matter of fact."
Speaking of the messages conveyed in the performance, Christy said, "I think it's relevant now more than ever. Compassion and love, wherever you are in this country and on this planet. With everything going on, we absolutely need more of that now more than ever."
Bill added, "The important component is compassion out there. You can't have enough of that in our world anymore. And it's, again, disappointing that the Chinese people, from what I understand, have taken that out of their daily lives. And that's a core piece of being a human being.
"I think they're trying to eliminate people being an individual and having their own thoughts. And being forced to do and say whatever the government tells them to do," he said.
"Absolutely beautiful and colorful, uplifting, extremely polished. And just a very warm feeling of fulfillment. You can't help but be happy when you're watching the talent on that stage," Christy concluded.
"The whole performance makes you just feel really good," Bill added.
"Shen Yun Gives Hope to People"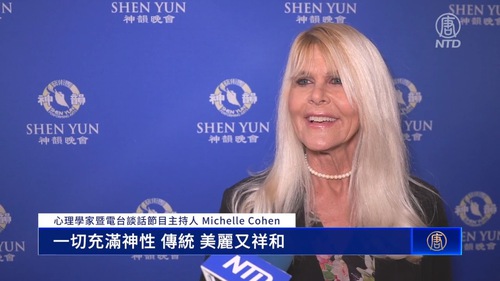 Dr. Michelle Cohen at the Shen Yun performance in Thousand Oaks, California, on May 24. (NTD Television)
Dr. Michelle Cohen, a licensed clinical psychologist, television and radio expert, and talk show host, saw Shen Yun with her husband in Thousand Oaks, California, on May 24.
"I think Shen Yun gives hope to people. Because there is joy. There is sorrow in some of the stories, but the classic, traditional celebrations and the spirituality—I think there's so much joy that it brings to right now in society. Goodness knows we all need that, don't we? And that's, I think, what Shen Yun does for so many people," Dr. Cohen said.
"Joyful, brilliant, and I feel really good. We left the theater, and my husband and I were talking about the energy. When we went in, we were kind of like, 'Okay, we'll see how this goes.' When we come out, the energy of everyone is so bright. People were talking about 'Wasn't that amazing,' 'I don't want to leave the theater.' So, it was great.
"I was really moved by situations that were going on before communist China and how spiritual and traditional and beautiful and gentle everything was. So I was really touched by that as well. Yes, it was really moving in so many scenes.
"It was breathtaking, just beautiful, absolutely, splashes of colors, and the music started, so it was, 'Wow, I'm live. It is here right now.' And this is beautiful. So I loved it," she said.
"It Was More Than Worth the Flight and the Drive"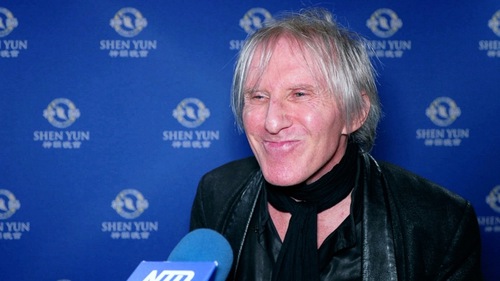 Jed Leiber at the Shen Yun performance in Santa Barbara, California, on May 28. (NTD Television)
Jed Leiber, CEO of NightBird Music, saw Shen Yun in Santa Barbara, California, on May 28. He said Shen Yun is the kind of experience that is worth getting on an airplane for.
"I didn't know what to expect, except that it was more than worth the flight and the drive to make it two minutes before the doors closed. So I'm glad to be here," Mr. Leiber said.
He said he enjoyed Shen Yun's utilization of technology—the company's patented technology that allows for the interaction of animated projected backdrops with the dances on stage.
"The marriage of the... performance with technology was seamless... I don't think I've ever seen anything quite as extraordinary, and I come from a place where I've seen a lot of musical theater in New York," he said.
Mr. Leiber praised Shen Yun's story-telling through the dances, saying it's a difficult feat to communicate a storyline through dance movements, something the company does masterfully. "To see the stories told with movement alone, and convincingly, I thought was pretty special," he said.
He also commented on Shen Yun's ability to tell stories with a wide range of emotions. "There's comedy in the production as well. So everything has the yin and the yang, everything has both, and I think to see that in one production is quite remarkable and must have taken a whole lot of rehearsals because that's usually my job," he said.
He added that he enjoyed seeing Shen Yun explore themes that some shy away from. Shen Yun features pieces that show contemporary China and the persecution of spirituality by the Chinese communist regime. "Kudos to the production for having the courage to speak up," he said.
There was a lot of precision in the choreography, Mr. Leiber added, and meaning to the movements.
"I noticed things... as subtle as the hands of the dancers, and whoever did the choreography was so precise. The relaxation of the fingers and the hands meant something," he said.
Mr. Leiber also marveled at the costumes, which he described as "stunning," praising the fabrics and all the colors.
"That was a treat... What I saw almost rejuvenated my love for dance," he said.
"Athletic and Beautiful at the Same Time"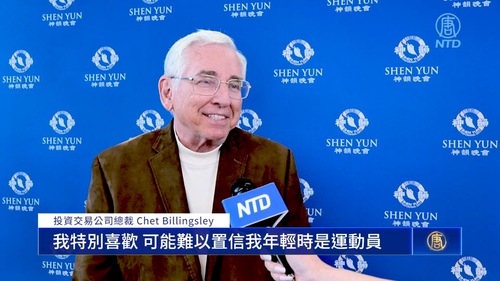 Chet Billingsley at the Shen Yun performance in Dallas, Texas, on May 29. (NTD Television)
Chet Billingsley, the CEO of Mentor Capital, Inc. (MNTR), saw Shen Yun in Dallas, Texas, on May 29.
"I thought it was fantastic. It was very athletic and beautiful at the same time. It was interesting to me that it displayed a nicer tone of modesty, compared to many things that you see today. It was very refreshing," Mr. Billingsley said.
"I especially liked... When I was young, I was an athlete. And they had one particular fellow there that did six full-split jumps one after another, after another, after another. Anybody can jump up and touch your toes out to the side, but not a full split, and not six in a row, and not that high.
"The traditional values will, I think, help anchor society and prevent a lot of the problems that come up from drunkenness and drugs and a lack of morality that is sort of rampant in many places throughout the world. And this is a good example of, it's a different culture than of course I'm used to, but it's a wholesomeness that is expressed in a very beautiful way.
"There's a saying that 'power corrupts and absolute power corrupts absolutely.' I thought that was conveyed very well, even though it was done in an artistic way. The transfer of money and bribes, which always degrades the society as a whole, was very nicely done. And some of the real problems of organ harvesting that actually exist. A lot of my background is medical. And I know that it's very tempting because any organs are very valuable. People will pay almost anything. And if you can just take it from someone because you don't like them—that is a great injustice against humanity.
"I happen to live in a region of the United States where the show wasn't available for ten years. And I wanted to see the show for about a decade, almost a little bit after it started. And now since I just moved to Dallas, it showed here, and I immediately got almost-front row orchestra seats. And if anyone wants to see some great artistic work and appreciates the arts, you should definitely make chances as quickly as possible to come see the show. It is a great expression of culture and the arts," he said.
"Extremely Exquisite"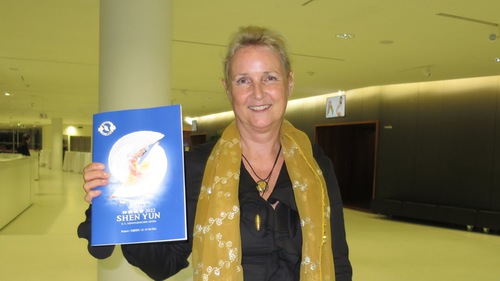 Susanne Schulze at the Shen Yun performance in Bregenz, Austria, on May 24. (The Epoch Times)
Journalist Susanne Schulze saw Shen Yun in Bregenz, Austria, on May 24.
"The colors and expression were all extremely exquisite. Now I understand why it's named Shen Yun – 'the beauty of divine beings dancing.' What I saw was indeed so," Ms. Schulze said.
"The show kept reminding us that we were once all divine beings. We're now in the last moment but will come out of darkness. It also reminds us that we should work together. We were divine beings. This is why we can live on earth. We used to be divine beings, and we should have this awareness and treat it with heart," she said.
"A Fantastic Performance"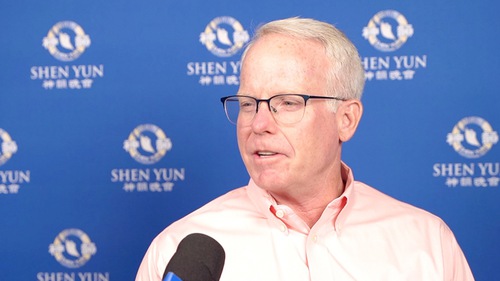 Greg White at the Shen Yun performance in St. Petersburg, Florida, on May 26. (NTD Television)
Greg White, a budget analyst at the U.S. Special Operations Command, saw Shen Yun in St. Petersburg, Florida, on May 26.
"I thought it was a fantastic performance. I really appreciated the spirituality, symbolism that they brought into the show, and that sort of theme. I thought it was very well done," Mr. White said.
"I also appreciate the deliberate attempt to cast communism in a bad light, and elevate the people of China above that, and all people really. It was a refreshing, unexpected angle that I wasn't anticipating.
"The angle of a divine Creator being in control and attempting to make things harmonious, and eradicate evil, and the triumph of good over evil.
"I thought it sent a message of hope, that we all are sprung from something that is greater than ourselves. And it's our mission to become closer to the divine, to God, and to make things better for all humanity," he said.
Upcoming Performances
Shen Yun continues its 2022 tour with upcoming performances in Frankfurt, Germany, June 2–3; Milan, Italy, June 4–12; Montpellier, France, June 5–6; Houston, Texas, June 3–5; Knoxville, Tennessee, June 7; and Chiayi, Taiwan, Jun 7–8.
For more information on tickets and dates, please visit https://shenyun.com.
All content published on this website are copyrighted by Minghui.org. Minghui will produce compilations of its online content regularly and on special occasions.