Ontario, Canada: Introducing Falun Dafa at the Guelph & District Multicultural Festival
(Minghui.org) The Guelph & District Multicultural festival was held from June 10-12, 2022 after being closed down for two years due to the pandemic. The event attracted crowds of people from surrounding regions, eager to experience different cultures and cuisines.
Falun Dafa practitioners have been participating in this annual event since 2006. As the Falun Dafa booth has always been popular with festival attendees, the organizers warmly welcomed Dafa practitioners again this year. Many people came forward to ask and learn about the practice over the course of the three days. They learned that Falun Dafa is a traditional Chinese way of cultivation, based on the principles of Truthfulness, Compassion, and Forbearance.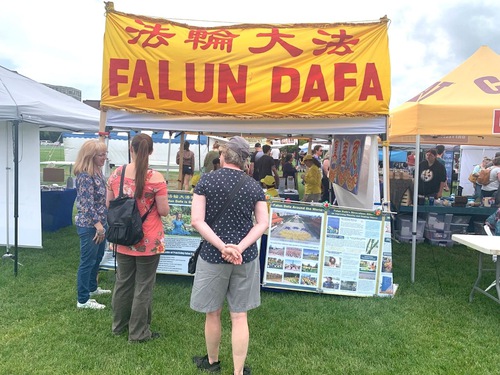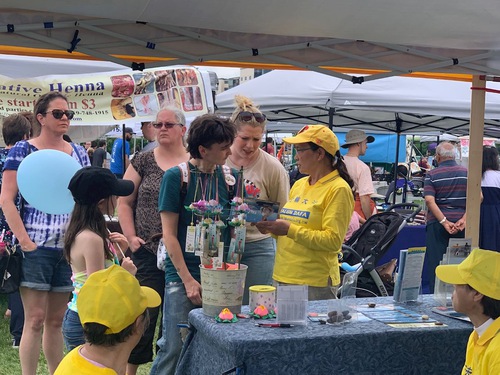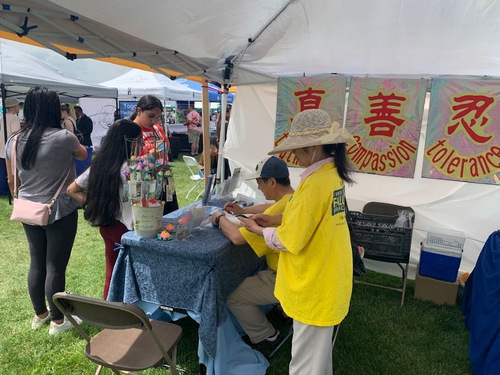 People learn about Falun Dafa at the Guelph & District Multicultural Festival.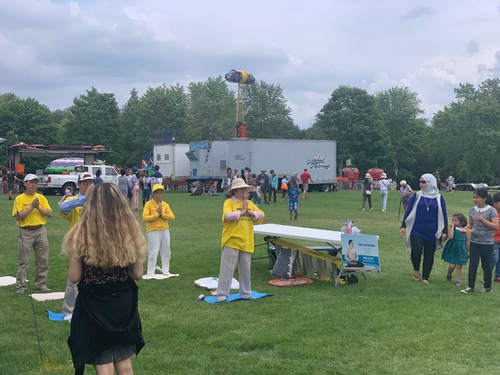 Practitioners demonstrate the exercises at the festival.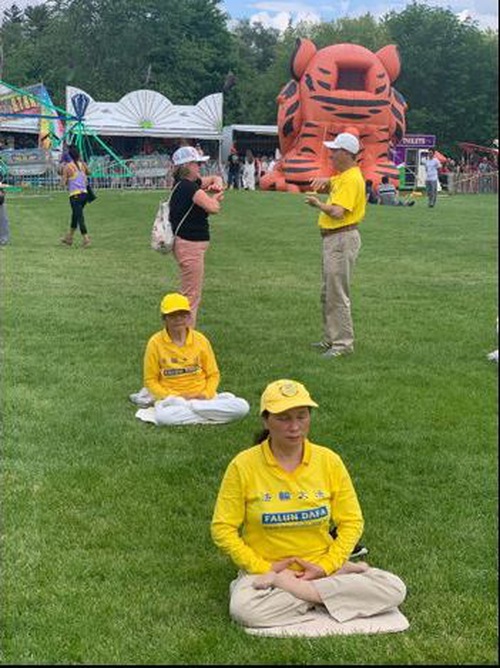 A festival attendee learns the exercise movements.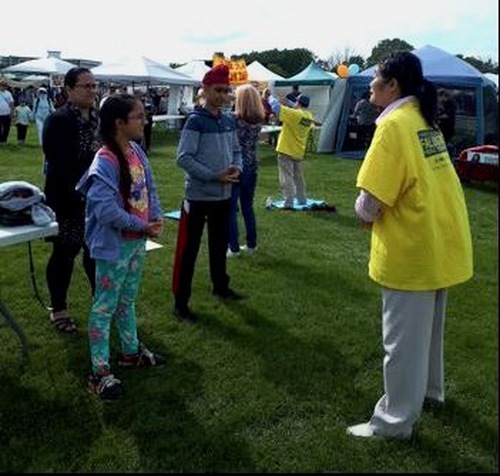 A family from India learns the Falun Dafa exercises at the festival.
Ms. Vikashini, from India, asked about the teachings of Falun Dafa when she stopped at the booth. She also asked if children could practice Falun Dafa. Ms. Liang, a practitioner, replied that people of any age can learn Falun Dafa, and it is beneficial for children's development. The woman promptly called her two children over and the whole family learned four sets of exercises from Ms. Liang. They also noted the website address for learning the exercises online so that they could continue doing them in the future.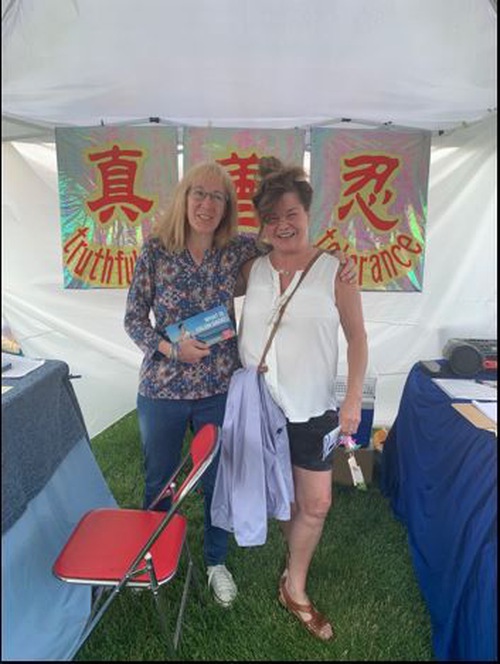 Debrah (right) took a photo with a practitioner.
Another visitor to the booth, Debrah, told practitioners that she has been meditating for a long time, but she stopped for some time due to the pandemic and a number of other reasons. When she saw the Dafa booth, she said she wanted to learn the Falun Dafa sitting meditation. She said that meditation helps her find peace. Before leaving, she left her contact information and hopes to learn how to meditate with Dafa practitioners soon.
Ramandeep came to the booth again on Sunday. She told practitioners that when she'd dropped by on Saturday, there were too many people around, and there was a queue waiting to receive a drawing to have their name written in Chinese characters. When she came by this time, not only did she receive information on the mind and body practice, she also won a drawing to have her name written in Chinese.
Jane is a new practitioner from Beijing who has been practicing Falun Dafa for over a year. She learned many things at the event. Most importantly she was delighted to see so many people wanting to learn Falun Dafa.
All content published on this website are copyrighted by Minghui.org. Minghui will produce compilations of its online content regularly and on special occasions.