Istanbul, Turkey: People Learn the Falun Dafa Exercises at the Istanbul Environment Festival
(Minghui.org) Falun Dafa practitioners in Istanbul, Turkey participated in a three-day Environmental Festival. It was held by the Kadıköy municipality in Freedom Park from June 3-5, 2022. The practitioners' peaceful exercise demonstration attracted many people, who showed their interest in learning the exercises.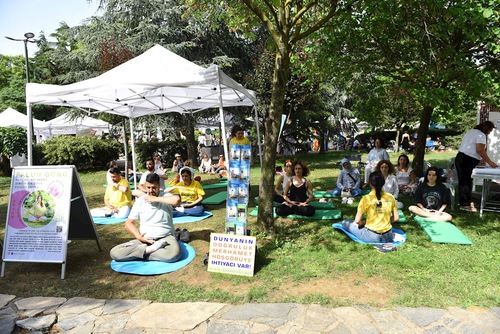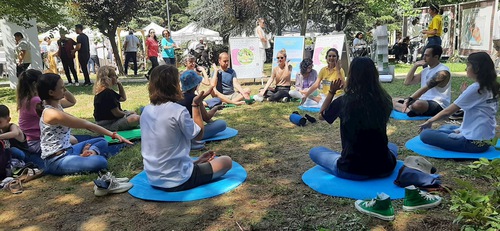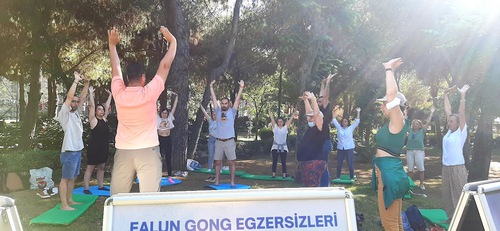 People learn the Falun Dafa exercises
Nebahat Öztas Learns the Falun Dafa Exercises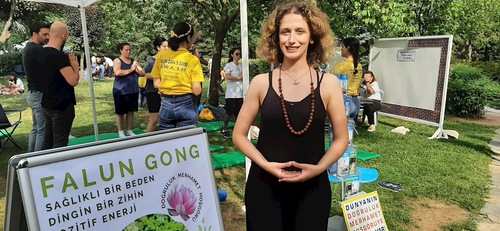 Nebahat Öztaş, a digital design specialist, is taught the Falun Dafa exercises.
Nebahat Öztaş, a digital design specialist, and also a yoga instructor, stated that she had heard about Falun Dafa from a friend some time ago. She realized that it was a higher-energy exercise for the mind and body, and decided to find out more about it.
She shared how she felt after doing the exercises, "I felt the meditative effect of the exercise, and serenity, I felt that many energy channels in my body were opened and I became part of the energy. The calmness, integrity, and the effect of the Falun Dafa music was amazing, especially when I focused on the music, I felt much lighter."
Mrs. Selda Felt Amazing When Doing the Exercises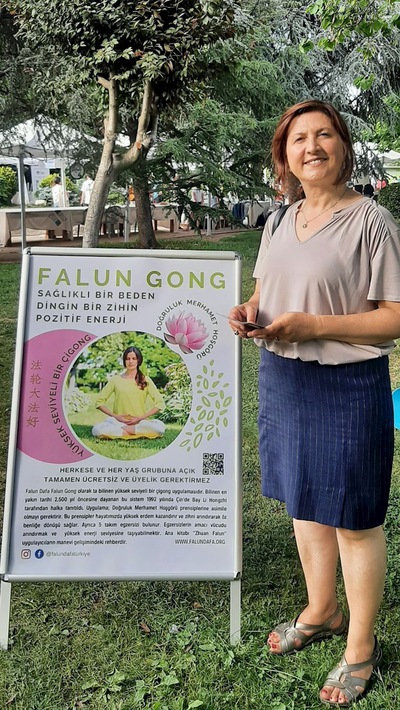 Mrs. Selda, a retired chemical engineer
Mrs Selda, a retired chemical engineer, said, "I felt relaxed when doing the exercises. I have done other meditations in the past, and thus I am not a stranger to meditation, I do it all the time. You feel at ease, and you feel filled with energy when doing the Dafa exercises. Thank you."
Twelve-Year-Old Ronit Felt Relaxed When Doing the Dafa Exercises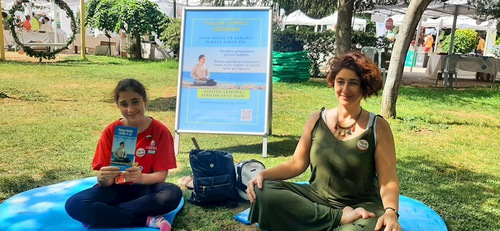 Mrs. Öjen and her daughter Ronit
Ronit, 12, tried the Falun Dafa exercises and said, "I felt relaxed. This is something I've experienced for the first time in my life. Thank you for making us try something like this. I feel happy and peaceful right now."
Her mother, Mrs. Öjen said, "It was amazing. I have been doing yoga for a long time. Besides, I liked that we were doing something like this outdoors. It put me at ease. I plan to continue these exercises going forward – thank you very much."
Ms. Sevim Will Continue to do the Dafa Exercises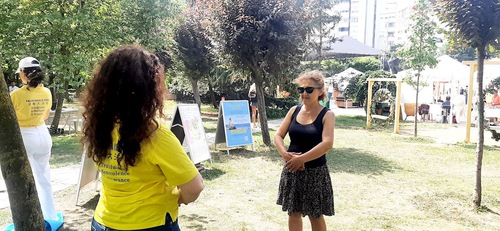 Ms. Sevim learned the exercises.
Ms. Sevim, a housewife, said, "I felt my mind was empty, very relaxed, and very good. Falun Dafa is really amazing. Thank you."
All content published on this website are copyrighted by Minghui.org. Minghui will produce compilations of its online content regularly and on special occasions.