Yunnan Woman Secretly Sentenced for Her Faith
(Minghui.org) Since Ms. Yang Lanying was arrested for practicing Falun Gong, her family has been denied visitation to her and kept in the dark of her case status. Now they've learned that the Kunming City, Yunnan Province resident has been secretly sentenced to 3.5 years and taken to the Yunnan Province No.2 Women's Prison on March 1, 2022.
Falun Gong, also known as Falun Dafa, is a spiritual discipline that has been persecuted by the Chinese communist regime since 1999.
Ms. Yang, 53, was arrested on August 31, 2021, when she was at home alone. When her family returned in the evening, they found her Falun Gong books, informational materials and her daughter's laptop missing. They suspected that she was arrested, but didn't know where to inquire about her situation.
A week later, Ms. Yang's husband received a call from an officer of the Malong District Domestic Security Office, who asked him to deliver some clothes and necessities to the Qilin District Detention Center in the nearby Qujing City (about 90 miles from Kunming) for her.
Ms. Yang's husband thus confirmed that she was arrested by officers of the Domestic Security Office in Malong District, Qujing City and Panlong District, Kunming City. But the police never provided a copy of her detention notice to her family, nor did they tell them why she was arrested.
Officers Jin Huaxiong of Malong District Domestic Security Office and Shi Ruilin of the Panlong District Domestic Security Office went to Ms. Yang's home on September 10 and interrogated her husband and daughter. They asked them if they knew Ms. Yang was practicing Falun Gong, whether she distributed materials about it and whether they had tried to stop her from distributing the materials. The officers also asked whether her husband and daughter practiced Falun Gong themselves, and ordered them to sign the deposition after the interrogation.
Around the same time, officers of the Malong District Domestic Security Office also interrogated Ms. Yang's mother, sister and brothers with the same questions.
Ms. Yang's arrest and detention dealt her mother a heavy blow. Her health quickly deteriorated and she passed away in late October 2021.
Ms. Yang's family filed a complaint against the police's violation of legal procedure in handling her case. They received the police-issued arrest notice, which was dated September 30, on October 27. But the family never received her detention notice.
An officer surnamed Liu from the Malong District Police Department called Ms. Yang's family in late October 2021 and said their complaint wasn't true, without providing further explanation. He also blamed Ms. Yang for being a repeat offender, given her previous incarceration for practicing Falun Gong. Liu said her case was with the procuratorate and he asked the family to contact the prosecutor if they had any questions.
In November 2021, Ms. Yang's family received her arrest approval notice by the Malong District Procuratorate. After she was later indicted and had her case moved to the Malong District Court, the judge transferred her case to the Qilin District Court, also in Qujing City.
The judge at the Qilin District Court never informed Ms. Yang's family of her case status. He also failed to inform the family of Ms. Yang's hearing scheduled for December 21. It was only a few minutes before the hearing that Ms. Yang's court-appointed lawyer called her family and told them about the hearing. The judge also kept her family in the dark after he sentenced Ms. Yang to 3.5 years at the hearing.
Only when Ms. Yang's family received a letter from the Yunnan Province No.2 Women's Prison in March 2022, did they know about her prison sentence. They applied to the prison to visit her, but the guards denied their request, citing the pandemic as an excuse.
Past Persecution
This isn't the first time that Ms. Yang has been targeted for her faith in Falun Gong. She was previously arrested on March 21, 2008, for giving her customers at her hair salon materials about Falun Gong. The police ransacked her home the next day without showing any proper case documents. They confiscated her Falun Gong books and other personal belongings and refused to provide a list of snatched items.
As soon as Ms. Yang was taken to the Malong County Detention Center, the guards forcibly collected her fingerprints and took her photos. They also forced her to recite the detention center rule, or she would be tortured on a tiger bench. They didn't allow her to take showers. She could only wipe her body with a towel in her cell. No family members were given access to visit her. After 29 days of arbitrary detention, Ms. Yang was transferred to the Yunnan Province Women's Forced Labor Camp to serve a term of one year and nine months.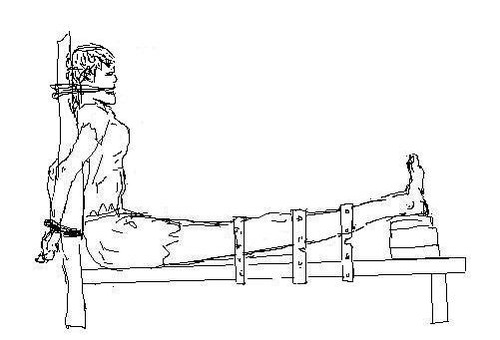 Torture illustration: tiger bench
Ms. Yang recalled that while she was held at the labor camp, the guards stripped her clothes off and forced her to squat 20 times. They also ordered two inmates to monitor her around the clock and prevented her from talking to other Falun Gong practitioners detained there.
In the winter, Ms. Yang could only take showers with ice-cold water. The guards forced her to wear the inmate uniform and to work at least 10 hours every day without pay. The free labor she did included making pendants, packaging cookies, and embroidering, as well as cleaning the prison hospital, cafeteria, and restrooms. The physical abuse caused her heart condition to relapse and she often had excruciating pain in her legs.
After the labor camp system was abolished in 2013, the persecution never ceased and Ms. Yang was permanently traumatized.
In the criminal complaint she filed in 2015 against Jiang Zemin, the former communist regime's head who ordered the persecution, she wrote, "Under Jiang Zemin's deceitful propaganda and persecution policy, my husband was very scared and he worried about me all the time. His mental condition was unstable and he was unable to work anymore. My mother-in-law's health also declined and she became bedridden. My 10-year-old daughter was terrified. She stopped talking and her grades fell. The hair salon I spent much effort getting started was forced to close, which hurt our family's financial situation."
Ms. Yang was arrested again on December 9, 2019, for distributing calendars with information about Falun Gong. She was given 15 days of administrative detention at the Kunming City Lockup. The authorities only gave her a release certificate, not the detention notice.
Perpetrators' contact information:
Wang Wensheng (王文生), head of Qujing City Police Department: +86-874-3392639Li Kun (李鲲), president of Qilin District Court: +86-874-3217177Fu Liping (付丽萍), president of Malong District Procuratorate: +86-874-8880261
(More perpetrators' contact information is available in the original Chinese article.)
All content published on this website are copyrighted by Minghui.org. Minghui will produce compilations of its online content regularly and on special occasions.