Switzerland: Practitioners Thank Master for Introducing Falun Dafa and Reflect on Their Positive Changes
(Minghui.org) On May 14, 2022, Falun Dafa practitioners gathered in Zurich, Switzerland, to celebrate Dafa founder Master Li's May 13th birthday, which coincides with World Falun Dafa Day, and to express their gratitude for his introducing Falun Dafa 30 years ago. 
Afterwards they discussed their cultivation experiences and thanked Master for watching over them. Some practitioners were not able to attend because they were elsewhere introducing Falun Dafa to as many people as possible.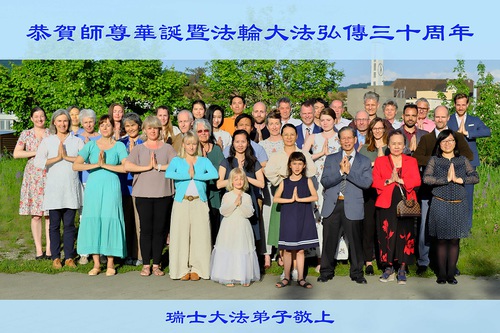 Practitioners in Switzerland congratulate Master on his birthday during activities to celebrate World Falun Dafa Day and the 30th anniversary of Falun Dafa's public introduction.
"Dafa is a gift to all of humanity"
Diep Le, who works in social education, used to complain about young peoples' behavior. She didn't like the way society was deteriorating, but she felt it was human nature and could not be changed.
She was looking for something, but she didn't know what it was and why she felt empty. She quit her job and traveled around Asia and Australia for more than five months, just to find that something.
It was not until she heard about Falun Dafa from a friend in Australia that she felt she'd found what she was looking for. She lived in Australia for many years. She didn't truly start practicing Falun Dafa until she fell ill and her friend encouraged her again, "You should read that book [Zhuan Falun]." 
When Diep read it, she knew she'd found what she was looking for. She returned to Europe and started working in Switzerland.
After practicing Falun Dafa, not only did her health improve, but she also discovered that human nature can be changed from within. She said with a smile, "People tend to point fingers at others and look for others' faults. However, it is actually very simple: Look within for our own problems, bad thoughts and habits. That way, we can improves ourselves from within."
She said she and her husband had differing opinions and used to argue a lot. But after practicing Falun Dafa, she looked for her own faults when arguments occurred. She said, "Sometimes maybe I didn't say anything bad, but when I looked at the way I spoke, my expressions, and gestures, I saw that I had caused the arguments. 
"Since I've been practicing Falun Dafa, I no longer get so emotional or start arguments. I examine myself to see where I can improve and what I didn't do well, and then I fix it. Everything just happens naturally." As a result, she and her husband rarely argue and get along well; they have also improved their relationships with their parents. 
Diep Le's husband Quincy recently began practicing Falun Dafa. He had met his career goals and had a religious belief, but he felt he was stuck, and he was swayed by fear and desire.
After practicing Falun Dafa, he felt a sense of inner peace and patience. He no longer got upset, got into fights, or judged others. Instead, he learned to put himself in others' shoes and look for his own shortcomings. He discovered, "I realized that I actually caused 99% of my own problems." This gave him greater wisdom and helped him find the path to return to his true self. 
Although she has practiced Falun Dafa for just over two years, Diep Le is deeply grateful to Master for introducing Falun Dafa to the world 30 years ago. 
She said, "Falun Dafa is such a wonderful practice. It is not only a gift to each of us, but also a gift to all of humanity." She hopes that more people, especially Chinese, will have the opportunity to recognize the beauty of Falun Dafa in the chaos today. 
She concluded, "No words of appreciation can adequately express my gratitude to Master! I cannot describe my feeling in words. I thank Falun Dafa from the bottom of my heart."
Sharing Dafa's Blessings
In his boss' eyes, Aleardo is a right-hand man, very attentive to the needs of his customers and almost 100 coworkers. At home, Aleardo is a dutiful son who has been caring for his mother, now 83, for decades. 
In the eyes of his neighbors, Aleardo is a kind man who not only helps with the upkeep of the community but also helps his elderly neighbors with their everyday affairs during the COVID pandemic.
This is all natural for Aleardo because he learned from Falun Dafa to be considerate of others.
Aleardo had always been interested in Asian practices and tried many of them. It was not until more than 20 years ago when he learned about Falun Dafa that he found answers to many of his questions about life. He found Falun Dafa's principles to be simple but profound and has been practicing ever since.
He shared the benefits of Falun Dafa with his friends and family. During the pandemic last year, his sister was diagnosed with a cancerous tumor in her lung. Aleardo told her how he gained peace and tranquility from practicing Falun Dafa. 
He told her, "Falun Dafa is good, Truthfulness-Compassion-Forbearance is good. Conducting oneself in accordance with Truthfulness-Compassion-Forbearance will bring good good fortune, peace, and positive experiences." 
A few weeks later, his sister called to tell him that she'd ended chemotherapy early because the tumor was gone.
Finding the Meaning of Life
Anja's friends consider her to be reliable, helpful, cheerful, and kind. Her husband totally agrees. He thinks Anja is generous, reasonable, warmhearted, and considerate and puts others' needs first.
Anja said she used to be very confused. At one point she even stopped practicing Falun Dafa. She felt she was being swallowed up by the thoughts and desires of the secular world, and the true meaning of life was drifting further and further away. She felt as if she was almost being swept away by the current of selfishness.
Her previous cultivation experiences made her realize she wanted to find her true self, and she realized what was important in life. When she resumed reading Falun Dafa books and began to practice again, she became calm and clear-headed and was no longer swayed by her emotions. 
Anja cannot find the words to express her gratitude to Master. "I am grateful for Master's boundless compassion and forgiveness. Master has never given up on me. I am constantly moved."
She is also grateful to her Chinese fellow practitioners. She said their experience sharing articles have inspired her and encouraged her to do better.
Jan said he had similar experiences. At one time he felt particularly lost about what was important in life. He tried to find happiness by satisfying his desires. Thinking back to the way he was before he began practicing Falun Dafa, he said his every thought, word, and action were selfish.
Jan says practicing Falun Dafa helped him find balance and peace. He realized his inner self could be reflected in the external environment, and this has helped him become healthy and active. He is now optimistic and calm, and his mind is clear. He will continue to tell people about the persecution of practitioners in China.
Thanking Master for Giving People a Ladder to Heaven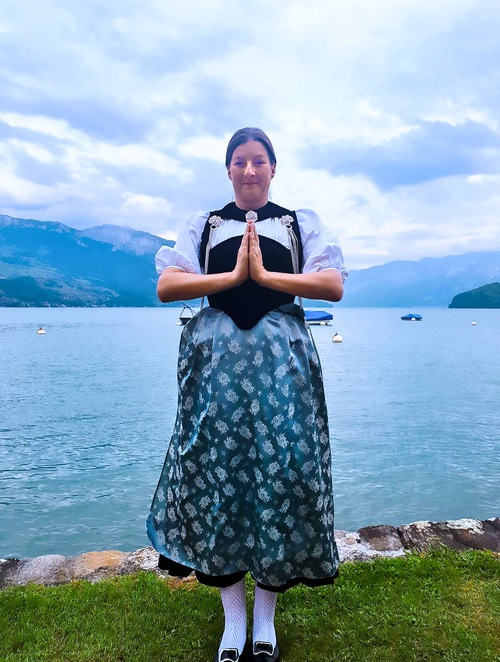 Wearing festive traditional Swiss dress, Simone thanks Master for introducing Falun Dafa and giving the world hope.
Twenty-two years ago, a flier in the mailbox caught the attention of Christian, Simone's husband. Three years ago Simone told her mother, "That little flier started it all. Falun Dafa has given me a happy family, a husband who never argues with me, and two children everyone admires. All of this is because we have practiced Falun Dafa for nearly 20 years and strive to live by Truthfulness-Compassion-Forbearance."
Her mother said that she has not only practiced Falun Dafa herself for 19 years but now feels she was born for Falun Dafa. 
Simone was moved deeply. It reminded her of how she had been particularly careful when it came to her character since she was a child. She always valued her own character as well as that of others, and could not tolerate anyone lying to her. She would search her own character for defects. 
She sometimes felt she should not have been born when she saw the deterioration of people and environment around her.
But after reading Falun Dafa books, including Zhuan Falun, she discovered she was not strange. She learned that the standards she was taught to believe were good were not entirely good, but that Truthfulness-Compassion-Forbearance were the true standard 
She realized, "The noble character I had been following only allows us to maintain a certain level of morality in the human world and not to be swallowed up by the corruption of the human world, but it cannot help us improve to a higher level. Only Falun Dafa is a ladder to heaven."
Simone especially wants to tell Chinese people, "No matter how chaotic and disorderly things are now, no matter how much propaganda the Chinese Communist Party-controlled media is broadcasting, please read Zhuan Falun and practice the five sets of exercises, and find out for yourself how Falun Dafa teaches people to be good. You will feel the positive impact, not only for yourself, but also for your family." 
Simone emphasized, "Practice Falun Dafa and you will experience how wonderful it is yourself!"
Swiss Falun Dafa practitioners joined Simone to say, "Thank you, Master, for bringing Dafa to the world! Thank you, Master, for bringing hope and a bright future to the world! Thank you, Master, for coming to this world to save all beings!" 
All content published on this website are copyrighted by Minghui.org. Minghui will produce compilations of its online content regularly and on special occasions.