Falun Dafa Practitioners in Helsinki Celebrate World Falun Dafa Day
(Minghui.org) On May 14, 2022, Falun Dafa practitioners from Finland celebrated World Falun Dafa Day in Helsinki, the capital city of Finland, showing the beauty of Falun Dafa to the public in the form of musical performances and group exercises.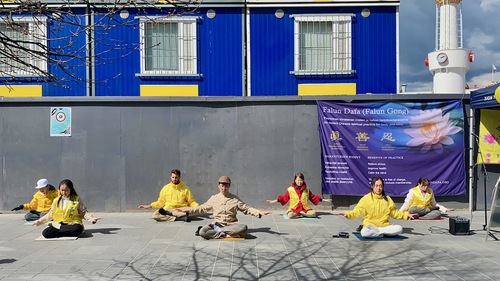 Falun Gong practitioners in Finland
On a sunny spring day in the bustling downtown area of Helsinki, the 23rd World Falun Dafa Day celebration officially began at noon. Well-known Finnish folk singer Anna Kokkonen played the guitar and sang the beautiful song "Silent Devotion."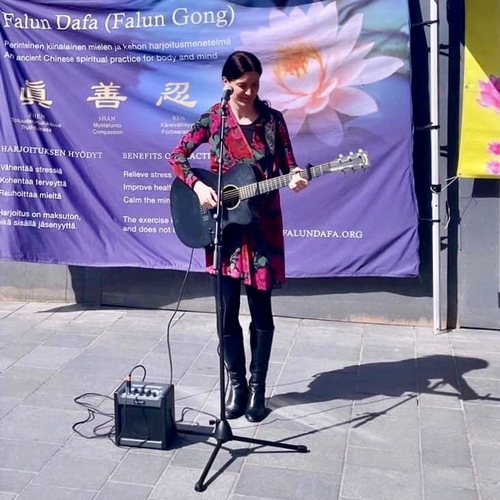 Anna singing the song "Silent Devotion"
A young Falun Dafa practitioner dressed in traditional Chinese attire played the song "For You" with a cucurbit flute. He said that the beautiful, moving melody was like a call from the bottom of his heart to awaken the good thoughts in people's hearts.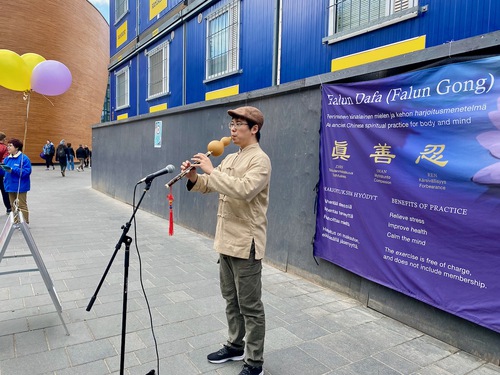 Jeson playing his cucurbit flute
Many people who stopped to watch and listen signed the petition to help end the persecution of Falun Dafa in China. Group exercises were also a highlight of the event. Peaceful music accompanied by graceful, soothing movements attracted a stream of pedestrians.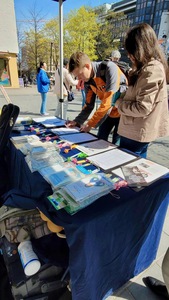 A passerby signs the petition supporting human rights.
An elderly man expressed his appreciation for the Falun Dafa principles—Truthfulness, Compassion, Forbearance. He said, "Truthfulness is the highest virtue. Truthfulness-Compassion-Forbearance is extremely good. I'm glad you come here every Saturday, and I'm glad that you have this celebration with different performances today. Thank you for holding this event."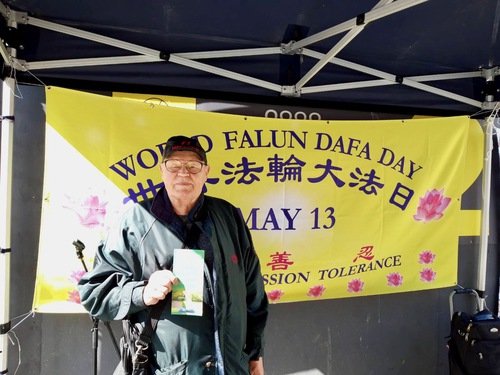 A veteran officer appreciates the principles of Truthfulness, Compassion, Forbearance"
A Portuguese woman said that she had lived in Helsinki for 13 years and practiced another type of qigong. She thought Falun Dafa's exercises looked very sacred and very interesting. She also said that what Falun Dafa practitioners are doing is very meaningful. She wanted to learn more about Dafa and asked where she could learn the exercises.
Ms. T. Pyy, a mentor for the disabled, said, "Everyone has the freedom to choose, not just people in Western countries. The Chinese people should have the right to live, the right to believe, and the right to learn whatever they want to learn."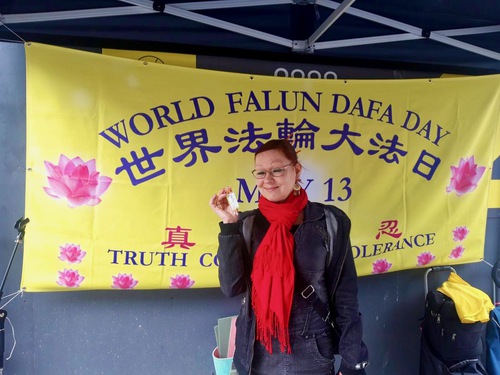 Ms. T. Pyy holds a small lotus flower in front of the "World Falun Dafa Day" banner.
A Vietnamese woman, aware of the evils of the Communist Party, asked if there was anything else she could do to support the signature campaign.
A Cuban woman said she was aware of the horrors of the Communist regime and that Falun Dafa was being persecuted. She did not hesitate to sign the petition form.
A local man saw the words "End the Evil CCP" as he passed the event. "Okay, great, let's end it," he said when he was handed the information.
All content published on this website are copyrighted by Minghui.org. Minghui will produce compilations of its online content regularly and on special occasions.