Virginia, USA: City of Winchester Proclaims Falun Dafa Day and Condemns the Chinese Communist Regime's Persecution
(Minghui.org) May 13, 2022, was World Falun Dafa Day and the 30th anniversary of Falun Dafa's introduction to the world. Mayor David Smith of City of Winchester proclaimed May 13 as Falun Dafa Day and condemned the Chinese Communist Party's (CCP) persecution.
Falun Dafa practitioners in Virginia have held activities in northern Virginia since the beginning of the month and participated in community events and parades to introduce Falun Dafa and clarify the truth to the local government.
On April 30, practitioners participated in a local parade in Winchester, a large city in western Virginia. On May 11, Winchester Mayor David Smith paid tribute to Falun Dafa and its founder, Mr. Li Hongzhi, by presenting the proclamation, proclaiming May 13 as Falun Dafa Day in the city.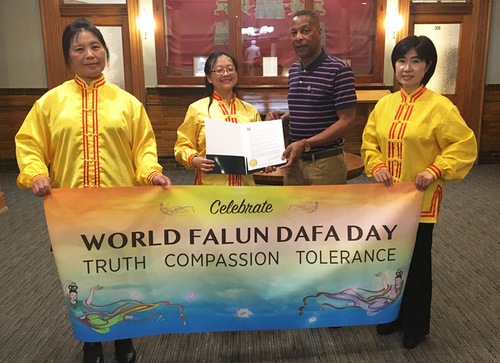 Mayor David Smith issues the proclamation to Falun Dafa practitioners.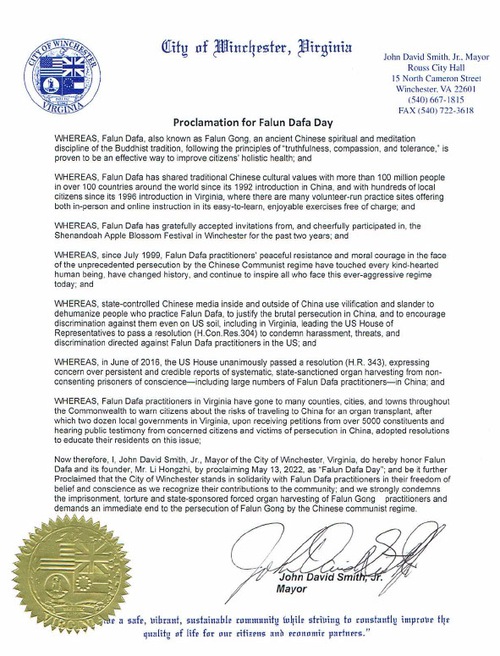 Proclamation from Mayor David Smith of Winchester
The proclamation reads, "Falun Dafa has shared traditional Chinese cultural values with more than 100 million people in over 100 countries around the world since its 1992 introduction in China, and with hundreds of local citizens since 1996 introduction in Virginia, where there are many volunteer-run practice sites offering both in-person and online instruction in its easy-to-learn, enjoyable exercises free of charge.
"Since July 1999, Falun Dafa practitioners' peaceful resistance and moral courage in the face of the unprecedented persecution by the Chinese Communist regime have touched every kind-hearted human being have changed history, and continue to inspire all who face this ever-aggressive regime today.
"State-controlled Chinese media inside and outside of China use vilification and salner to dehumanize people who practice Falun Dafa, to justify the brutal persecution in China, and to encourage discrimination against them even on US soil, including in Virginia, leading the US House of Representatives to pass the resolution (H.Con.Res. 304) to condemn harassment, threats, and discrimination directed against Falun Dafa practitioners in the US."
Background: What Is Falun Dafa?
Falun Dafa (also known as Falun Gong) was first introduced to the public by Mr. Li Hongzhi in Changchun, China, in 1992. The spiritual discipline is now practiced in over 100 countries and regions worldwide. Millions of people who have embraced the teachings—which are based on the principles of Truthfulness, Compassion, and Forbearance—and learned the five exercises have experienced improved health and well-being.
Jiang Zemin, former head of the Chinese Communist Party (CCP), perceived the spiritual discipline's growing popularity as a threat to the CCP's atheistic ideology and on July 20, 1999, issued an order to ban the practice.
Minghui.org has confirmed the deaths of thousands of practitioners as a result of the persecution over the past 22 years. The actual number is believed to be much higher. More have been imprisoned and tortured for their faith.
There is concrete evidence that the CCP sanctions the harvesting of organs from detained practitioners, who are murdered to supply the organ transplant industry.Under Jiang's personal direction, the CCP established the 610 Office, an extralegal security organization with the power to override the police and judicial systems and whose sole function is to carry out the persecution of Falun Dafa.
All content published on this website are copyrighted by Minghui.org. Minghui will produce compilations of its online content regularly and on special occasions.