Falun Dafa Practitioners in the Education System in China Celebrate World Falun Dafa Day and Respectfully Wish Master Li Hongzhi a Happy Birthday
(Minghui.org)
Thirty years ago, on May 13, 1992, Master Li Hongzhi introduced Falun Dafa to the public, teaching the five meditative exercises and universal values of Truthfulness-Compassion-Forbearance. With its tremendous health benefits and uplifting teachings, Falun Dafa spread quickly throughout China and the world.
In honor of World Falun Dafa Day and Master Li's 71st birthday, Falun Dafa practitioners send their heartfelt good wishes to the Minghui website to celebrate the anniversary of this historic day and express their profound gratitude to Master Li.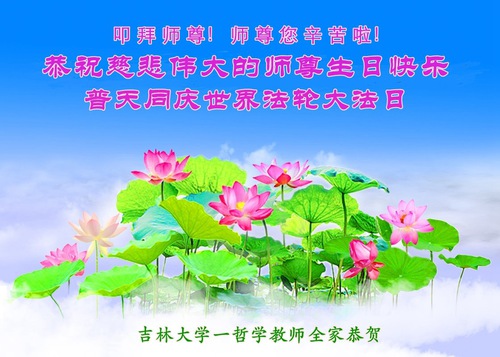 A teacher in Rongcheng City, Shandong Province wrote, "Master, you have been working hard! I don't know what I can do to repay you. When I first took up Dafa, I was like an elementary school student, who knew nothing about cultivation practice. For all these years, you taught me the true meaning of life and guided me on the spiritual journey up to today. I can only be more diligent in my cultivation to live up to your salvation!"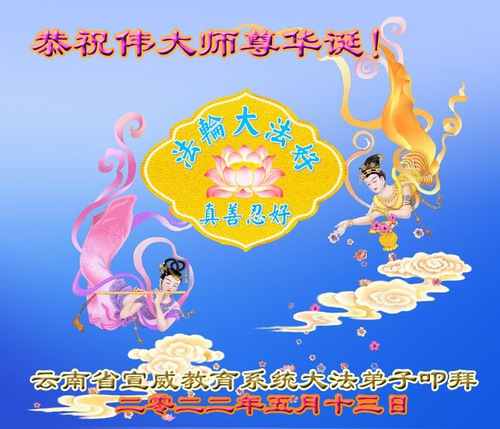 Three greetings came from the following universities:
A family of a philosophy professor in Jilin UniversityJiamusi UniversitySichuan Vocational and Technical College of Architecture
More greetings came from the practitioners working in the educational field in the following regions:
BeijingHanzhong City and Xi'an City, Shaanxi ProvinceQinglong County, Hebei ProvinceHarbin and Daqing City, Heilongjiang Province Kunming City, Xuanwei City and Dongming County, Yunnan ProvinceLinqu County and Jinan City, Shandong Province
Copyright © 1999-2022 Minghui.org. Content on this page may be reproduced with attribution.