New York: Celebrating World Falun Dafa Day in Front of New York City Hall, 69 Officials Send Greetings
(Minghui.org) To celebrate World Falun Dafa Day and the 30th anniversary of Falun Dafa's introduction to the public, practitioners gathered at Foley Square in front of the city hall on May 7 for a series of activities and performances.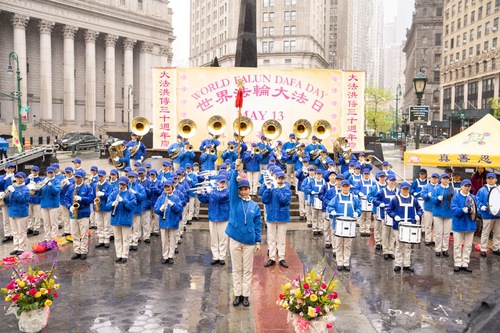 The Tian Guo Marching Band plays during celebrations in front of New York City Hall on May 7, 2022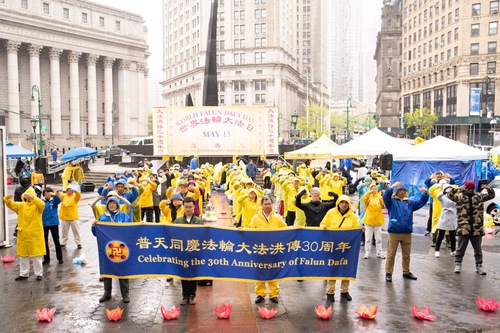 Group exercises
The group exercises started at 9 a.m. Despite a light drizzle the scene was uplifting and joyful. Having benefited from the practice both mentally and physically, practitioners are grateful to Falun Dafa and its founder Mr. Li Hongzhi. They were also happy to share the beauty of Falun Dafa with the public to celebrate this occasion.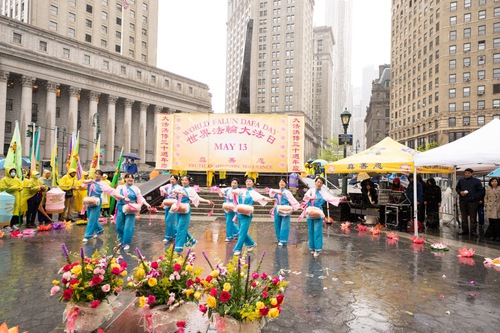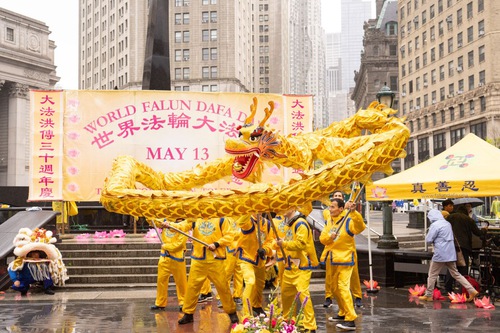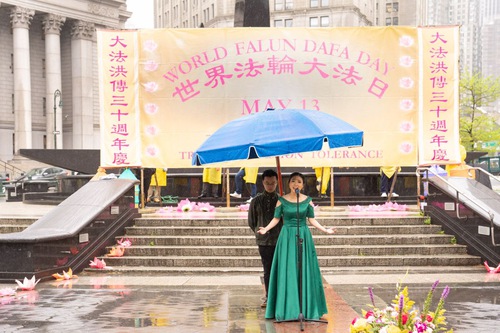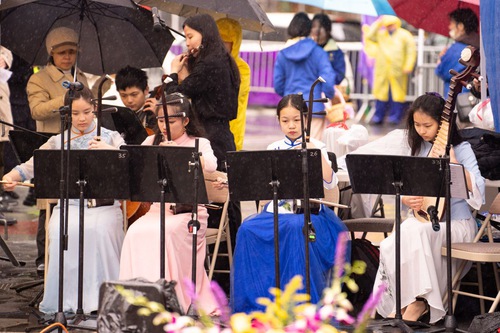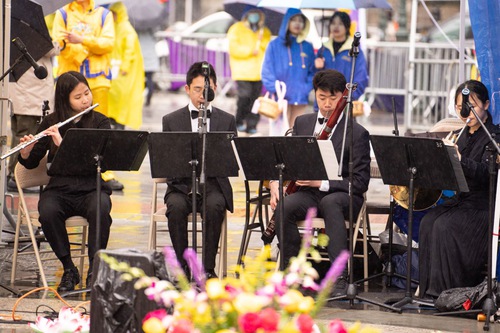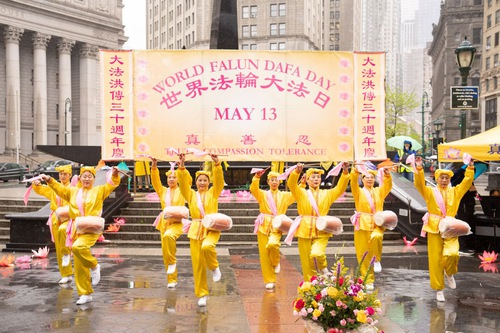 Practitioners give performances.
Greetings from 69 Officials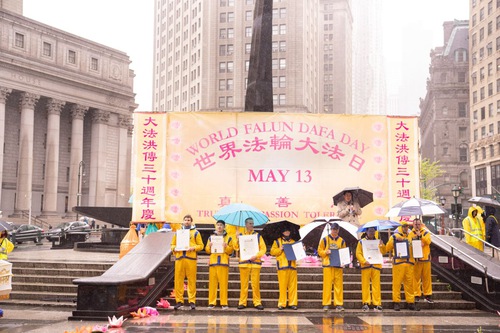 Reading congratulatory letters and proclamations from elected officials
According to Erping Zhang, Falun Dafa Information Center spokesperson, 69 proclamations and congratulatory letters were received from federal representatives, state representatives, city councilors, mayors, and local officials. They praised Falun Dafa's principles of Truthfulness-Compassion-Forbearance. 
New York State Senate Proclamation 2278 was passed on April 26, 2022. It stated, "The effectiveness of Falun Dafa in improving health, as well as the principles upon which it is founded, have proven to be immensely popular throughout the world and have attracted people in more than 114 countries. To the people of China, Falun Dafa provides a source of strength in the face of oppression; although the practice is banned in the land of its origin, practitioners persevere in the pursuit of their spiritual beliefs, risking imprisonment or worse."
"In 1996, Falun Dafa was introduced to New York, and has since grown to include hundreds of practitioners who can be found throughout the tri-state area offering workshops in senior centers, corporate offices, health clubs, private residences, and police stations at no cost to the participants," the proclamation continued, "Falun Dafa is a practice which has brought better health and inner peace to millions around the world."
Mr. Zhang thanked elected officials for their recognition. He welcomed more people to come and learn Falun Dafa and benefit from it.  Zhuan Falun, the main teachings of Falun Dafa, has now been translated into over 40 languages, helping people from various ethnic and cultural backgrounds. "Inside China, the CCP has persecuted the system for 23 years. Although Falun Dafa practitioners have been opposing the persecution with peaceful efforts, the atrocity still continues," he added. 
Software Developer: Better Productivity
Falun Dafa practitioners come from all walks of life. Among members of the dragon dance team is a company CEO, company executives, news media professionals, and others.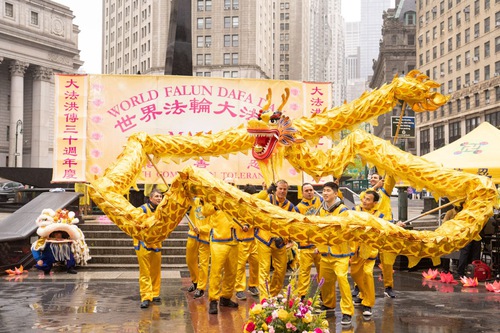 Scott Chinn, a software developer, leads the dragon dance team. 
Scott Chinn, 52, is a successful software developer and a father of two children. "I haven't missed a day of work from illness since I began practicing 23 years ago," he said. "The youngest person in our Dragon team is 18 and I'm able to easily keep up with him."
"Working as a software developer is very intense," Mr. Chinn added. "But the practice of Falun Dafa has improved my efficiency at work, allowing me to solve problems in a shorter time and be more productive," he said. 
Musician: Finding the Purpose of Life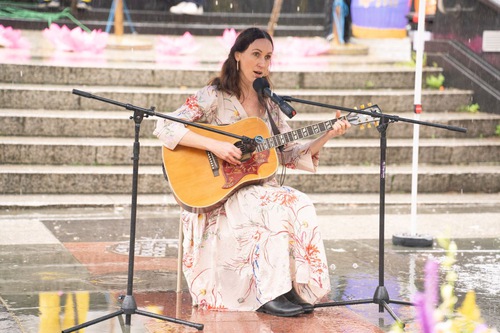 Katy Mantyk sings the song, "Search No More"
Katy Mantyk is a musician and she began to practice Falun Dafa in 2003. After hearing about the continued persecution in China, she moved from New Zealand to New York and composed many songs to tell people about Falun Dafa and the persecution.
In her song, "Search No More," Ms. Mantyk reflected on the path she walked through. For a long time, she searched for the purpose of life. She was happy to find Falun Dafa and had her questions answered. 
Improved Moral Values
Originally from Mexico, Allbert Makai began to practice Falun Dafa when he was 17. Following the principles of Truthfulness-Compassion-Forbearance, he eliminated numerous bad habits, such as smoking, drinking, and drugs.
"After noticing my positive changes, my mother and friends were very impressed. And they began to practice Falun Dafa, too," Allbert added.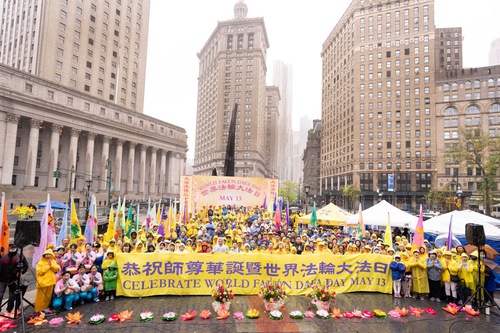 Practitioners took a group photo to celebrate World Falun Dafa Day and wish Mr. Li Hongzhi, founder of Falun Dafa a Happy Birthday. 
All content published on this website are copyrighted by Minghui.org. Minghui will produce compilations of its online content regularly and on special occasions.