Virginia: Indian Community Moved by Details of the Persecution During Event to Introduce Falun Dafa
(Minghui.org) On Saturday afternoon, April 16, 2022, an Indian community organization invited practitioners to give a presentation about Falun Dafa at the Dolley Madison Library in McLean, Virginia.
More than twelve Falun Dafa practitioners from Washington, D.C. demonstrated the exercises, and some gave personal accounts of the persecution they suffered in China, which moved the audience. Professor Sen Nieh, former head of the Department of Mechanics at the Catholic University of America, and Professor Gudipati of the India-China Friendship Committee in Washington, D.C. attended the event as special guests.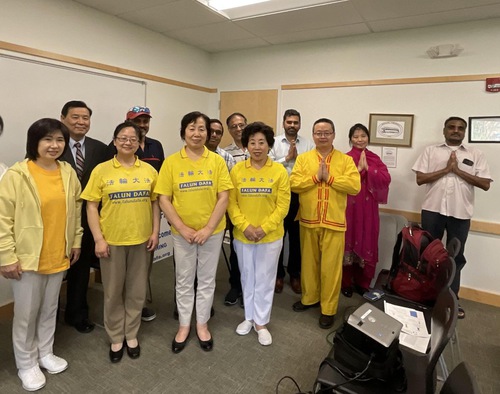 Falun Dafa practitioners and representatives of the Indian community
Practitioners demonstrated the Falun Dafa exercises and showed a film about the persecution that practitioners are subjected to in China. Professor Nieh gave a detailed presentation about Falun Dafa and described the persecution and torture that practitioners have been subjected to.
Several practitioners who were imprisoned in China demonstrated the torture they suffered in prison for not renouncing their faith. Among them, Ms. Chunying Wang said that she was handcuffed and chained up, and was sometimes kept in one position for up to 16 hours. She was also forced to do labor for long hours and was deprived of sleep, and being beaten was a norm.
Another practitioner, Ms. Chunmei Ma, said she was subjected to electric shocks and force fed medication. She was forced to do heavy slave labor in a room full of toxic air. One time her lips became glued together for 14 hours, making it difficult to breathe.
Professor Nieh also told attendees about the live organ harvesting of Falun Dafa practitioners.
The audience was deep in thought as they listened. Many expressed their shock that this terrible persecution was happening in today's Chinese society.
Professor Gudipati said that after listening to Professor Nieh's presentation, he was very interested in learning Falun Dafa. He also said he planned to invite Falun Dafa practitioners to speak about the persecution at a major event in India this July.
He pointed out that in India, where people were once suppressed, it was the persistence of justice in the non-violent non-cooperation movement that awakened the masses in India, thus ending British colonial rule. He believes that although there is a painful price to pay for standing up for justice, the victory ultimately belongs to the righteous.
The event organizer, Mr. Gudipati, is a member of the India-China Friendship Committee in Washington, D.C. He is an Indian-American who grew up in a multi-religious country and is well aware that the practice of Falun Dafa is good for the body, mind and soul, and Falun Dafa is good for humanity.
He said he was not previously aware that millions of people around the world practice Falun Dafa.
After learning that practitioners conduct themselves following the principles of Truthfulness-Compassion-Forbearance, but have been severely persecuted by the CCP (Chinese Communist Party) for over two decades, he felt that more people should be made aware of the persecution that is taking place in China. He said that the CCP's persecution of Falun Dafa practitioners is against human morality, and that everyone should have the freedom to practice their belief.
Views expressed in this article represent the author's own opinions or understandings. All content published on this website are copyrighted by Minghui.org. Minghui will produce compilations of its online content regularly and on special occasions.