Taitung, Taiwan: Practitioners Express Gratitude to Master During Falun Dafa Day Celebrations
(Minghui.org) To celebrate the 30th anniversary of Falun Dafa's public introduction and the 23rd World Falun Dafa Day, practitioners from Taitung held all-day activities. They practiced the exercises and distributed information about Falun Dafa near the International Landmark, a popular seaside tourist attraction.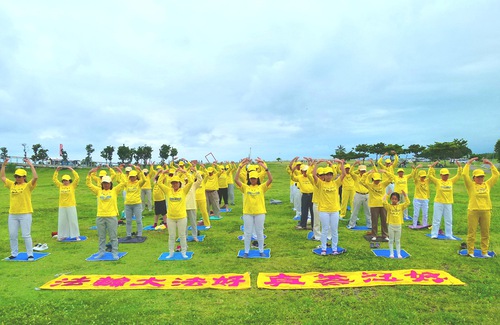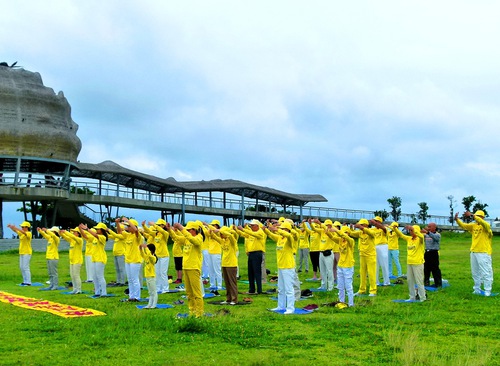 Practitioners in Taitung practice the exercises as part of their activities to celebrate World Falun Dafa Day.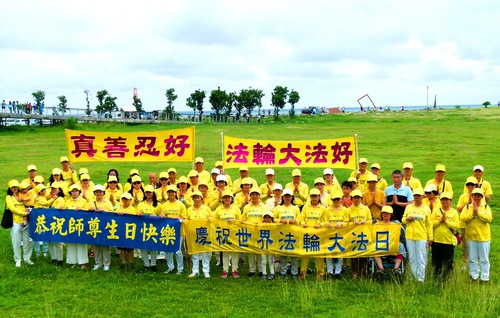 Practitioners take a group photo to wish Master a happy birthday.
The International Landmark is crowded with tourists every weekend. This year practitioners celebrated Falun Dafa Day in front of the landmark. They handed out Minghui Weekly publications and told people about the practice. Many tourists stopped and chatted with practitioners. One man who stopped to watch the practitioners do the exercises, heard that Falun Dafa was practiced in more than 100 countries and regions worldwide. He then gave them a thumbs up, and said loudly, "Great!"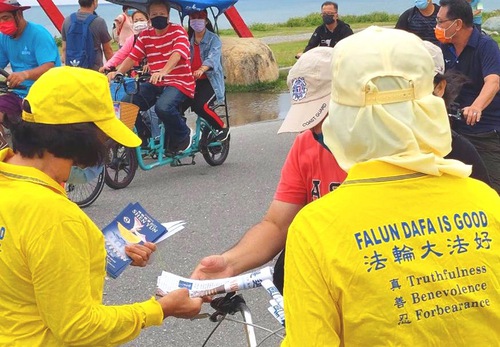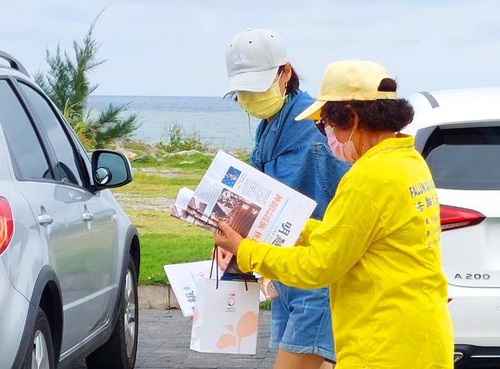 Practitioners distribute information about Falun Dafa to tourists.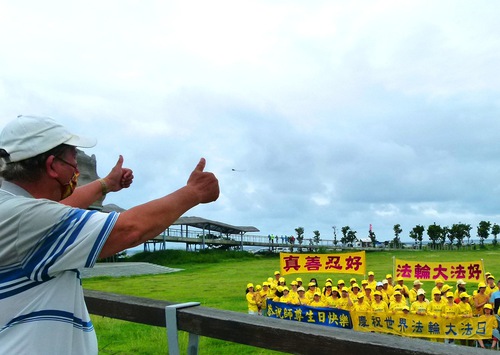 When he heard that Falun Dafa was practiced in more than one hundred countries and regions worldwide this man gave practitioners a double thumbs up.
Mr. Zhou, 86, started practicing Falun Dafa two months ago. He said he's already felt obvious changes in his body. He now feels relaxed and refreshed. Mr. Zhou said that this practice is just so good so he needs to read the Fa and cultivate himself well.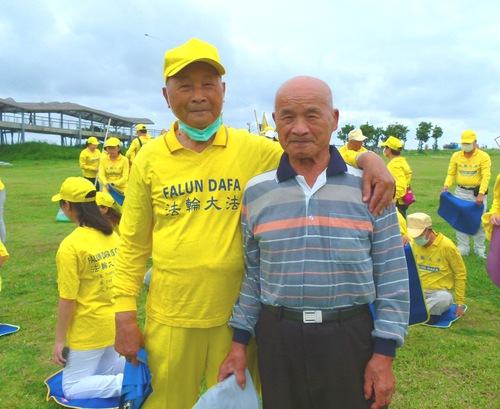 Mr. Zhou, 86, (right) said he's experienced the sacredness and goodness of Falun Dafa after practicing for only two months.
Secondary School Student Gains Self-discipline and Confidence
Qianci and Qianrong are sisters, and began practicing Falun Dafa with their parents and grandmother when they were children. Through all these years they participated in nearly every truth clarifying event. Not only did they have good health, the sisters said that Dafa was their best guide when it comes to their studies and peer relationships.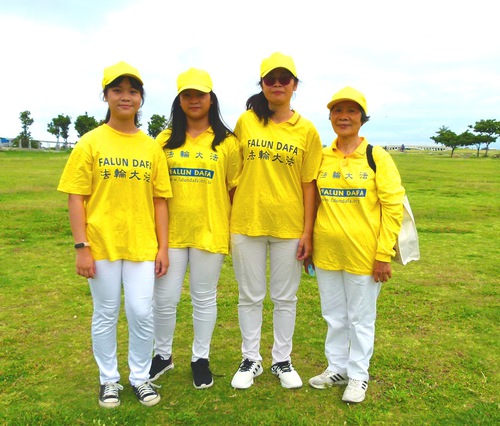 Qianci (left), Qianrong, their mother and grandmother participate in the event to celebrate World Falun Dafa Day.
Qianci is about to take her exams. She gets so nervous that she sometimes has difficulty sleeping. Her mother, Guifen, reminds her to remember that she is a Falun Dafa cultivator so she reads the Fa to calm down. She also repeatedly says, "Falun Dafa is good, Truthfulness-Compassion-Forbearance is good." Qianci said, "I feel that Master is right by my side and my anxiety goes away."
Guifen is a secondary school teacher. She feels the most serious problem with students nowadays is their addiction to their mobile phones. She said that people get lost in the Internet, and this addiction controls both adults and children. The secondary school students go online to play games, watch dramas, make friends, or scold others. This results in distorted relationships. Some even resort to stealing, or telling lies to get their mobile phones and accessories upgraded. Many parents are very worried about this problem.
Under the guidance of Falun Dafa's principles of Truthfulness-Compassion-Forbearance, Qianci and Qianrong never played with smart phones. Instead both sisters use older mobile phones to do their homework or search online for information. Both sisters study the Arts. They focus on their studies and read the Fa when they have time.
Guifen said that not only do her children base their behavior on the Fa, she and her husband also educate their children based on the Fa's principles. They do not scold them. Instead they show them cultivation experience sharing articles on the Minghui.org website, and discuss them. The children know that when a person does a good or bad deed, divine beings are watching them. The two sisters set requirements for themselves to respect their classmates and do not use dirty or foul language. They also did not go through the "adolescent rebellion phase" behavior.
When Qianrong was ridiculed by her classmates and betrayed by her best friend, Guifen explained to her based on the Fa principles, "When others treat you badly, this may be because you owed them in another lifetime. It may also be a test of your xinxing, so you should not take it to heart."
After understanding the matter based on the Fa, Qianrong decided that no matter how others ridiculed her, she could face them calmly. She also no longer tried to retaliate or criticize others. She instead just focuses on the things that she should be doing. In the end, her results got better and better.
Guifen is very glad that her whole family practices and feels that Dafa is a stream of purity amid these troubled times. Her children are able to be self-disciplined and are full of confidence. They all understand that studying well is the responsibility of a student, and that trying their best to abide by the principles of Truthfulness-Compassion-Forbearance is more important than getting good results.
Obtaining a New Lease on Life
"Before I found Dafa, I searched for a direction in my life. I thought in my heart that it will be good if there was a practice which can both cultivate my heart and strengthen my body," said Mei Xia.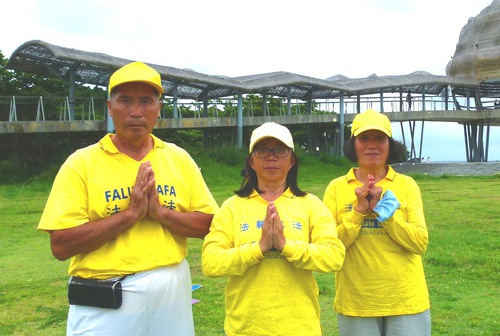 Mei Xia (right) thanks Master for his benevolent salvation along with her brother and sister-in-law.
Mei Xia's heartfelt thought seemed to be heard as her brother and sister-in-law, who live in Taitung, gave her a book. "My sister-in-law gave me a book from the Minghui books collection, called Life and Hope Renewed: The Healing Power of Falun Dafa and a list of all the Falun Dafa practice sites in Taiwan. I read the cultivation stories in the book and felt that this is really miraculous. I decided to practice. I found the practice site in Pingtung which is nearest to my house."
Just then, Mei Xia felt something was wrong with her body, "My finger joints were red and swollen. When I went for a checkup, the doctor told me that I had rheumatoid arthritis. I later visited a traditional Chinese doctor and asked him if I could recover by practicing Falun Dafa. The doctor said yes. With help and encouragement from practitioners, I started to practice the exercises with them."
Apart from practicing the exercises, Mei Xia also attended the Nine Day Falun Dafa Class. She also listened to Master's lectures and read the Fa. She said, "I gradually got to know the preciousness of Dafa and know some Fa principles. I understood that one needs to endure hardship to eliminate one's karma. I also understood that illness and pain is caused by the karma that I created in past lifetimes."
Mei Xia said that the pain intensified and it hurt to eat or swallow water. However, when she practiced the exercises, she felt enveloped by a very strong energy. She said, "When I practice the exercises and hear Master's voice I feel it is so benevolent and warm. Master's instructions mention 'slow and continuous without interruption'. It's as though he knew I was in a lot of pain and was asking me to slow down. This further increased my confidence."
After persisting in cultivating, Mei Xia's body gradually got better. She then met with a test of her xinxing, "I discovered my husband was having an affair. I knew how I should face it. I ended my marriage calmly. My husband actually wished me well in cultivation, and I thanked him for his encouragement. We became good friends."
Having gone through these unforgettable experiences, Mei Xia felt that she is lucky to have the guidance from Dafa, which gave her a new lease on life, "Obtaining the Fa was a big turn in my life. I see light in the darkness and thus there is hope in my life. I feel that my life is happy. As long as I reflect on my behavior based on Master's Fa, 'hardship' can really become a 'joy'. I experienced the wonderfulness when one's xinxing elevates."
Full of gratitude, Mei Xia said, "Thank you Master for your benevolent salvation. Practitioners are honored to obtain the Fa. I must cherish this rare affinity to cultivate in this lifetime even more, and do well on my path of cultivation. I must spread the goodness of Dafa to even more people."
Views expressed in this article represent the author's own opinions or understandings. All content published on this website are copyrighted by Minghui.org. Minghui will produce compilations of its online content regularly and on special occasions.