Liaoning Man Beaten for Asking the Police to Return His Confiscated Falun Gong Items
(Minghui.org) Mr. Liu Quanwang, a Huludao City, Liaoning Province resident, was beaten by the police when he demanded the return of items confiscated from him for his faith in Falun Gong.
Falun Gong, also known as Falun Dafa, is a spiritual discipline that has been persecuted by the Chinese communist regime since 1999.
Mr. Liu, Mr. Chen Defu, Mr. Zhang Yumin, Ms. Cui Bing, and Mr. Guan Yukun went to the Gaoqiao Town to distribute informational materials about Falun Gong on the evening of April 7, 2022. They were reported by a villager and arrested by officers of Gaoqiao Police Station and Jitun Police Station. All practitioners were released the next day.
Over ten officers ransacked Mr. Liu's home at around 9:30 a.m. on April 8. Falun Gong books, photos of Falun Gong's founder, three computers, two printers, several cellphones, five media players, over twenty flash-drives, dozens of bottles of ink, as well as 700 yuan of paper currency printed with information about Falun Gong were confiscated.
Due to strict information censorship in China, many practitioners use creative ways to raise awareness about the persecution, including printing short messages on paper currency.
Mr. Liu and another practitioner went to the Jitun Police Station on April 22 and demanded the police to return his personal belongings. The front desk officer directed him to call the police chief himself.
As Mr. Liu was writing down the police officers' phone numbers posted on the wall, one officer came in, tore up the paper with the phone numbers and pushed him out.
Mr. Liu said to them, "If you don't allow me to meet with the police chief, then give this to him." He handed over the materials he prepared with basic facts about Falun Gong to the police, only to have it torn up as well. The police continued to push Mr. Liu and the other practitioner outside. That practitioner fell down the stairs and rolled on the ground for two or three meters.
Mr. Liu shouted "Falun Dafa is good" in protest. The police handcuffed him and brought him to a room in the police station full of Falun Gong materials confiscated from the practitioners. They beat and kicked him. As they verbally abused Mr. Liu and Falun Gong's founder, they also spit on Falun Gong founder's photos. Mr. Liu tried to stop them, but to no avail.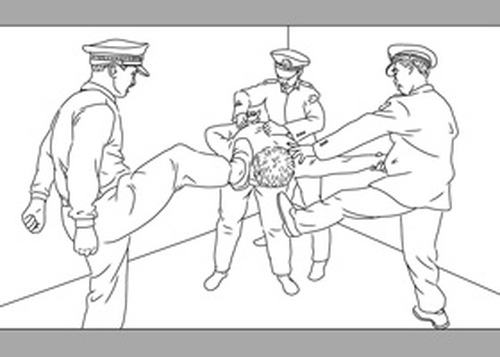 Torture illustration: beating
After a while, two officers pushed Mr. Liu to the police car, took him to a small hill and released him.
Mr. Liu used to work at the Xiaolinghe Coal Mine. Before taking up Falun Gong in 1996, he suffered all kinds of health problems, including lung fibrosis, rheumatoid arthritis, a gastric ulcer, and heart disease. Within six months of practicing Falun Gong, his illnesses were cured and he regained a healthy life.
After the Chinese Communist Party launched the persecution in 1999, he was detained a total of 11 years, including six months in Huludao City Detention Center, two years in Huludao Forced Labor Camp, two years in Tuanhe Forced Labor Camp, a year and a half in Jinzhou Forced Labor Camp, and five years in Panjin Prison.
Perpetrators' contact information:
Hua Zhengwei (华政委), head of Jitun Police Station: +86-15898253636Zhu Peiyu (朱佩玉), deputy head of Jitun Police Station: +86-18304293870Wei Lai (尉崃), police instructor
Related report:
Eleven Years of Torture for Practicing and Speaking Out for Falun Gong
Views expressed in this article represent the author's own opinions or understandings. All content published on this website are copyrighted by Minghui.org. Minghui will produce compilations of its online content regularly and on special occasions.