Brisbane, Australia: Commemorating the Historic Appeal of 10,000 Falun Gong Practitioners in Beijing
(Minghui.org) Falun Gong practitioners in Queensland held activities near Brisbane Square on April 23 to commemorate a peaceful appeal in Beijing 23 years ago. They demonstrated the exercises, displayed posters and banners, and distributed information about the persecution. They told people that Falun Gong, also called Falun Dafa, has been suppressed by the Chinese Communist Party (CCP) since 1999. 
Many people stopped to talk with practitioners and accepted the materials. Some said they welcome such peaceful events and thanked practitioners for their efforts to expose China's human rights violations. They signed the petition to condemn the persecution and said they hoped it would end soon.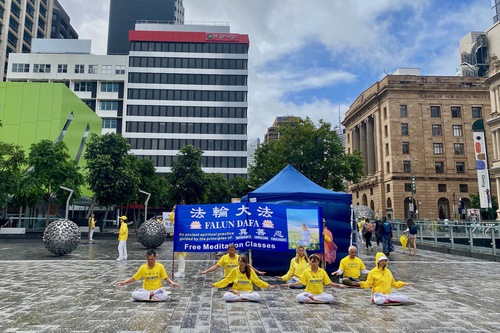 Practitioners demonstrate the exercises at Brisbane Square on April 23, 2022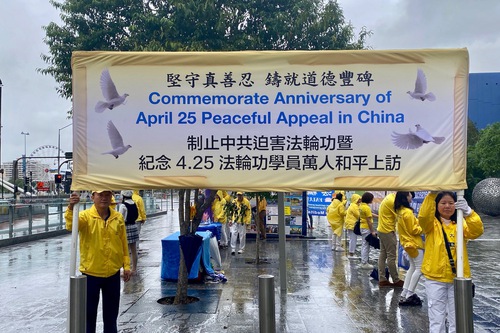 Practitioners displayed banners with information about the CCP's persecution.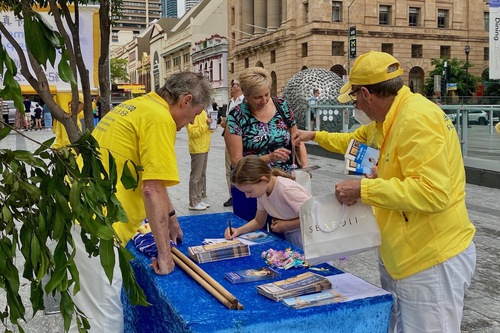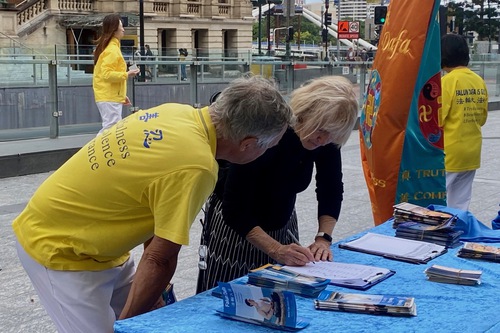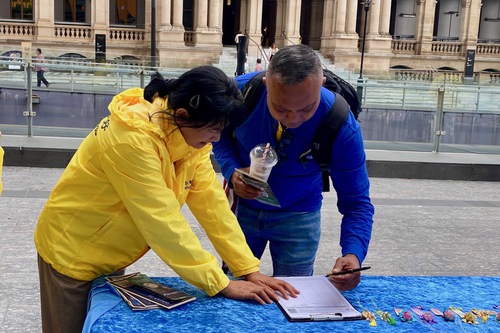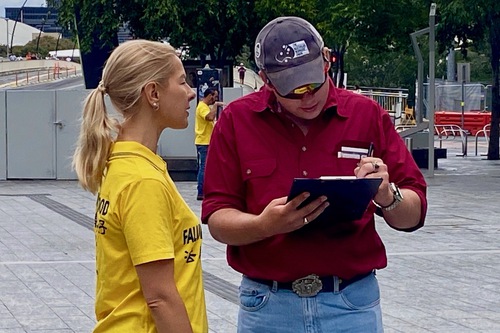 Passersby talked with practitioners and signed the petition calling to end the persecution in China
Former Beijing Police Officer Recalls the April 25 Appeal
Xu Chunlei, a former officer with the Beijing Armed Police Forces, described his experience 23 years ago. "On the morning of April 25, 1999, I received a phone call around 7 a.m. Another practitioner who also worked in the armed police forces told me that practitioners had been arrested in Tianjin," Xu said. "Local police told practitioners to contact the central government in Beijing about this."
After asking for a leave and receiving permission, Xu went to the Appeal Center near Zhongnanhai. "On Fuyou Street and Chang'an Street I saw many practitioners. Later I was told there were about 10,000 practitioners in total," he said. 
Around 8 or 9 a.m., the then Premier Zhu Rongji arrived and he invited practitioners' representatives for a conversation. Practitioners made three requests during the meeting: release practitioners detained in Tianjin, allow practitioners to freely practice their belief, and permit the publication of Zhuan Falun and other Falun Gong books. Xu said, "Practitioners were all well-behaved and no one held banners or shouted slogans. They all stood quietly and some were reading the Falun Dafa teachings."
"The only reason practitioners went to Zhongnanhai was to appeal for the freedom to practice Falun Dafa," Xu explained. That evening when they heard that detained Tianjin practitioners had been released, practitioners left, leaving no trash behind. "Overseas news media reported this and internal documents in the armed police system also mentioned this," Xu continued. "But the CCP chose to suppress the practice several months later through arrests, detention, torture, forced labor, and death over the years."
"Regardless how severe the persecution is, practitioners are able to maintain a calm and peaceful manner," he added. "This has won broad support from people across the world. And even in China, more than 390 million people have chosen to renounce their memberships in the CCP and its affiliates," he said. "As the pandemic claimed many lives around the continents due to cover-up and misinformation by the CCP, more people have now learned the importance of rejecting the CCP." 
Unacceptable Crime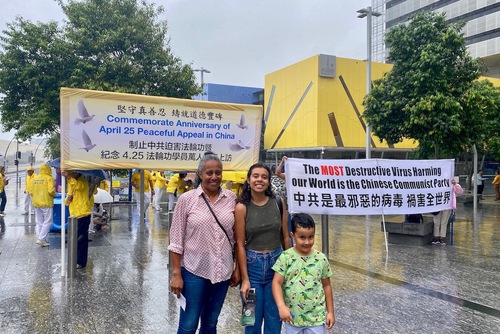 Evelyn (left) and her daughter like the Falun Dafa exercises. 
Evelyn and her daughter both work at flower shops. "Having a faith is very important. Otherwise, people lose their sense of morality and society becomes chaotic," she said. "People should have freedom of belief. This persecution is terribly wrong." She also believes peaceful events like this will help people to learn more about Falun Dafa.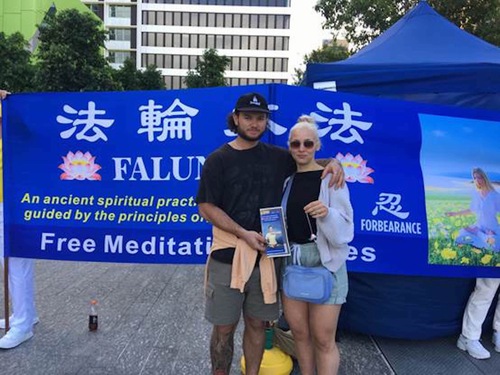 Ms. Ash Maddison and her friend Nakin
Ms. Ash Maddison studies at a nursing school. She and her friend Nakin noticed the posters and stopped, and carefully read each one. Both of them signed the petition and Ash said she strongly supports practitioners for their belief. They were shocked to learn how organs are removed from practitioners while they are still alive. "This is an unacceptable crime!" she exclaimed. She said she would read the materials and tell her friends about it. 
Huge Human Rights Disaster
Adam Tracey, a carpenter from Adelaide in south Australia, accepted a pamphlet from practitioners and read the posters. Having previously seen practitioners' activities elsewhere, he knew about the persecution and signed the petition to end it. "What's happening in China is a huge human rights disaster," he said while wishing practitioners well. 
Oscar Wang is from Taiwan and he teaches Chinese in Brisbane. He was sympathetic to practitioners for the mistreatment they received for their faith. He said he often posts comments online to oppose the CCP's suppression of Uyghurs, Tibetans, Falun Dafa practitioners, and Hong Kong residents. 
"The regime is indeed vicious for killing practitioners and selling their organs," he said. He said he hopes the CCP will collapse soon so that practitioners will be able to freely practice their belief in China. 
Views expressed in this article represent the author's own opinions or understandings. All content published on this website are copyrighted by Minghui.org. Minghui will produce compilations of its online content regularly and on special occasions.