San Francisco: Multiple Events Commemorate the Falun Gong April 25, 1999 Appeal in Beijing
(Minghui.org) Falun Dafa practitioners held activities in the San Francisco Bay area on Saturday, April 23, 2022 to commemorate the 23rd anniversary of the April 25, 1999 peaceful appeal in Beijing. 
They talked to people about Falun Dafa and how the Chinese Communist Party (CCP) has persecuted practitioners in China for 23 years. They called on the people of the world to help stop the persecution.
Practitioners assembled at 5 locations in downtown San Francisco and Chinatown around 11 a.m.. They unfolded banners along major streets and talked to people about Falun Dafa and the persecution in China. People stopped to learn more and many expressed their support.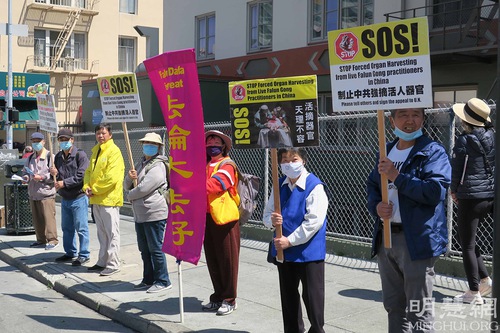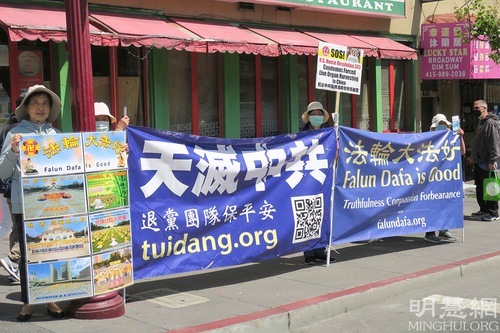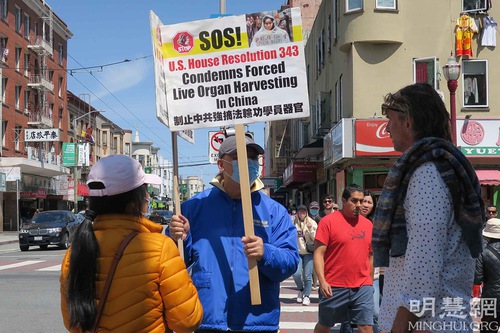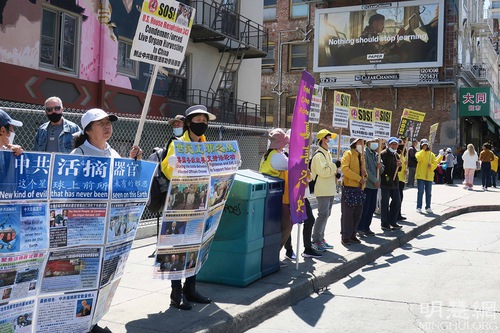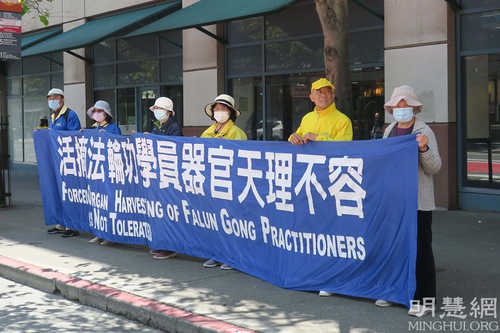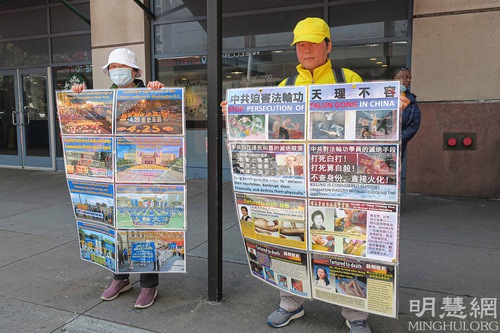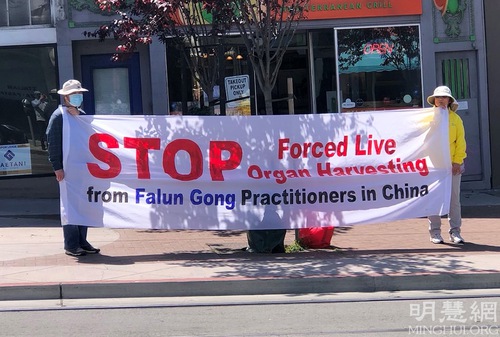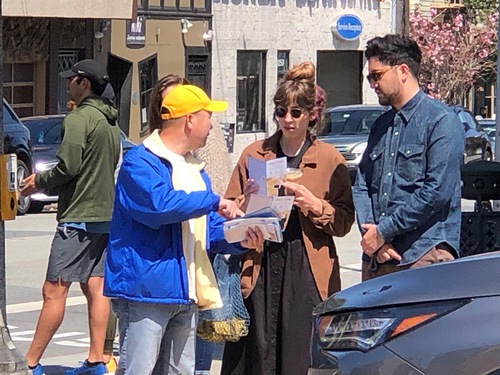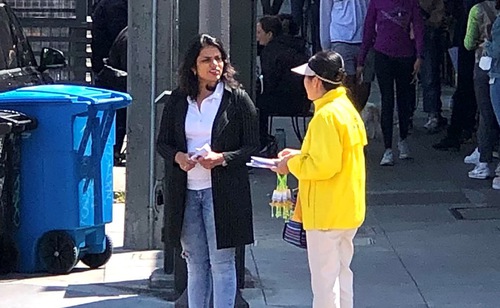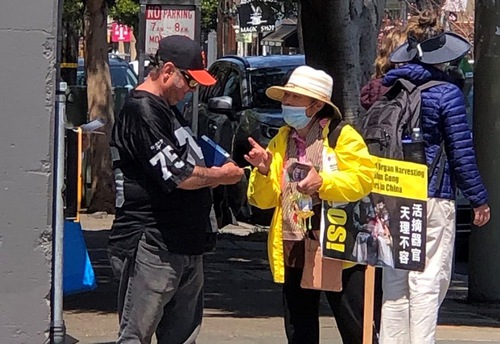 Practitioners held activities in San Francisco's downtown area
Wendy from Auckland began to practice Falun Dafa in 1997 and participates in the April 25 event every year. "I began to practice Falun Dafa in the United States," Wendy said, "When I heard that practitioners in China were unlawfully thrown into prison, I was puzzled. It is such a good practice. I couldn't see why the CCP wants to imprison practitioners." Wendy said that the CCP's persecution of practitioners had been going on for 23 years, "It is so evil to persecute such a group of kind people in such an inhuman way and even kill them for their organs. We should continue exposing this evil as long as the persecution does not stop."
Wendy was tortured by sickness for 20 years before she practiced Falun Dafa. She had chronic rhinitis and did not have a single night of good sleep. Seeing a doctor, taking medicine and even undergoing surgery did not solve her problems. "I felt my life was filled with suffering and I had no hope. At one point I even thought about ending my life." Wendy said, "Fortunately I found Falun Dafa when I was at my lowest point. After a month of practicing, my chronic rhinitis disappeared and I was able to breathe normally. My health also improved. My heart is full of joy and gratitude. I thank Dafa and Master for renewing my life."
Amy, a former university teacher in China, said that although 23 years have passed, she is still very moved when she recalls the April 25 appeal. "This is an important day—Falun Dafa practitioners petitioned peacefully and expressed their voices in a peaceful way." Amy said, "Practitioners showed a demeanor of peace and firm conviction on that day. Although they may seem ordinary, the peace they showed illuminated that day in history."
Amy began practicing Falun Dafa when she was in elementary school. She was still a junior high school student in 1999. She said, "Facing enormous pressure in that harsh society of extremely high-pressure, practitioners did not run away silently or resist fiercely. Instead they expressed their commitment in a peaceful way. They are truly amazing."
About 3 months later on July 20, the CCP officially announced the suppression of Falun Dafa. George, who was in his 20s and worked in management team for a technology company, immediately went to the Beijing Office for Letters and Calls when he heard the news at work. The bus stopped a few kilometers away from the office. He had to go there on foot. At the petition office, he and a large number of practitioners were rounded up and taken to a stadium by bus. "Dafa was persecuted," George said, "and I had the responsibility to stand up."
George said that there were tens of thousands practitioners in the stadium. Not enough police officers were there, so even city security were called in to maintain order. "But there was no need to maintain order. Practitioners were very calm and peaceful. Officers just stood around chatting, just like what happened on April 25." George recalled, "It was raining and some practitioners even held umbrellas for the police. The sun peaked through the clouds after the rain stopped, and practitioners observed a huge Falun spinning around the sun. Even the police officers saw it."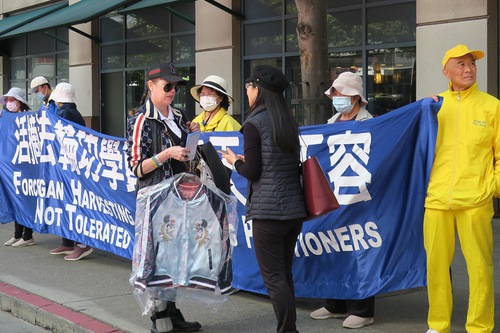 San Francisco resident Alexis Simonson (1st front left) learns about the persecution
Alexis Simonson is a makeup artist in San Francisco who said she's seen Falun Gong activities there for years. A banner that exposed organ harvesting atrocities really got her attention. She said, "Although I often see practitioners' activities calling for an end to the persecution, I don't know what Falun Dafa is. I saw the banner that exposed the CCP's organ harvesting from live practitioners and I learned that practitioners are a group of cultivators," Alexis said, "My God, what is happening on earth? They (the CCP) are really terrifying. I think more people should know about it. This also makes me want to know more about Falun Dafa."
When she learned about the Party's long-term mental and physical persecution and illegal trafficking of organs, she was angry. "It's a vile criminal act, it's abominable," she said.
Alexis agrees with Truthfulness-Compassion-Forbearance that practitioners take as their guiding principles. She said, "It's wonderful, I agree very much!"
Background: What Is the April 25 Appeal?
Falun Dafa (also known as Falun Gong) was first introduced to the public by Mr. Li Hongzhi in Changchun, China, in 1992. The spiritual discipline is now practiced in over 100 countries worldwide. Millions of people have embraced the teachings—which are based on the principles of Truthfulness, Compassion, Forbearance as well as five gentle exercises—and experienced improved health and well-being.
On April 23 & 24, 1999, police officials in Tianjin, a city near Beijing, assaulted and arrested dozens of practitioners who had gathered outside a magazine office to discuss errors in a recently-published article attacking Falun Dafa. As word spread of the arrests and more practitioners inquired with officials, they were told they had to take their appeal to Beijing.
The following day, April 25, some 10,000 Falun Dafa practitioners spontaneously gathered at the Central Appeals office in Beijing, as they had been instructed by Tianjin officials. The gathering was peaceful and orderly. Several Falun Dafa representatives were called in to meet with Chinese Premier, Zhu Rongji, and members of his staff. That evening, practitioners' concerns were answered. The arrested practitioners in Tianjin were released and everyone went home.
Jiang Zemin, former head of the CCP, perceived the spiritual discipline's growing popularity as a threat to the CCP's atheistic ideology and issued an order to ban Falun Dafa on July 20, 1999.
Minghui.org has confirmed the deaths of thousands of practitioners due to the persecution over the years; the actual number is suspected to be much higher. More have been imprisoned and tortured for their faith.
There is concrete evidence that the CCP sanctions the harvesting of organs from detained practitioners, who are murdered to supply the organ transplant industry.
Views expressed in this article represent the author's own opinions or understandings. All content published on this website are copyrighted by Minghui.org. Minghui will produce compilations of its online content regularly and on special occasions.