Germany: Public Denounces the CCP's Decades Long Persecution of Falun Dafa
(Minghui.org) Falun Dafa practitioners held activities in Marienplatz in central Munich, southern Germany's largest city on February 26, 2022. They demonstrated the Falun Dafa exercises and told people how the Chinese Communist Party (CCP) has brutally persecuted the mind-body practice for more than two decades. Many people signed the petition to end the brutalities after learning the facts.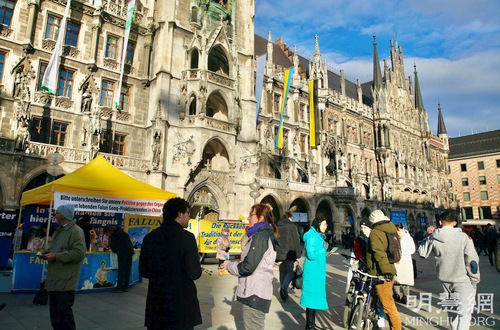 Practitioners held activities at Marienplatz in Munich, southern Germany's largest city on February 26, 2022.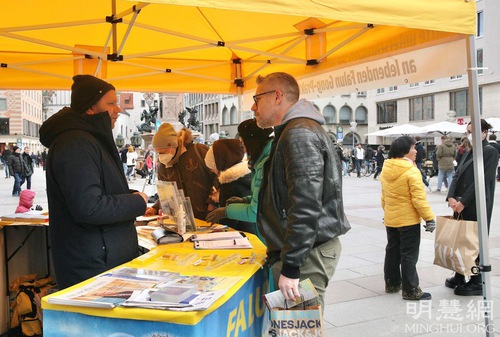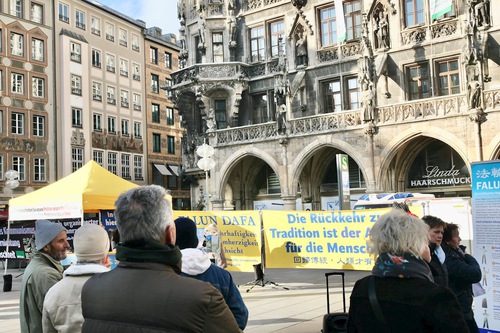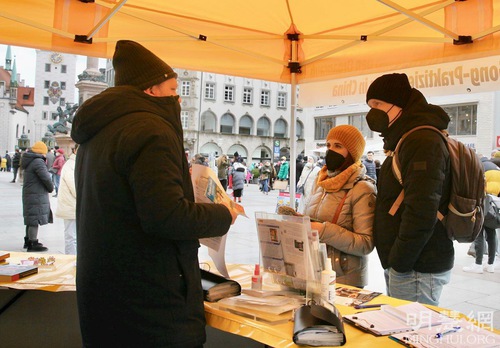 Passersby watched practitioners demonstrate the exercises. Many people stopped and spoke with practitioners to learn about the persecution.
February 26th happened to be Fasching, a traditional carnival celebration held before the beginning of Lent. A group of men and women who came to Munich to attend the celebrations signed the petition to call for an end to the persecution in China. One of them, a pharmacist, Rosi Reindl said, "Of course we must stop such terrible things and it is very pressing. Including this forced labor system in China, it must be stopped too."
Ms. Reindl said, "[It is] Completely unbelievable that the CCP has forbidden people from following [Falun Dafa's principles of] Truthfulness, Compassion, Forbearance for 23 years. This is what humanity needs urgently, it should be widely promoted, instead of banning people from practicing cultivation or being killed for doing this. This cannot happen."
The World Must Take Action Against the CCP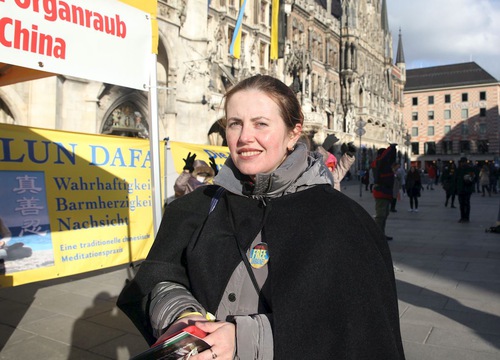 Ms. Maryna Mudra said Falun Dafa practitioners should be protected.
"I have been following the history of the CCP's persecution of its people and all its crimes for a long time. This makes me sad," Ms. Maryna Mudra said as she signed the petition to stop the CCP from taking organs from incarcerated practitioners.
She said she knew a little about the persecution of Falun Dafa in China and that the practice teaches people to follow the principles of Truthfulness, Compassion, Forbearance. "They don't hurt anyone. They are just following the principles of their belief and practice cultivation freely. A China ruled by a dictatorship is horrifying."
She added, "Persecuted practitioners should be protected. I think, the world must take action against the CCP. It is a pity that countries only care about money. We must adopt measures to handle the situation."
Practicing Falun Dafa Makes One Peaceful
Ms. Müller a nurse, thinks the exercises demonstrated by practitioners were excellent. "Without a doubt, it is beautiful," she said. She felt that practitioners were very peaceful, and the exercises can make one feel at peace.
In regards to the persecution of practitioners who live by the principles of Truthfulness, Compassion, Forbearance by the Chinese regime, Ms. Müller said, "It is simply unbelievable. Shocking!" She also signed the petition to end the atrocities and explained, "Of course I oppose such things. I am against organ harvesting."
When she was told that the persecution has been going on for 22 years and people cannot practice their belief in China, she said, "It appears that humanity has a long way to go. I practice Tibetan Buddhism, I abide by the principles of compassion and I absolutely support religious freedom—there is no question about it."
Views expressed in this article represent the author's own opinions or understandings. All content published on this website are copyrighted by Minghui.org. Minghui will produce compilations of its online content regularly and on special occasions.