After Being Tortured for Eight Years in Prison, Former Art Teacher Sentenced Again
(Minghui.org) After being imprisoned and tortured for 8 years, a resident of Muling City, Heilongjiang Province, was once again sentenced to another 6.5 years and fined 20,000 yuan for refusing to renounce his faith in Falun Gong, a spiritual discipline that has been persecuted by the Chinese communist regime since 1999.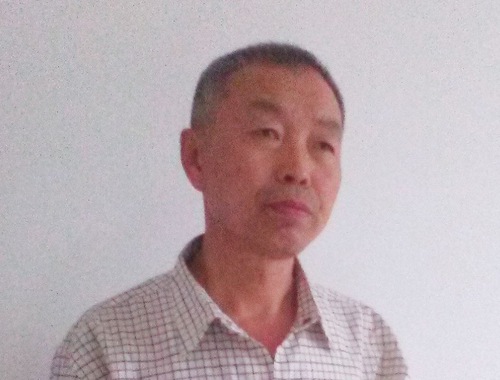 Mr. Sun Shiwei
Mr. Sun Shiwei, 69, was a fine arts instructor at Muling City Teacher Training College. He published several textbooks and provided training to teachers. Some of his students were admitted to Central Academy of Fine Arts, one of the best fine art colleges in China.
Before taking up Falun Gong, Mr. Sun struggled with several illnesses, including severe stomach ulcers, nephritis with blood in his stool, arthritis, heart disease, and hemorrhoids. His family spent a fortune on his medical care, but no doctors or treatments helped. Standing at 5 foot and 11 inches tall, he weighed less than 50 kilos (or 110 pounds).
On July 22, 1997, Mr. Sun heard about Falun Gong and took up the practice for health improvement. In about one and a half months, all of his illnesses disappeared. He truly felt the happiness of being illness-free and was very thankful to Falun Gong.
Living by Falun Gong's principles of Truthfulness-Compassion-Forbearance, Mr. Sun became a better person. Because of his excellent performance as a teacher, the president of his college specifically requested a pay raise for him. Later on, he was recognized as "Teacher of the Year" in Muling City. Mr. Sun also refused to line his own pockets by taking advantage of his employer like some coworkers did. Once when he bought some printing materials for the school, the vendor offered to write a higher amount on the invoice so that he could make a profit when he got reimbursed for the purchase. Mr. Sun declined the offer.
Held in Forced Labor Camp for One Year, Tortured in Prison for Eight Years
Mr. Sun was arrested and taken to Muling Detention Center in May 2001. Afterwards, he was sent to Mudanjiang Forced Labor Camp to serve a one-year term.
On September 23, 2005, Mr. Sun was arrested at home by officers from the First Police Station of Muling City. He was detained at the Muling City Detention Center. During the detention, he was interrogated and locked onto a metal chair and handcuffed behind his back to the chair. They poured cold water over his head and punched him. Because Mr. Sun refused to answer their questions, they tried to knock out Mr. Sun's teeth to make him talk, causing Mr. Sun to lose one of his front teeth. They also forcibly fed him unknown drugs. He was taken back to the detention center after being on the brink of death.
Mr. Sun was sentenced to eight years by Muling Court and sent to Mudanjiang Prison on June 7, 2006. When he was leaving the detention center, a guard hit him, causing him to lose his hearing for more than three months.
At the Mudanjiang prison's training unit, several inmates along with a staff member decided to search everyone. They demanded that all inmates put their heads down under the bed with their buttocks pointing up. Mr. Sun resisted the persecution and refused to do it. He was then brutally beaten by the inmates. His mouth and nose bled and his face was covered with bruises.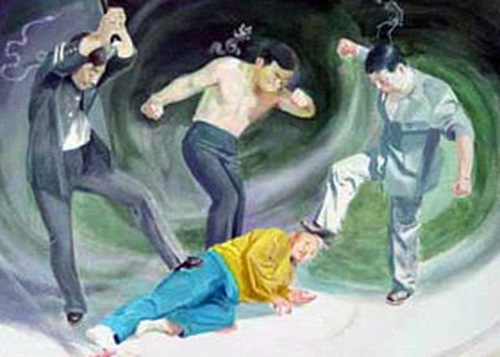 Torture illustration: Beatings
Mr. Sun was sent to Jiamusi Prison on July 7, 2006, where he was brutally beaten by inmates, locked in solitary confinement, and force-fed food and unknown drugs. He was also prohibited from closing his eyes, doing the Falun Gong exercises, talking to other Falun Gong practitioners, leaving the cell, buying things at the prison grocery store, talking about Falun Gong to other inmates, sending letters, and meeting with his family.
Once, he was talking about Falun Gong to a guard, another guard slapped him more than 30 times. His face became swollen and his teeth became loose. His nose and mouth bled. One of his teeth was broken and his teeth hurt when he eats even now.
In August 2006, Mr. Sun talked to another inmate about Falun Gong and was beaten by other inmates. His face became swollen, his teeth loosened, and his nose and mouth bled. Since then, he has had difficulty breathing. As he refused to write "thought reports," he was beaten up again.
Mr. Sun was reported for doing the Falun Gong exercises on May 22, 2007. Guards took him to the guards' office and verbally abused him. He was stripped of his warm clothing and locked up in a solitary confinement cell for 15 days. He went on a hunger strike for 13 days and was force-fed multiple times. By the time he was released from the cell, he developed pain in his back and only recovered after six months.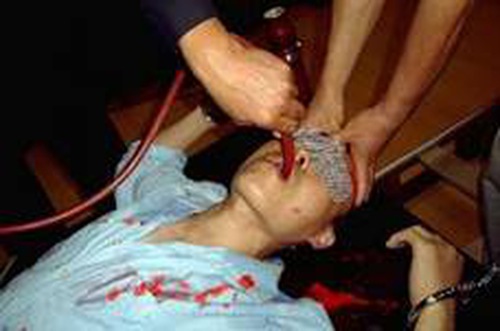 Torture re-enactment: Force-feeding
In July 2008, Mr. Sun went out for some fresh air with other prisoners after their dinner and a guard spotted him. He asked Mr. Sun who had given him permission to go outside and ordered Mr. Sun to go upstairs to his office. He also slapped Mr. Sun twice and told him to get lost.
In 2009, Mr. Sun was reading a Falun Gong book in the lobby and the book was confiscated by an inmate, who then handed it to the guards. He was tied to the bed and forced to write guarantee statements. When he refused, the inmate punched him and stuffed a lit cigarette into his nose. The torture lasted for two hours. By the time he was released, he had difficulty walking and only recovered the next day.
During that period, the prison forced all practitioners to undergo a physical exam. Nearly 95 percent of the practitioners were diagnosed with high blood pressure, including Mr. Sun. They were forced to take medicine. When they refused, the inmates force-fed them. However, Mr. Sun always hid the medicine under his tongue and spat it out later. This torture went on for nearly two months.
In September 2012, an inmate who was about to be released asked Mr. Sun for a Falun Gong book, claiming that he wanted to read it. Mr. Sun lent his hand-copied Falun Gong book to the inmate. However, the inmate reported him and gave it to a guard, who then beat up Mr. Sun. Mr. Sun's face became swollen, and his book was destroyed by the guard. There were a few more times when Mr. Sun's hand-copied Falun Gong books were confiscated and destroyed by the guards.
While Mr. Sun was serving time, his wife made a living by selling goods and their older son helped take care of his grandmother. The elderly woman was counting every day when Mr. Sun would be released, by tearing paper into many pieces. The mental distress took a toll on her health. She developed stomach cancer and lost vision in both of her eyes. She passed away in 2012, one year before Mr. Sun was released.
After Mr. Sun returned home on September 22, 2013, he was devastated to find that he had been fired by the school. His years of service were wiped out and he lost all of his pension. He went to the school and education bureau several times to seek justice, but to no avail.
Sentenced Again to 6.5 Years
On the afternoon of April 24, 2020, a local Falun Gong practitioner, Ms. Cao Shufang, found that she had a broken window. Mr. Sun and his friend Mr. Gao Pengguang offered to help install a new window for her. The two men ran into Mr. Gao's sister, Ms. Gao Yongli, at Ms. Cao's home. The Gao siblings are Falun Gong practitioners too.
After Mr. Sun and Mr. Gao installed the window, they left Ms. Cao's home together with Ms. Gao. As the trio was exiting the gate of Ms. Cao's apartment complex, several police officers suddenly showed up out of nowhere. They arrested Mr. Sun, Mr. Gao, and Ms. Gao. Ms. Cao was later arrested too.
The Hailin City Procuratorate approved their arrests on May 27, 2020, and moved their cases to the Hailin City Court.
The practitioners were sentenced on July 20, 2021, by Hailin Court. Mr. Sun and Mr. Gao were both given 6.5 years with a fine of 20,000 yuan, and Ms. Gao was sentenced to 6 years and 10 months. The three practitioners appealed with the Mudanjiang Intermediate Court, which ruled to uphold their original verdicts on September 8. Mr. Sun was taken to Mudanjiang Prison on October 28, 2021, and transferred to the Tenth Ward in Tailai Prison on December 29.
Mr. Sun's latest arrest has brought endless sorrow to his family. His wife fainted several times. Several of her front teeth were knocked out. She has been suffering from advanced breast cancer, with her right breast oozing pus and blood.
She often tells people she feels heartbroken because her husband has been wronged and detained for simply trying to be a good person. Had he broken the law and done bad things, she would have been fine with his detention. "Our family is a traditional family that values virtue and integrity. We are honest people who always treat others well. Influenced by my husband, I never cheat my customers while working as a street vendor and people trust me very much," she explained, "I hope that the authorities could consider the situation and release my husband soon."
The couple's older son had planned to go to a foreign country to reunite with his wife, but he had to change his plans and stay in China to take care of his mother.
Related reports:
Teaching and Research Staff Member from Muling City Teacher's Training College Brutally Beaten in Prison
Muleng City, Heilongjiang Province: Four Sentenced for Their Faith, Three Denied Appeals
Former Art Teacher Sentenced to 6.5 Years for His Faith
Related report in Chinese:
Views expressed in this article represent the author's own opinions or understandings. All content published on this website are copyrighted by Minghui.org. Minghui will produce compilations of its online content regularly and on special occasions.