Zurich, Switzerland: Locals Condemn the Persecution of Falun Dafa in China
(Minghui.org) "In today's world, so many people are persecuted for their ideas, opinions, and beliefs. This cannot be tolerated," said Michael Mosiman when he stopped by an event held in Limmatquai, Zurich on October 29, 2022. He said he hopes his signature helps stop the Chinese Communist Party's (CCP) persecution of Falun Dafa practitioners in China. He also asked his friend to sign the petition calling to end the CCP's brutality.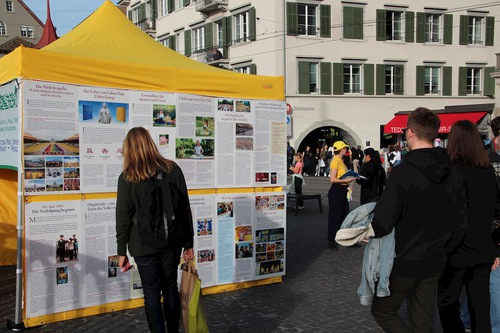 Practitioners held an event in Limmatquai, Zurich on October 29, 2022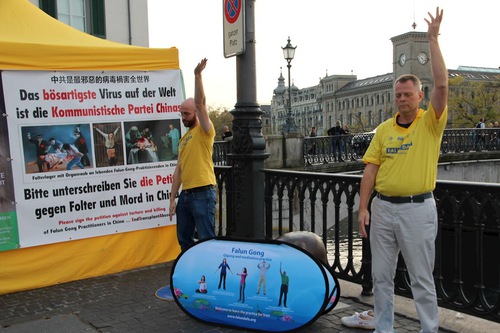 Demonstrating the Falun Dafa exercises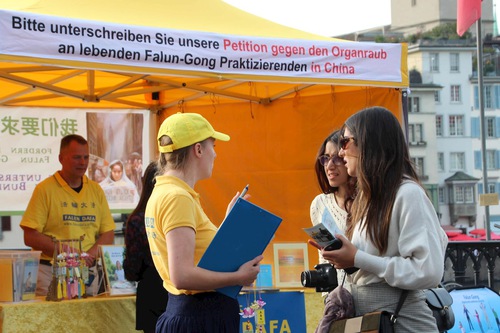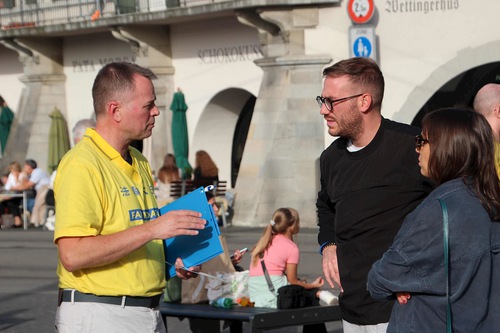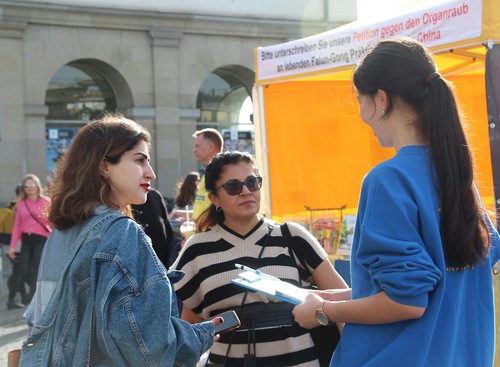 Passersby talk with practitioners to learn more. 
Many passersby were drawn by the exercise demonstration and stopped to read the banners. They read the display boards with information about the persecution and organ harvesting atrocities, custom killing practitioners for their organs. Some went directly to sign the petition, while others talked with practitioners to learn more. Many people condemned the Chinese Communist regime's persecution and its state-sanctioned forced organ harvesting.
Organ Harvesting Is Evil
Flight attendant Astra and her friends all signed the petition calling for an end to the persecution. She said, "I oppose the persecution [of Falun Dafa practitioners] and live organ harvesting. Such actions are killing, and people cannot be killed for organs. It's too evil."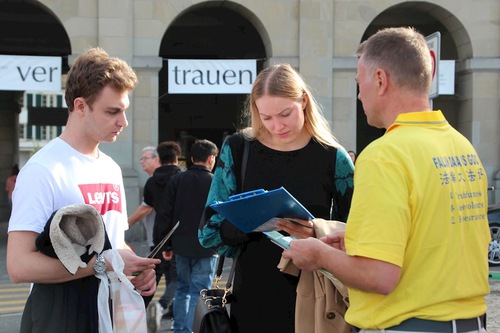 Astra signs the petition. 
Astra said she wanted to, "speak for those [Falun Dafa practitioners] who are persecuted and tortured. I will pray for them. I hope they can be helped and stop this persecution. It's really terrible.
"This [persecution] should be stopped, and people should stand up against this [persecution]," said Astra. "People should not be persecuted because of their beliefs, especially because they [practitioners] are peaceful and harmless. It is wrong to persecute them." 
Persecution and Live Organ Harvesting Cannot Be Tolerated
On the left side of the booth were twelve display panels with information that comprehensively introduced Falun Dafa, how it spread around the world, and why the CCP persecutes Falun Dafa. Many people stopped and read them.
Simona Spadin read the information and said this was the first time she heard about Falun Dafa. After reading how the CCP harvests organs, she immediately signed the petition. 
Simona Spadin signs the petition. 
She said, "Everyone should be able to have their own beliefs. This persecution is so bad. It can't be ignored." Simona said she hopes her signature will help stop the evil deeds and that more people will hear about it.
Hopes Everyone Will Sign the Petition
Fabio Hernandez stopped and watched practitioners meditating. After listening to a practitioner's introduction, he immediately signed the petition. He said, "Everyone should come and sign. So the signature form can be submitted to the Swiss federal government, which can see these demands and take action." 
He learned that Falun Dafa teaches people to be good according to the principles of Truthfulness-Compassion-Forbearance, and he said this was great. "The persecution of Falun Dafa is really bad. People should practice the exercises freely, because this [practice] allows people to feel happy and relaxed, and the practice looks spiritual and extraordinary."
He said he would tell more people what he learned and hopes: "Those [Falun Dafa practitioners] who are [illegally] imprisoned should live freely, just like we do in Switzerland." He encouraged practitioners to keep up their efforts to tell people about the persecution. 
The Organ Harvesting Must Be Stopped
Jandris Gonzalez from Cuba said he read about Falun Dafa on the Internet and learned the exercises at a group practice site. After returning home, he did the exercises again by following the instruction video. He said, "[Doing the exercises] makes me feel calm and I'm able to concentrate. I felt that I was purified, and it was like an electric current passing through my body. I felt very good."
He said his experiences while living in a communist country also helped him clearly understand: "The Communist Party oppresses people. People have no freedom and cannot live normally. This is a very bad system." He said, "All people in China should have the freedom to practice Falun Dafa."
He said that the CCP's organ harvesting "is definitely a crime. Harvesting people's organs and selling them, no! This cannot continue and should be stopped. It should be stopped as soon as possible. This is definitely a violation of human rights, and it goes against nature. Organs cannot be harvested and sold. This must never happen."
Background: What Is Falun Dafa and Why Is the CCP Persecuting It?
Falun Dafa (also known as Falun Gong) was first introduced to the public by Mr. Li Hongzhi in Changchun, China, in 1992. The spiritual discipline is now practiced in over 100 countries and regions worldwide. Millions of people who have embraced the teachings, which are based on the principles of Truthfulness, Compassion, and Forbearance, and have learned the five exercises have experienced improved health and well-being.
Jiang Zemin, former head of the Chinese Communist Party (CCP), perceived the spiritual discipline's growing popularity as a threat to the CCP's atheistic ideology and on July 20, 1999, he issued an order to eradicate the practice.
Under Jiang's personal direction, the CCP established the 610 Office, an extralegal security organization with the power to override the police and judicial systems and whose sole function is to carry out the persecution of Falun Dafa.
Minghui.org has confirmed the deaths of thousands of practitioners as a result of the persecution over the past 23 years. The actual number is believed to be much higher. Countless practitioners have been imprisoned and tortured for their faith.
There is concrete evidence that the CCP sanctions the harvesting of organs from detained practitioners, who are murdered to supply China's organ transplant industry.
All content published on this website are copyrighted by Minghui.org. Minghui will produce compilations of its online content regularly and on special occasions.