London, UK: Practitioners Persist in Telling People About the 23-Year-Long Persecution in China
(Minghui.org) From hot summers to freezing winters, practitioners have maintained a presence in London and informed people about Falun Dafa and how the Chinese Communist Party (CCP) persecutes the practice in China. Upon hearing about the situation, local residents and tourists showed support and thanked practitioners for their efforts. 
The British Museum
Practitioners handed out materials outside the British Museum as usual on October 21, 2022. BBC reporter Larissa stopped by the table and signed a petition that called to end the persecution in China. She took some materials and entered the museum. 
About half an hour later, Larissa returned to the table. She said she'd read the materials and was surprised by what was going on in China. She planned to interview some practitioners and expose the brutality through the media.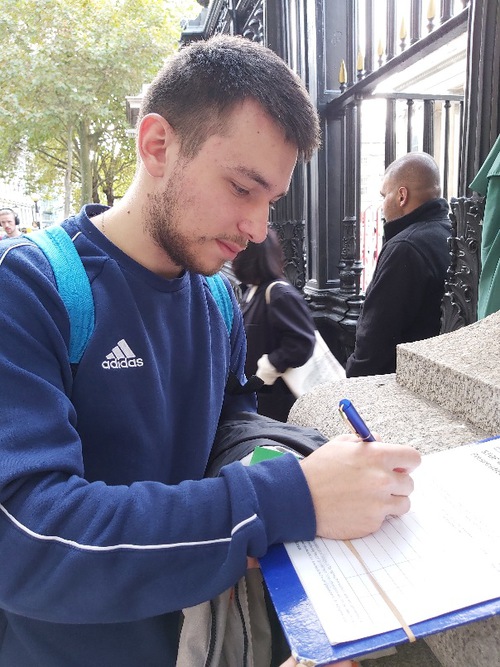 Dascralu Daofam from Romania signed a petition. 
Dascralu Daofam, a medical student from Romania, accepted a pamphlet and talked with practitioners. He explained that although he was born in the post-communist era in Eastern Europe, his parents told him about the many tragedies that took place under communist rule. He said, "It is important for people to be kind and considerate of each other, since it will improve people's minds and bodies." Impressed by the principles of Truthfulness-Compassion-Forbearance, he signed the petition to help practitioners.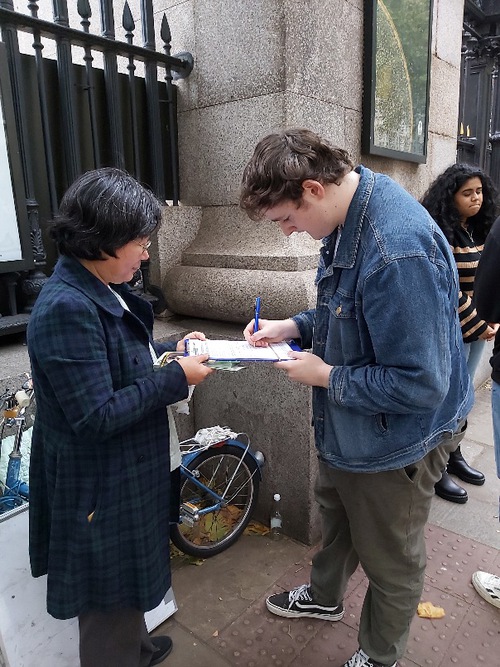 Louis from University College London signed the petition. 
Louis, a student at University College London who is majoring in English was shocked when a practitioner told him about the harsh persecution against Falun Dafa in China. "This is horrific and vicious," he said as he signed the petition. 
Event in Chinatown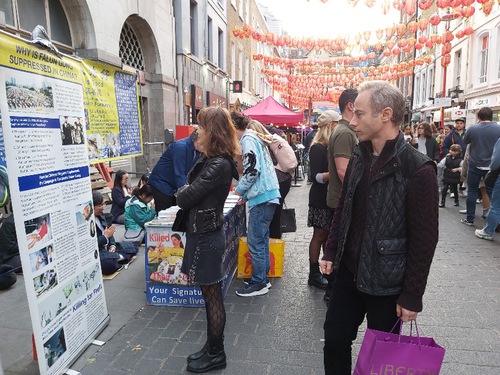 People read posters about Falun Dafa in London's Chinatown. 
Practitioners also routinely hold similar events in Chinatown. A couple from the U.S. stopped and chatted for a while. James and his wife Jamie fled China 80 years ago and later settled down in the United States, becoming medical professionals. 
Jamie explained that they had attended Shen Yun performances, so they knew about Falun Dafa and considered it beneficial to both practitioners and society. "The CCP wants to control people's minds and always uses lies to deceive Chinese citizens," she explained. She praised practitioners for their determination in safeguarding the principles of Truthfulness-Compassion-Forbearance.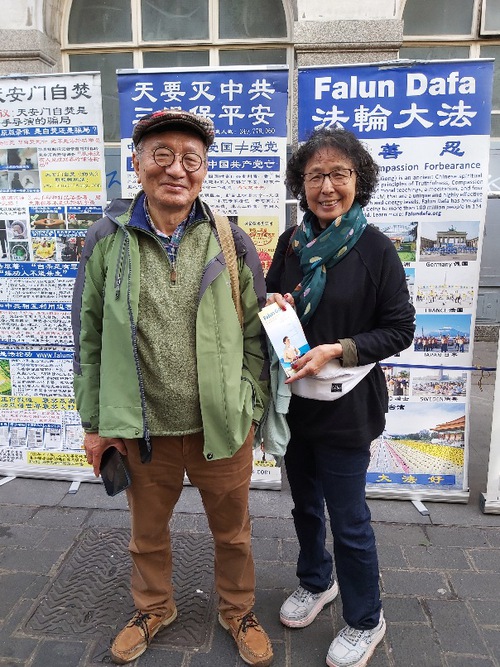 James and Jamie, a medical professional couple from the United States.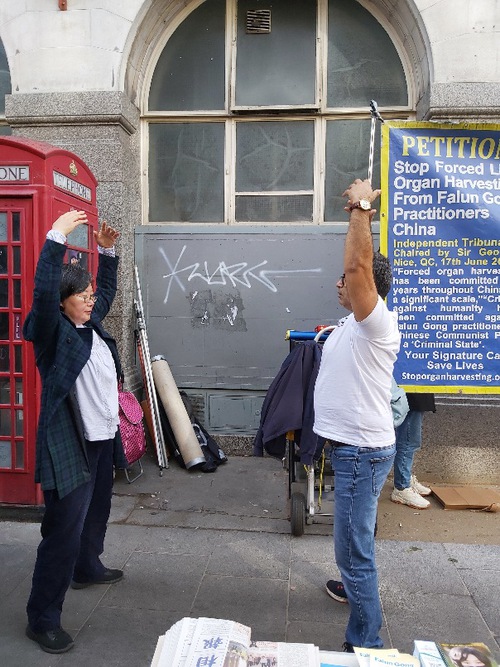 A passerby (right) learns the exercises. 
Mark and his Chinese friend Wendy walked by the posters in the afternoon. Mark said many years ago he read how the CCP targets Falun Dafa practitioners for organ harvesting. "The CCP does not respect life and it does not care about people," he said. "Thank you for continuing to speak out for these innocent people. This is very important." Wendy said she also appreciates the values of Truthfulness-Compassion-Forbearance. 
As a UK citizen, Mark said he wanted to do what he could to help get the message out "Thank you for telling me about this. I will read and pass on the information to my family and friends," he added. 
Chris and May said they pay close attention to the human rights situation in China. Chris and May lived in Bangkok for over 20 years. Chris is in the real estate industry and May is in the banking business. They explained they saw Falun Dafa practitioners in Bangkok's Chinatown, and both of them signed the petition to end the atrocity in China. 
Chris has been following the human rights situation in China and reading related news about it for years. "It's too bad that people there are living a miserable life under the CCP's rule," he said. "If more people follow the principles of Truthfulness-Compassion-Forbearance, this world would be a better place."
Background: What Is Falun Dafa and Why Is the CCP Persecuting It?
Falun Dafa (also known as Falun Gong) was first introduced to the public by Mr. Li Hongzhi in Changchun, China, in 1992. The spiritual discipline is now practiced in over 100 countries and regions worldwide. Millions of people who have embraced the teachings, which are based on the principles of Truthfulness, Compassion, and Forbearance, and have learned the five exercises have experienced improved health and well-being.
Jiang Zemin, former head of the Chinese Communist Party (CCP), perceived the spiritual discipline's growing popularity as a threat to the CCP's atheistic ideology and on July 20, 1999, he issued an order to eradicate the practice.
Under Jiang's personal direction, the CCP established the 610 Office, an extralegal security organization with the power to override the police and judicial systems and whose sole function is to carry out the persecution of Falun Dafa.
Minghui.org has confirmed the deaths of thousands of practitioners as a result of the persecution over the past 23 years. The actual number is believed to be much higher. Countless practitioners have been imprisoned and tortured for their faith.
There is concrete evidence that the CCP sanctions the harvesting of organs from detained practitioners, who are murdered to supply China's organ transplant industry.
All content published on this website are copyrighted by Minghui.org. Minghui will produce compilations of its online content regularly and on special occasions.