After Multiple Incarcerations, Woman Given Another Four Years in Prison for Practicing Falun Gong
(Minghui.org) Having been incarcerated three times for her faith in Falun Gong, a Baishan City, Jilin Province resident has been sentenced again, five months following her latest arrest.
Four officers from the Jingyu County Police Department broke into Ms. Wu Xiuqin's rental apartment on June 8, 2021 and arrested her. They also ransacked her home and held her in the Baishan City Detention Center. A Baishan City Court judge sentenced Ms. Wu to four years in prison with a 2,000-yuan fine on November 18, 2021. 
Handcuffed and Shocked with Electric Baton in Forced Labor Camp
Since the Chinese communist regime launched the persecution of Falun Gong in July 1999, Ms. Wu has been held in a forced labor camp twice, in 1999 and 2008, and sentenced to five years in prison in 2011. 
Ms. Wu was arrested and placed in the Heizuizi Women's Forced Labor Camp just days after the persecution started on July 20, 1999. The guards targeted her and two other practitioners, Ms. Zhu E, and Ms. He Hua for intensified persecution. They tied the three practitioners' hands behind their backs and tied up their legs, crossed in the full lotus position. The practitioners were tied up in this painful position for eight hours a day for three days and weren't allowed to use the restroom during that time. The guards beat them every day. Ms. Wu's legs were covered in blisters and she could barely walk afterward.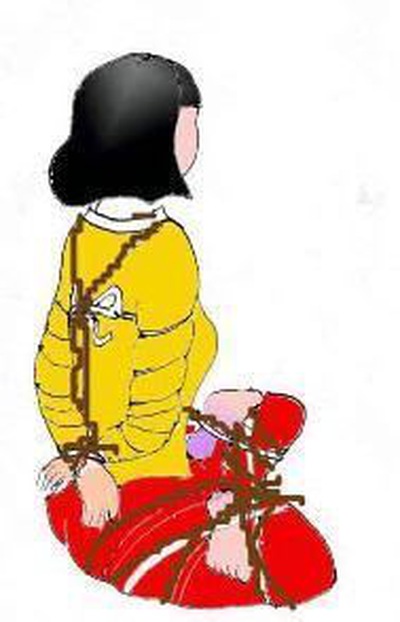 Torture illustration: The practitioner's hands were tied behind their back and legs crossed in the full lotus position for eight hours a day. 
One day in December 2000, the three practitioners stopped the guards from posting flyers that slandered Falun Gong on the walls of their cells. The guards dragged Ms. Zhu and Ms. He to an office, where they beat them and shocked them with an electric baton, causing excruciating pain. The guards then handcuffed the women, taped their mouths, and glued the slanderous flyers on them. 
A guard dragged Ms. Wu into the office later and she removed the flyers on the two practitioners as soon as she saw them. Another guard took her out of the office and handcuffed her to a bed frame, while a third guard shocked her with an electric baton. This torture lasted the entire morning. 
Ms. Wu was put in solitary confinement after the torture session. Her hands were cuffed behind her back and she was forced to remain in a sitting position for the next two weeks. When she left solitary confinement, her hands and legs were severely swollen.
Fleeing Home to Avoid Persecution
A group of agents from the Jingyu County 610 Office caught Ms. Wu handing out Falun Gong fliers on February 11, 2003, and put her in a detention center for eight days. Two days after she returned home, the police ransacked her home. She decided to flee home to avoid furthur harassment. 
In July 2005, several police officers from the Jinyu County Police Department went to look for Ms. Wu in Lushuihe Town, Fusong County. At the time, she worked odd jobs and was rearing her 12-year-old child alone. 
Force-fed and Given Unknown Drug Until Near Death
Officers from the Sanchazi Police Station arrested Ms. Wu when she distributed Falun Gong fliers in Jiangyuan County on April 22, 2008. The police arbitrarily gave her another term at the Heizuizi Women's Forced Labor Camp on May 13. The guards stripped Ms. Wu and forced her to put on the labor camp uniform. 
When Ms. Wu refused to wear the uniform on March 16, 2009, a guard handcuffed and tortured her. Two days later another guard brought in four men. One of them shocked her with an electric baton while another repeatedly slapped her in the face. The other two stripped off her clothes. 
Ms. Wu went on a hunger strike to protest the abuse. The guards handcuffed her for 40 days, during which time the guards-force fed her and injected her with unknown drugs. One guard jumped on her and slapped her while two others whipped her face with belts. They then tied her arms and legs to a bed frame and injected her with four bottles of unknown drugs. Two doctors repeatedly inserted a tube into her stomach to force-feed her. Upon seeing that Ms. Wu had turned pale and was shaking uncontrollably, a doctor suggested that she might die. The guards then removed the needles.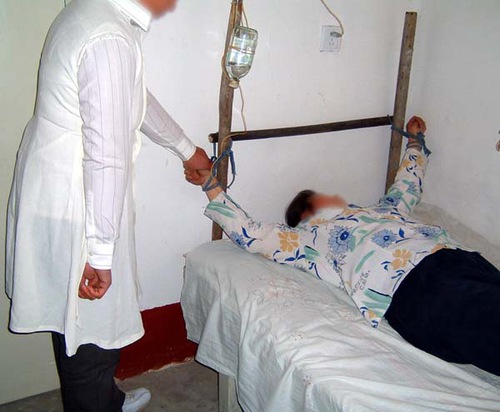 Torture reenactment: A practitioner is tied down to a bed frame while a doctor injects her with unknown drugs. 
The camp authorities refused to release Ms. Wu after her term expired on July 22, 2009. The next day, two guards beat Ms. Wu at night, claiming that they "represented the government." They kept her for another four months before releasing her on November 13. 
Tortured in Prison for Five Years 
The police arrested Ms. Wu from her home and placed her in the Jingyu County Detention Center on March 7, 2011. She was sentenced to five years and taken to the Jilin Women's Prison. 
For a month in 2015, a guard and a drug addict worked together to torture Ms. Wu. From November 23 to December 22 that year, they kept pulling on her clothes with the excuse of "correcting her sitting position." Her clothes were torn as a result, and the fierce pulling and pinching also resulted in bruises on her shoulders and arms, and scratches on her neck. For a period of time, they forced her to stand for long hours and when she got tired, she was only allowed to sit on the concrete ground. On other days, Ms. Wu was tortured by being forced to sit motionless on a tiny stool from 5 a.m. to 9 p.m. except for eating or using the toilet. Ms. Wu was released on February 27, 2016.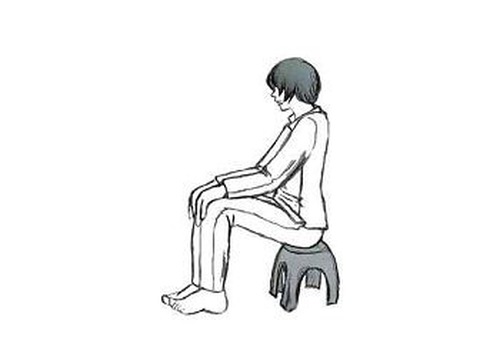 Torture illustration: Sitting motionless on a small stool for long hours. 
Perpetrator Who Arrested A Dozen Practitioners 
One of the perpetrators who participated in Ms. Wu's latest arrest is Yu Xuejun, a captain of the Domestic Security Office in the Jingyu County Police Department. During his almost decade-long tenure, he has arrested over ten Falun Gong practitioners. Two of the practitioners died as a result of torture, three received prison terms, and three were held in forced labor camps. Yu ransacked the homes of Falun Gong practitioners many times, and confiscated their personal belongings including computers, printers, and cash. Ms. Wu's husband couldn't stand the constant pressure of Yu's harassment and divorced her. 
The two practitioners who died after being arrested by Yu were Mr. Wang Xuezhu and Mr. Zhou Ji'an. They died after sustaining physical injury and mental trauma from torture in prison. 
Mr. Wang was riding a bike when Yu arrested him in April 2008. A judge sentenced him to four years in prison. He was beaten to death three years into his term at the Siping Prison. He was 41. 
Mr. Zhou was at home when Yu arrested him on September 2, 2008. He was sentenced to five years. While he was serving time at Gongzhuling Prison, the guards beat Mr. Zhou until they broke the wooden batons and leather belts they were using on him. His feet were so injured that his toenails became detached and he sustained internal injuries that never healed. After Mr. Zhou was released, he remained lethargic and had no appetite. He lived in constant fear. He passed away in January 2016 at the age of 50. 
All articles, graphics, and content published on Minghui.org are copyrighted. Non-commercial reproduction is allowed but requires attribution with the article title and a link to the original article.