Australia: Sydney Falun Dafa Practitioners Wish Master Li a Happy New Year
(Minghui.org) As the 2022 New Year approaches, practitioners from around the world are thankful to Falun Dafa for the great spiritual and physical benefits they have received.
On the morning of December 29, 2021, Falun Dafa practitioners from the Sydney area dressed in traditional clothing of their nationalities and gathered in Hyde Park to wish Master Li Hongzhi a happy New Year.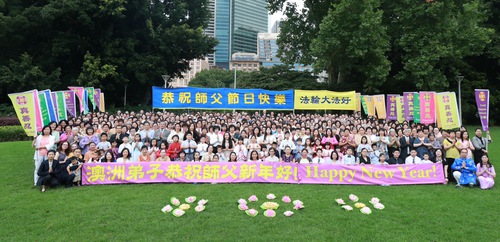 Falun Dafa practitioners from the Sydney area gather in Hyde Park to wish Master Li Hongzhi a happy New Year.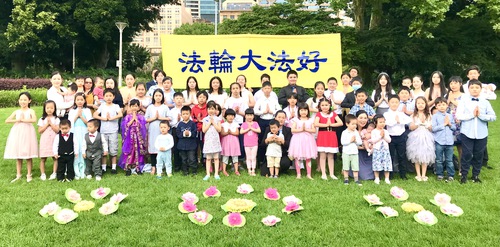 Falun Dafa practitioners and their children wish Master Li a happy New Year!
Falun Dafa, also known as Falun Gong, is a traditional cultivation practice that was first introduced to the public by Master Li Hongzhi in China in 1992. It has enabled practitioners from all walks of life to holistically regain their health, improve their character, and help them discern right from wrong. Some practitioners shared their cultivation experiences after the gathering.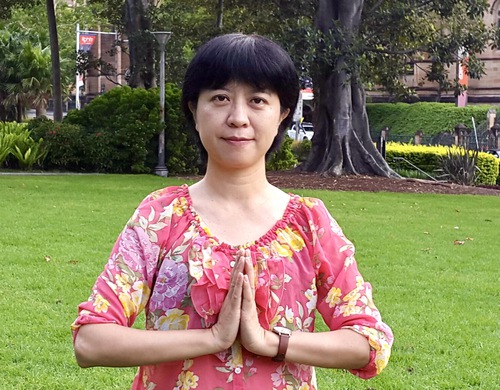 Doris Chen, a doctor of traditional Chinese medicine
Doris Chen, a doctor of traditional Chinese medicine, recalled how Falun Dafa changed her life after she learned the practice in college. "I am very fortunate to have become a Falun Dafa practitioner when I was still young. It has been like a beacon guiding my life path," Dr. Chen said.
Dr. Chen believes that life is not just for studying, working, and family, but that one should have a higher theme to guide oneself, i.e, returning to one's original true self and being a good person according to the principles of Truthfulness-Compassion-Tolerance.
"In the past, it was difficult to cultivate in the secular world and you had to become a monk and leave ordinary society. Now Dafa is spreading in ordinary society, and improvement in cultivation also helps improve society."
Dr. Chen said that her herbal medicine skill improved as she improved in cultivation. Some of her patients have learned Falun Dafa from her and then introduced the practice to their children.
Dr. Chen often felt that it was difficult to understand the theories of how Chinese traditional medicine cures illnesses. Even many famous doctors have a hard time understanding the essence of traditional medicine.
"In the process of my cultivation, I have felt that when I improved a little in my cultivation, I tended to come across some books. Maybe the authors were not very famous, and the books were not widely spread, but the contents were just right for me. It is like these books enlightened me. This helped me accumulate knowledge of Chinese medicine, which was then reflected in my clinical practice," Dr. Chen said.
Dr. Chen's 10-year-old son also came to the event in Hyde Park and thanked Master. He recently won an English writing award. It was an achievement, since the award is only presented to one student each year.
Several months ago, his English teacher had commented that the young boy could only use simple words. However, a few months after he started to practice Falun Dafa, his writing improved very quickly.
Dr. Chen talked about her son's English writing, "Yesterday I saw that he wrote a short novel with very complicated but precise words. Compared with what he wrote a few months ago, it seemed that they were not written by the same person."
She believes that this kind of progress can only be achieved in Dafa cultivation. "This is the subtlety of Dafa. The ability to obtain this Dafa does not depend on whether you are an adult or a child. As long as you have enough innocence, you are able to obtain Dafa," Dr. Chen commented.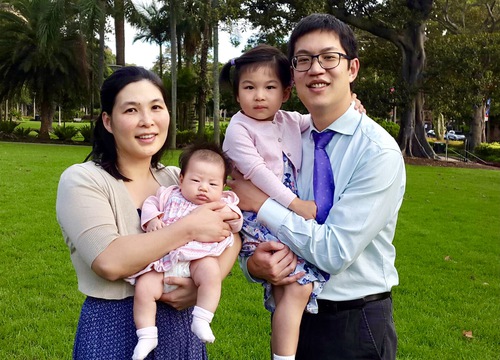 Pharmacist Adam Tran and his family wish Master a Happy New Year!
Pharmacist Adam Tran has been practicing Falun Dafa for five years. He said the practice has enabled him to understand the true value and purpose of life. This has brought many benefits to his work and life. His body and mind have become relaxed, happy, and energetic.
In the run up to the New Year, Adam, on behalf of his family, wished Master a Happy New Year! He wanted to thank Master for giving him the opportunity to practice Falun Dafa!
Adam feels very lucky that practicing Falun Dafa has helped him to balance his life and responsibilities. He does the exercises in the early mornings and studies the Fa before going to bed at night. He is a member of the Tianguo Marching Band, and also devotes time to practice his musical instrument.
"Because my wife and I are both Dafa practitioners, we have the same life goals. We know what to do and how to do it. We try to be considerate of each other as much as possible and help each other balance all aspects of our lives. This brings us a lot of convenience and joy in our lives," he said.
Sarah Chen, an accountant who works for a bank, said Falun Dafa saved her life, and her son's life.
Ms. Chen had a heart attack, and was in a dangerous situation while she was pregnant with her second child. Seeing that she had difficulty breathing and speaking, the attending doctor planned to hospitalize her.
"My husband suggested that I meditate and do the exercises. I had witnessed that my husband had benefited a lot, physically and mentally, after practicing, so I started meditating and the result was really good. I could breathe smoothly and I gave birth to a healthy baby boy safely. Thank you Master for saving me and my son," she said.
"It's great to practice Dafa, and we are really lucky to have Master," Ms. Chen said. "The most important thing is that I know the true purpose and meaning of life. I am not only healthy, but I also care little for fame and wealth, and my body and mind are happy and peaceful."
All articles, graphics, and content published on Minghui.org are copyrighted. Non-commercial reproduction is allowed but requires attribution with the article title and a link to the original article.