Falun Dafa Practitioners from Various Professions Respectfully Wish Master Li a Happy New Year
(Minghui.org) As the 2022 New Year approaches, Falun Dafa practitioners from China are sending their warmest greetings to Master Li, the founder of the practice. The practitioners thanked Master Li for guiding them on a spiritual journey, purifying their bodies and protecting them along the way. They vowed to cultivate themselves better and fulfill their historic vows.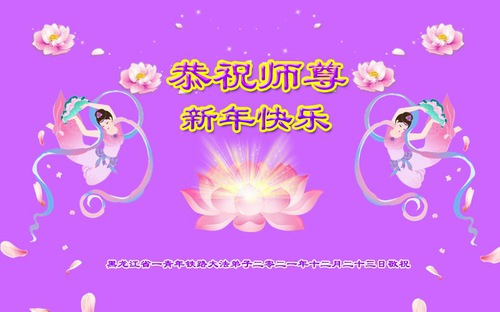 A practitioner from Shengli Oilfield in Dongying City, Shandong Province wrote, "Thank you, Master. You have borne so much for sentient beings. Master's grace is boundless. Disciples will listen to your teaching and grasp this last opportunity to do the three things well in the Fa-rectification period. We will assist Master in the Fa-rectification, live up to Master's expectations, complete our mission, fulfill our prehistoric vows, and reach consummation."
Other greetings hailed from practitioners in the following regions and professions:
Supply and Marketing Cooperative in Yushu City, Jilin ProvinceBusiness System in Yushu City, Jilin ProvincePower Supply System in ChinaNatural Resource System in ChinaHealthcare System in Qiqihar City, Heilongjiang ProvinceForestry Bureau, Jiamusi City, Heilongjiang ProvinceFarming System in Heilongjiang ProvinceHealthcare System in Liaoning ProvinceBuilding Material System in Qiqihar City, Heilongjiang ProvinceAgricultural Bank in Harbin City, Heilongjiang ProvinceBanks in Taian City, Shandong ProvinceRailway System, Heilongjiang ProvinceHealthcare System in Jinan City, Shandong Province
All articles, graphics, and content published on Minghui.org are copyrighted. Non-commercial reproduction is allowed but requires attribution with the article title and a link to the original article.