Taiwan: Practitioners in Kaohsiung Thank Master for His Guidance and Wish Him a Happy New Year
(Minghui.org) Practitioners in Kaohsiung, Taiwan, gathered at the World Games Stadium to wish Falun Dafa's founder a Happy New Year. Their hearts filled with reverence and gratitude, they preseed their palms together in front of their chests in a gesture of respect and together said, "Happy New Year, Master!"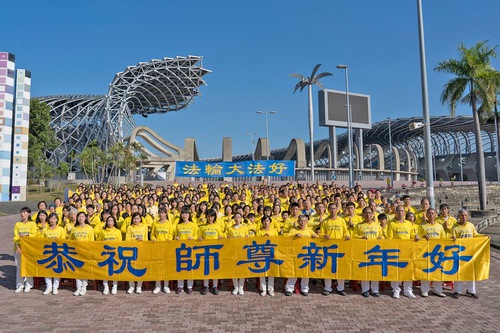 Practitioners in Kaohsiung wished Falun Dafa's founder Mr. Li Hongzhi a Happy New Year.

Members of the Tian Guo Marching Band wished Mr. Li Hongzhi a Happy New Year before they participated in the Wandan Red Bean Festival Parade.
Semiconductor Engineer: Want to Share Wonderful Falun Dafa with Everyone
Mr. Zhang Qisheng works for a semiconductor technology company. He grew up in a large family, many of whom practice Falun Dafa. Qisheng's great uncle was in poor health, so before the persecution began, he went to China for medical treatment. While there, he learned that many people were practicing Falun Dafa for its amazing ability to resolve ailments. Soon after he began practicing, his health problems were gone. After returning to Taiwan, he told his family and friends about Falun Dafa and encouraged them to practice. He introduced Falun Dafa to Taiwan. Qisheng said that by following the principles of Truth-Compassion-Forbearance, his family is peaceful and happy.
"When I was a child, I didn't know how to cultivate my character," Qisheng said. "I had a bad temper when things didn't go my way. It was really difficult to change my nature, and I often failed to control my temper. I didn't put serious effort into reading the teachings until 2019, when my mother encouraged me to join the Tian Guo Marching Band. I wanted to catch up, so I began reading the teachings diligently."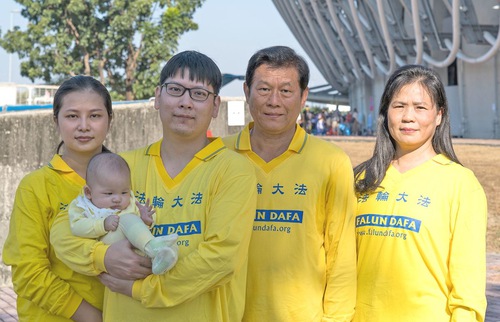 Semiconductor engineer Qisheng (second from left) grew up in the first family that practiced Falun Dafa in Taiwan. His family thanks Master and wishes him a Happy New Year.
Qisheng says he often reminds himself that he is a Falun Dafa practitioner. He started looking within during conflicts and takes a step back. He learned to put others first, cultivate kindness, and now doesn't lose his temper veroy easily. Qisheng's temper has become better, and that is obvious to all. His girlfriend, now his wife, thought that Falun Dafa was really amazing so she also began practicing.
The young couple are members of the Tian Guo Marching Band, playing trombone and the snare drum. They travel all over to share the blessings of Dafa.
On the occasion of the 2022 New Year, Qisheng and his family expressed their gratitude to Master. Qisheng said, "Master always gives me hints when I slack off and I'm not diligent. Thank you, Master."
Retired Customs Bureau Director: Happy Family Thanks Master
Mr. Liao Maorong, now retired, used to be the director of the Kaohsiung Customs Bureau of the Ministry of Finance. After his son's high school teacher gave him a flyer about Falun Dafa, he and his wife participated in a nine-day Falun Dafa class and started practicing.
"Falun Dafa is truly amazing. I've experienced some of the phenomena that Master talked about during the nine-day class," Mr. Liao said. "For example, when Master said he installs Falun in his disciple's bodies, I clearly felt a Falun spinning in my lower abdomen. When Master talked about opening the Third Eye, I felt the flesh between my eyebrows gather together. I benefited very much from the principles Master taught. I decided to begin practicing after completing the nine-day class. That was 20 years ago."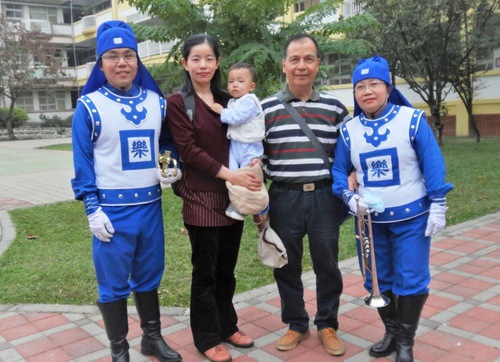 Mr. Liao Maorong (second from right), retired director of the Kaohsiung Customs Service of the Ministry of Finance, and his family thank Master and wish him a Happy New Year.
Mr. Liao continued, "Most of my co-workers focused on getting promoted. After I practiced Falun Dafa, I learned not to compete for promotion, fame, or gain. I started as a basic level staff. I was promoted to unit chief, section chief, then to director. I realized that you get what is yours—if it's not yours, you can't get it by competing. It's really like Master said—you naturally gain without pursuit." His colleagues praise him and say he is very approachable and easy to get along with.
"Since I've been practicing Falun Dafa, I rarely catch a cold, and I hardly ever use my health insurance card," Mr. Liao said. "Now my entire family practices Falun Dafa and we are happy. On the eve of this festive season, my whole family would like to thank Master for his salvation and wish Master a Happy New Year."
Mr. Liao's wife Suzhen plays trumpet in the Tian Guo Marching Band. On the eve of New Year's Day, Suzhen expressed her special thanks to Master for saving her life.
She ended up in intensive care due to sudden severe dizziness and vomiting. The doctor saw a dark shadow on her brain and signs of bleeding. The doctor said her life was in danger and she needed surgery. Suzhen said, "I asked my family to bring me Zhuan Falun and I kept reciting, 'Falun Dafa is good, Truthfulness-Compassion-Forbearance is good' in my heart. That night, I felt asleep after reading a few pages of Zhuan Falun. At midnight, I felt a round object in my brain slide down to my neck and disappear.
"When they took another image of my brain the next day, the shadow was gone and I knew that Master had saved me. But the doctor was still worried. He checked the electrocardiogram and the ultrasound. Every text showed that I was normal. I thank Master for protecting me and saving my life."
International Student: Thank You, Master, for Protecting and Guiding Me
Huixin from Malaysia is Chinese. She is studying Financial Management at a university. She has practiced Falun Dafa with her grandmother and aunt since she was a child. Because she was so young, she didn't know what it meant to truly cultivate, but she always liked to read Falun Dafa books with her family and to promote Falun Dafa at different activities. Although she was shy, she wanted to go to a university in Taiwan because there are many Falun Dafa practitioners in Taiwan, and she also wanted to learn Chinese well.
Huixin, an international student from Malaysia, said, "I always sense Master's compassionate protection. I wish Master a Happy New Year."
Huixin said that having Truthfulness-Compassion-Forbearance in her heart helped her become more brave and wise in her studies. She overcame many difficulties. She said that, after arguing with her classmate over a trivial matter, she thought that her classmate no longer liked her. She was very sad. When she called her aunt and wept, her aunt reminded her to improve her character.
She calmed down, opened Zhuan Falun and read, and felt as if she understood many Fa principles all at once, "That's because my character improved," she said.
"In the past, every time I encountered a problem, it seemed that the adults would handle it for me, and the sky would not fall down," Huixin said. "Now I'm alone in Taiwan, and I have to face the issues myself. After passing these tests, I realize that I have really improved in my cultivation. I feel that Master's compassionate protection and guidance are with me everywhere. On the eve of this New Year's Day, I wish Master a Happy New Year."
All articles, graphics, and content published on Minghui.org are copyrighted. Non-commercial reproduction is allowed but requires attribution with the article title and a link to the original article.