Falun Dafa Practitioners from Various Professions Respectfully Wish Master Li a Happy New Year
(Minghui.org) As the 2022 New Year approaches, Falun Dafa practitioners from China are sending their warmest greetings to Master Li, the founder of the practice. The practitioners thanked Master Li for guiding them on a spiritual journey, purifying their bodies and protecting them along the way. They vowed to cultivate themselves better and fulfill their historic vows.
A practitioner from the Eleventh Engineering Bureau of China Railway Group wrote, "As 2022 is approaching, all Dafa disciples from the Eleventh Engineering Bureau of China Railway Group extend their most sincere wish to Master! Master, Happy New Year! When the world is turbulent, we disciples are grateful for Master's mercy and salvation and must insist on practicing and saving more people. We will send more righteous thoughts and seize the precious time and opportunity that Master has given us to cultivate to get rid of the various attachments. We will do the three things well, clarify the truth to more people compassionately and peacefully, and save more people. We will live up to Master's expectations, listen to Master's teaching, and practice looking within. We will be qualified Dafa disciples of the Fa-rectification period, reach consummation, and return true home following Master."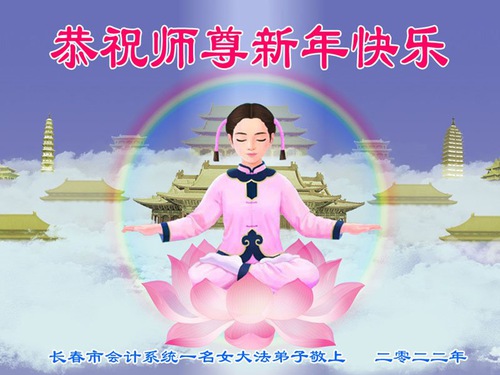 Other greetings hailed from practitioners in the following regions and professions:
Accounting system in Changchun City, Jilin ProvinceTax System in Shijiazhuang City, Hebei ProvinceHeavy Machinery System in Xi'an City, Shaanxi ProvinceJidong Oilfield, Hebei ProvinceShengli OilfieldForestry Bureau, Jiamusi City, Heilongjiang ProvinceFarming System in Mishan City, Heilongjiang ProvinceLocomotive Plant, Dalian City, Liaoning ProvinceSupply and Marketing Cooperative in Kaijiang County, Sichuan ProvinceConstruction Industry, Shenyang City, Liaoning ProvinceReal Estate Industry in Qinhuangdao City, Hebei ProvinceYanbian Forestry System, Jilin Province
All articles, graphics, and content published on Minghui.org are copyrighted. Non-commercial reproduction is allowed but requires attribution with the article title and a link to the original article.