Once Brutally Tortured in Prison, Jiangxi Man Sentenced to Five Years Again for His Faith
Sept. 21, 2021 | By a Minghui correspondent in Jiangxi Province, China
(Minghui.org) A Jiujiang City, Jiangxi Province resident was arrested in 2014 for practicing Falun Gong and sentenced to three years and ten months in prison, where he was brutally tortured. Only two years after he was released, he was arrested again in 2019 and secretly sentenced to a five-year term.
Falun Gong, also known as Falun Dafa, is a spiritual discipline that has been persecuted by the Chinese communist regime since 1999.
Mr. Liu Qiusheng, a 56-year-old former statistics analyst, started practicing Falun Gong in August 1996. He has been arrested and detained several times since the onset of the persecution. His salary was downgraded by three levels, and he was subsequently fired from his job.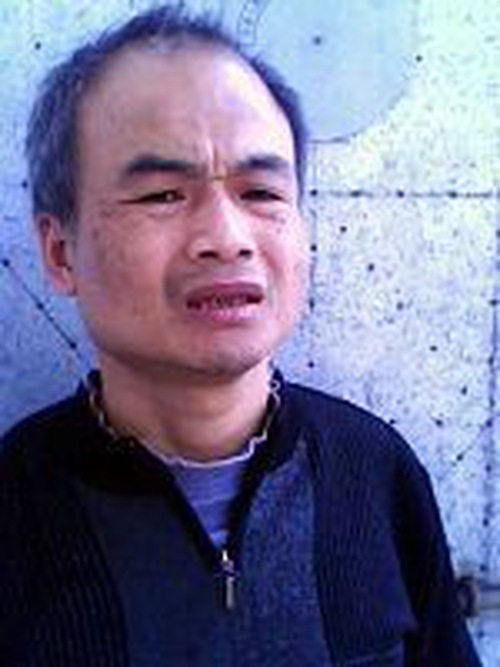 Mr. Liu Qiusheng after being tortured
Latest Arrest and Sentence
Mr. Liu was arrested and beaten by officers from the Sanli Street Police Station on July 2, 2019. His home was ransacked. The police confiscated all of the funds that he had received as a lump-sum compensation from the government for demolishing his home for urban development projects. The funds were in the form of 6,000 yuan in cash and 50,000 U.S. dollars in a Certificate of Deposit, the latter saved for his son's college tuition. The police used the CD in a foreign currency as evidence to charge him with "colluding with foreign forces."
After being detained for over a year, Mr. Liu was put on trial by Yongxiu County Court and sentenced to five years in Yuzhang Prison with 20,000 yuan fine on July 28, 2020.
Mr. Liu appealed with Jiujiang City Intermediate Court and entrusted two lawyers to represent him in the appeals case. On November 9, the court upheld the original sentence without his lawyers or his family present at the hearing.
Repeated Arrests and Imprisonment
After the persecution started, Mr. Liu went to Beijing in July 2000 to appeal for Falun Gong and was arrested. His mother was dealt such a heavy blow that she suffered a stroke and passed away. The police refused to allow him to attend her funeral.
Mr. Liu was arrested again in 2005 and given one and a half years at Majialong Forced Labor Camp, where he was subjected to different kinds of torture. After he was released from the camp, he returned to work and his salary was cut to the lowest level among all employees. He was closely monitored, and during anniversaries related to Falun Gong or major local events, the 610 Office and police officers from the Domestic Security Division would harass him and ransack his home.
On December 9, 2009, officers from the Domestic Security Division and Public Security Bureau went to Mr. Liu's workplace and started taking photos of him. They threatened and interrogated Mr. Liu, but he refused to answer their questions.
Mr. Liu was arrested at home on November 5, 2010. He was held in a detention center for two weeks. He was beaten and two of his ribs were broken.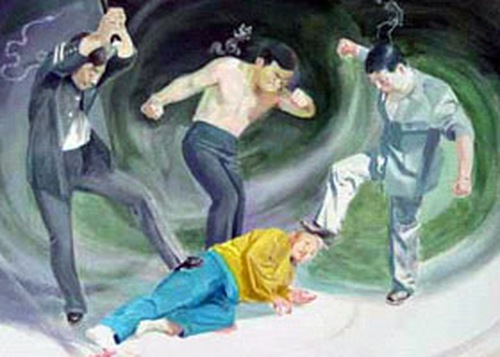 Torture illustration: Beatings
Officers from the Domestic Security Division attempted to arrest Mr. Liu in August 2011. He was forced into displacement to avoid arrests for six months. He slept in the wild, begged for food and did all kinds of odd jobs to support himself. At the same time, his family and supervisor at work were both harassed.
On January 5, 2012, Mr. Liu requested his company leaders to reinstate his job, compensate him for the salary that had been deducted since September 2011, and allow him to retire early. He made the three requests again on February 5 and 7, 2012, respectively.
His workplace demanded that Mr. Liu first surrender himself to the police before they could discuss the requests with him. To avoid persecution, he lived away from home again.
Unable to find him, the police constantly harassed his teenage son and wife, who was forced to resign from her work and later divorced him due to the pressure.
Tortured in Prison
Mr. Liu was arrested on January 13, 2014 for talking to people about Falun Gong. The 300 yuan in cash, cell phone, two sets of keys, and Falun Gong materials that he had were confiscated.
After Mr. Liu was taken to the detention center, he was slapped and kicked by a doctor.
Mr. Liu was tried by the Duchang County Court on May 21, 2014, and his lawyer entered a not-guilty plea for him. Mr. Liu insisted that he didn't do anything wrong in practicing Falun Gong.
Mr. Liu was later sentenced to three years and ten months. He was taken to Jingdezhen City No. 3 Prison on June 24, 2014, and transferred to Yuzhang Prison on July 21. While imprisoned, he was subjected to various torture methods.
The "Strict Control" Team
Mr. Liu was held in the "strict control" team upon arriving at the Yuzhang Prison. It was summer time and the room was hot, dirty, and humid. At night, Mr. Liu was bitten by mosquitoes and unable to sleep.
During the day, Mr. Liu was forced to run under the baking sun, stand on one leg and face the wall for hours. He was given half a small bowl of porridge for every meal.
One day, Mr. Liu shouted, "Falun Dafa is good!" "It's not a crime to practice Falun Gong." The guards dragged him to the restroom and beat him. They hit his head on the wall and caused it to bleed profusely. Afterwards, they taped his mouth and handcuffed him in a tiger chair.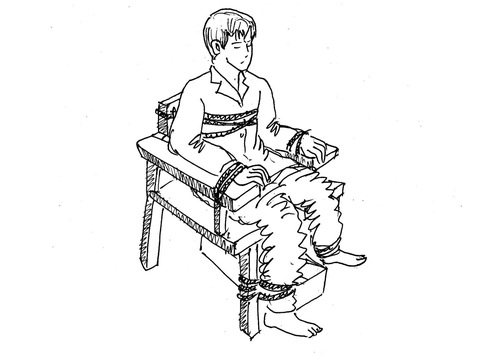 Torture illustration: Tiger chair
Mr. Liu was forced to run, do unpaid labor, sit on a small stool for a long period of time, and watch videos that slander Falun Gong.
He was deprived of visitation and not allowed to call his family. He was also not allowed to buy any daily necessities.
Once, he was punished and made to stand facing the wall when a guard saw he was silently transcribing Falun Gong teachings from his memory.
Imprisoned in Solitary Confinement
Mr. Liu was put in a small, dirty, humid solitary confinement room on October 31, 2014. There was only a bed and a chamber pot. He was monitored around the clock via a surveillance camera by the guards and inmates.
He was forced to sit facing the wall in the room that had centipedes, cockroaches, bed bugs, fleas, and even rats. He was also subjected to high-decibel noise, causing him to have a headache. He nearly had a nervous breakdown. He was confined in that room for over 20 days.
Brainwashing Session
Mr. Liu was taken to a brainwashing session and forced to sit on a small stool for 24 hours while being ordered to watch videos that slander Falun Gong.
Eight inmates were assigned to monitor him around the clock and made sure that he didn't take a nap.
The guards also took turns threatening Mr. Liu. They told him that if he refused to "transform" (renounce his faith), the brainwashing and solitary confinement would continue until he died. For nine days, Mr. Liu was not allowed to sleep; his buttocks festered from sitting on the stool.
Fired from Work
During Mr. Liu's imprisonment, his workplace suspended his salary and later fired him. He also lost all other benefits, including his housing subsidy, medical insurance and pension insurance. He was destitute when he was released in April 2017 after three years. He lost all sources of income and life was extremely difficult for him.
Related reports:
Jiangxi Province: Liu Qiusheng and Yin Yucai Arrested Again, Families Threatened for Seeking Their Release
Mr. Liu Qiusheng and Mr. Yin Yucai Detained for More Than 50 Days, Facing Illegal Prison Sentences
Lawyer Defends Two Practitioners' Innocence and Demands Their Immediate Release
Three Jiangxi Residents Sentenced for Practicing Falun Gong
All articles, graphics, and content published on Minghui.org are copyrighted. Non-commercial reproduction is allowed but requires attribution with the article title and a link to the original article.
Category: Accounts of Persecution