Crimes of Cao Liwei, Former Police Chief of Daqing City, Heilongjiang Province
Sept. 20, 2021 | By a Minghui correspondent in Heilongjiang Province, China
(Minghui.org) Sanctioning human rights abusers has become a consensus among democratic countries. After the U.S. passed the Magnitsky Act in 2016, Canada, the United Kingdom, and the 27-member-country EU enacted similar laws. Australia and Japan are also working on similar laws.
In accordance with these laws, Falun Gong practitioners have been compiling lists of perpetrators involved in the persecution. Every year, they submit several lists to democratic governments, urging them to sanction the named perpetrators.
Starting on July 14, 2021, Falun Gong practitioners in more than 30 countries have been submitting the latest list of perpetrators involved in the persecution of Falun Gong to their respective governments, calling for sanctions on these human rights abusers, including denying entry into their countries and freezing their assets overseas.
One name on this list is Cao Liwei
Perpetrator Information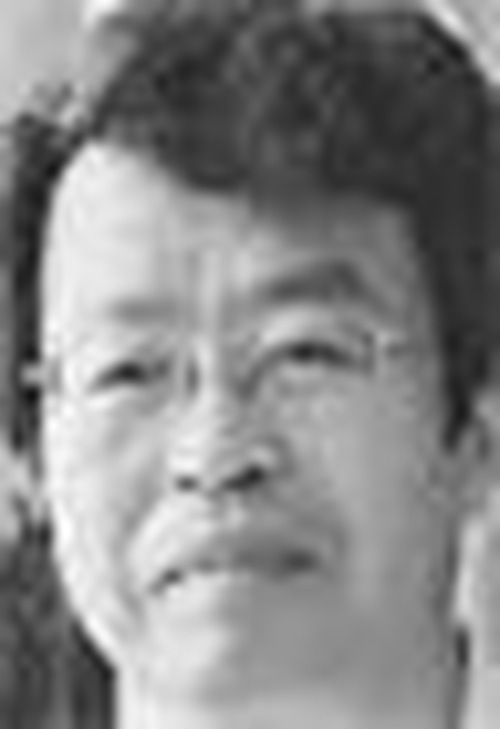 Full Name of Perpetrator: Cao (last name) Liwei (first name) (曹力伟)Gender: MaleCountry: ChinaDate/Year of Birth: July 1956Place of Birth: Jiayin City, Heilongjiang Province 
Title or Position:
1997 – 2004: Deputy Director of Heilongjiang Provincial Public Security Department; Party Committee Member of Heilongjiang Public Security Department
2004 – 2006: Deputy Chief of Daqing City Police Department; Secretary of the Party Leadership Group of Daqing Police Department
2006 – 2007: Deputy Chief of Daqing City Police Department; Secretary of the Party Committee of Daqing Police Department
2007 – 2015: Deputy Mayor of Daqing City; Deputy Chief of Daqing City Police Department
Main Crime
In China, Daqing City, Heilongjiang Province, is one of the cities where Falun Gong practitioners are persecuted the most severely. During Cao Liwei's tenure as deputy chief of Daqing Police Department from June 2004 to February 2015, he actively implemented the Chinese Communist Party's policies in the persecution of Falun Gong. 
As a result, many practitioners were arrested and their homes ransacked. At least 14 were tortured to death during Cao's tenure as deputy police chief of Daqing. They were Yang Yuhua, Zhang Hongquan, Xu Jishan, Cui Shuping, Wang Chengyuan, Wang Hongde, Zheng Yansheng, Yu Qinglin, Li Zhi, Zhang Zhong, Zhou Shuhai, Jiang Pai, Lu Jigui, and Cai Xiaoyan.
In 2005, Cao Liwei, then director of the Daqing Public Security Bureau, proposed in a public speech that they should "resolutely crack down on the illegal activities of cult organizations" and claimed that local public security work "effectively prevented the formation of various illegal religious organizations and situations," referring to practitioners' raising awareness about the persecution.
On the morning of September 23, 2005, Cao ordered about 200 police officers across the city to arrest Falun Gong practitioners and ransack their homes. These officers did not show any warrants or identification, nor did they provide any explanation for their actions. In addition to confiscating the practitioners' computers and printers, they also took their jewelry and cash. 
At least 27 practitioners were confirmed to have been arrested in this operation, including women and elderly. Six of them were taken to forced labor camps. When Mr. Li Yequan was first denied admission to the labor camp due to his physical condition, Cao forced the guards to accept him. He was then given a two-year term, during which time he was force-fed, sometimes with liquor. Inmates also spit into his mouth. His esophagus was injured by the forced-feeding and he fell into a coma many times. 
In January 2007, Ruan Dianlong, deputy secretary of the Daqing Municipal Party Committee and secretary of the Municipal Legal Committee, gave a speech at the city's work conference on preventing and dealing with cults. He summarized the "results" of the persecution of Falun Gong in 2006 as follows: "In 2006, the public security organizations launched a number of special operations, dispatched more than 900 police personnel, and arrested 39 people."
In early 2007, the Daqing Political and Legal Affairs Committee tasked the police department with carrying out three objectives. For their "cleaning the internet" operation, the police department and security departments censored all practitioners from sending any Falun Gong-related information online. Second was the "behead" movement, in which undercover agents approached local practitioners and pretended to be learning Falun Gong in order to find out who was coordinating local practitioners' efforts to raise awareness about the persecution. The third was to "arrest on-the-spot." Police and national security agencies closely monitored practitioners' daily activities and interrogated them.
From April 21 to 26, 2007, Cao Liwei ordered the Daqing Police Department to arrest more than 20 practitioners and ransack their homes. Those arrested were: Chen Qingli, Lu Guilan, Yan Jiaohui (Lu Guilan's son), Liu Bo, Cao Fengqing (a retired teacher, then 70), Yin Guirong (then 68, her printer and computer were confiscated), Yang Jinfeng (then 51), Liang Yahui, Hong Lanying, Hu Guizhi, He Xiuying, Shi Baosheng, Li Chunying, Li Guixiang, Li Hui, Ren Xiuping, Zhou Wenyan, Chen Qi, Zhao Shukun, a practitioner named Yin, Jiang Pai (tortured to death in a detention center within 2 months), and Liu Yanxia.
In 2007, many practitioners had their homes ransacked and many were arrested in Daqing City. Seven were persecuted to death.
In total, from August 2005 to August 2007 alone, more than 120 practitioners were arrested. Over 10 of them were taken to forced labor camps, and more than 10 were sentenced to prison.
From late June to early July 2008, before the Olympic torch was passed to Daqing, the police arrested at least 43 practitioners, citing the need to "maintain social stability" for the Olympic games. Some were given labor camp terms or sentenced to prison. Ms. Gao Xijiang was arrested on August 27, 2008, and beaten in custody, causing her to suffer a mental breakdown.
On July 13, 2009, nine practitioners including Liu Fubin, Cui Ruhui, Yang Haihai, and their relatives in Dumeng County, Daqing City, were arrested and their homes were ransacked. More than 20 officers arrested a family of five: Mr. Liu Fubin, his wife Li Shuchun, their daughter Liu Rui (who was under 16 years old), his sister-in-law Zhao Mingjing, and his brother Liu Fuze who did not practice Falun Gong. They confiscated private property from Liu Fuze's room, including computers, printers, cash, and other belongings worth tens of thousands of yuan. Liu Rui was released the next day with blisters on her forehead after the police sprayed her with hot chili pepper water.
In 2013, from January to June, at least 30 practitioners were arrested, detained, and their homes ransacked. At least three were detained in brainwashing centers. On the evening of May 14, 2013, seven practitioners at the No. 10 Oil Production Plant in Daqing—Guo Shuyan, Wang Yanming, Lei Qingxiu, Xuan Shuang, Song Ruixiang, Wang Yanru, and Ma Lili—were arrested and their homes ransacked. Wang Yanming and Ma Lili were tortured and forced to sit in metal chairs overnight.
On October 30, 2014, practitioners Cheng Jinzhi, Zhang Chunyan, Li Junying, Wang Wenying, Zhang Jing, Ji Wenbo, and a practitioner surnamed Guo were arrested. Two of them were women nearly 70. Their six laser printers, glue binding machines, multiple computers, multiple sets of Falun Gong books, and a large amount of materials and printing supplies were confiscated.
The following are some of the deaths that occurred during Cao's tenure:
Ms. Yang Yuhua
In April 2005, Ms. Yang Yuhua, a middle school teacher in Daqing City, was arrested at home and taken to the Daqing City Detention Center. In less than a month, on May 12, she died after being brutally force-fed. In the detention center, Ms. Yang had gone on a hunger strike to protest and request her release. She was forced to sit on a metal chair for extended periods of time and was force fed and beaten. The doctor inserted the feeding tube into her nose and pulled it back and forth multiple times. Ms. Yang bit off seven feeding tubes in protest. During the last force-feeding, she had no more strength to resist. In spite of that, the guard still found four inmates to hold her down and restrict her movements. They then spent the entire morning force-feeding her. She died later that same day. She was 46.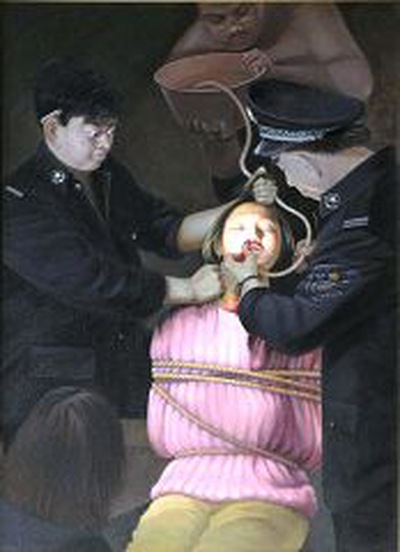 Torture illustration: Force-feeding
Ms. Jiang Pai 
Ms. Jiang Pai was arrested at work on April 26, 2007. The police tortured her until she began to cough up blood and fell into a coma in Daqing City Detention Center. She became extremely weak on June 26 and was taken to the hospital. Even while she was having an MRI scan in the hospital, the police continued to hit her and pull her hair. She remained unconscious in the hospital. Her family tried to petition for her release but were unsuccessful. The police kept the heavy shackles on her all the time, until she died at 1 a.m. on June 28. She was 34.
After Ms. Jiang's death, one of the police officers revealed, "After Jiang Pai was arrested, she couldn't even breathe after three rounds of force-feeding with mustard oil. Her face was a mess of snot and tears. She would say whatever we wanted her to say!"
(Editor's note: Force-feeding mustard oil is an extremely cruel and harmful form of torture. Three to four people hold the victim down and put a mask soaked with mustard oil over his or her face. The victim feels suffocated and his or her chest tightens. As snot and tears begin to run uncontrollably, the perpetrators hold the mask down even tighter. Another form of this torture is to take a plastic bag smeared with mustard oil, place it over the victim's head, and seal it until the victim almost suffocates, then repeating the procedure.)
Ms. Liu Sheng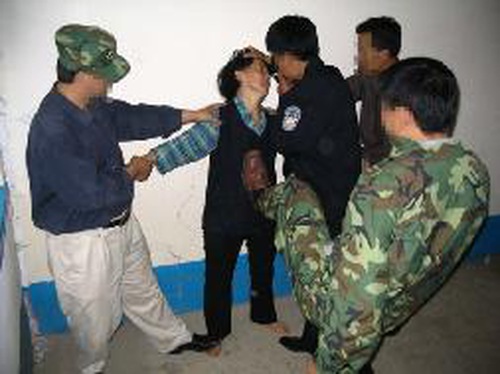 Beating 
Ms. Liu Sheng was arrested at home in July 2006. She was given a a year and a half in a forced labor camp. After only one month in the camp, she'd been tortured to the point that she vomited blood and had lost the ability to eat. She was released a month later and forced into displacement to hide from the police.
When Ms. Liu was arrested again on July 5, 2007, the officers punched and kicked her until she vomited blood and lost consciousness. After she came to, she was beaten again until she was covered in bruises. Her family tried to see her that night, but the police did not allow them to, fearing they would report what they found out when they saw her.
The next day, Ms. Liu was taken to Harbin Drug Rehabilitation and Labor Camp. On the way, she was slapped repeatedly by the police until she lost the hearing in her left ear. In the camp, the guards did not let her use the restroom, causing her severe abdominal pain. 
As her condition deteriorated due to the torture, the guards called her family and told them to pick her up in three days. By then, Ms. Liu's health was already so compromised that she could not eat when she got home. She was emaciated and vomited continuously. She died two months later, on September 11, at the age of 53.
Mr. Lu Jigui
Mr. Lu Jigui was arrested on February 1, 2008, and detained for ten days. Only a few days after he was released, he was arrested again on February 18. He held a hunger strike to protest the persecution and was force-fed. The detention center guard said to him, "Killing you would be just like killing a bug." 
It was difficult to insert the feeding tube into Mr. Lu's throat because it was so dry, so the guard forced it down. Mr. Lu suffered enormous pain during the force-feedings. On the morning of March 7, he was taken to the Longfeng Fifth Hospital for a physical exam. He escaped from the hospital, went into hiding, and was unable to return home for two years, living a hard life. He never recovered from his injuries and passed away on April 13, 2010. He was 58.
A Case of Torture to Near Death
Ms. Liu Ying, then 38, was arrested in August 2007 at work and taken to an underground torture room at the Domestic Security Office.
She was cuffed in a metal chair and not allowed to move. Around noon, a police officer began to hit her on the head with a pair of shoes, yelling, "This will teach you to be a good person!" He beat her until he was exhausted. 
At night, four officers grabbed Ms. Liu by her hair and covered her mouth and nose with a large mask dipped in mustard oil. The pungent, burning mustard oil made her choke. The police repeatedly poured mustard oil onto the mask and used it to cover her mouth and nose. In the middle of the night, they used a large syringe tube filled with mustard oil and injected the oil into one of her nostrils. Her chest felt like it was on fire and she was in intense pain. Her chest began to convulse, and she could not open her eyes. 
After she lost consciousness, the police poured cold water on her to wake her up. Then they injected mustard oil and water into her nostrils again. If she lost consciousness again, they poured water on her again. They did this to her all night long. By morning, a large chunk of her hair had been pulled out.
After one night of torture, Ms. Liu was severely dehydrated. She was cuffed in a metal chair and not allowed to sleep. The police also forced her to sit on a photo of Falun Gong's founder to increase her mental distress. Soon after, Ms. Liu began to vomit everything she ate and no longer had the energy to stand up. Fearing that she might die, the police ordered her husband to take her home.
All articles, graphics, and content published on Minghui.org are copyrighted. Non-commercial reproduction is allowed but requires attribution with the article title and a link to the original article.
Category: Perpetrators Involved in Persecution of Falun Gong