Beijing Falun Gong Practitioner Files Complaints Against Prison Officials for Abuse at Qianjin Prison
Aug. 9, 2021 | By a Minghui correspondent in Beijing, China
(Minghui.org) Mr. Qin Wei, a Beijing resident and an artist, was taken away by plainclothes police in Haidian District of Beijing in May 2016 for distributing copies of Nine Commentaries on the Communist Party. He was sentenced to two and a half years in prison. After his appeal was denied, Mr. Qin was transferred to Qianjin Prison where he served out his sentence.
On April 15, 2021, Mr. Qin received a letter from the Beijing Prison Administration Bureau stating that, with a new "Open Door Reform Campaign" of the legal and prison systems and as a former inmate at Qianjian Prison, he could file complaints against officials who had broken the law.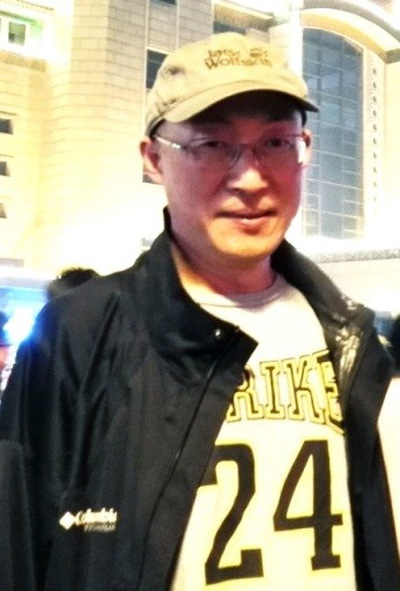 Mr. Qin Wei
Mr. Qin, therefore, sent out complaints against Liu Guanghui, the director of Qianjin Prison; Liu Gang, superintendent of third ward; and Yao Yiping, the squadron leader, on June 15. It was confirmed that his letters had been received by the relevant department.
According to Mr. Qin, he was subjected to various torture methods while incarcerated in the third ward at Qianjin Prison in September 2017. Under the instruction of director Liu Guanghui, he was only allowed to sleep two or three hours every night for a month and a half. He was restricted in drinking water, using the restroom, or washing himself.
To keep Mr. Qin from sleeping, inmates who were assigned to monitor him used a stool to hit him whenever he closed his eyes. When he was too tired to stay awake, two people dragged him and ran around. Others pinched his back and arms, leaving many bruises on him. Squadron leader Yao Yiping sprayed pepper water on his face.
Mr. Qin was also denied the right to see the prison procurator and lawyers or to appeal his case. The following are a few incidents Mr. Qin recalls.
Director: "We Are Persecuting You According to the Law"
The third ward superintendent Liu Gang told Mr. Qin, "According to a document signed by Xi Jinping (the current chairman of the Chinese Communist Party), your rights to appeal, to see a lawyer, to see prison procurator, and to life and health have all been stripped." 
Mr. Qin asked, "Could I take a look at this document?"
Liu Gang told him that only officials at high enough levels have access to the document. He said he only read it, but was not allowed to keep it.
"So this storage room is a special place where you guys can torture me without any legal consequences?" Mr. Qin asked.
"Yes."
"Do you have 24 hour video surveillance here?" asked Mr. Qin.
"This storage room has video surveillance. It feeds to the prison district, prison administration, Qinhe police department and Beijing Police Bureau. Everything you have suffered here is carried out and monitored by the judicial systems at all levels. Our work is approved by Xi Jinping," answered Liu Gang.
Prison director Liu Guanghui came to the room twice. He told superintendent Liu Gang, "You can use electric batons to shock him anytime. I give you permission to do it any time. This is called persecution according to the law." He then turned to Mr. Qin and said, "We are persecuting you according to the law."
When Mr. Qin pointed out to Liu Gang that he was breaking the law, Liu Gang said, "I denied having persecuted you in the past, but now I admit that I am indeed breaking the law and that I am indeed persecuting you."
"Aren't you afraid I will sue you when I get out?" asked Mr. Qin.
Liu Gang laughed, "I feel the Chinese Communist Party is pretty strong. If it is about to fall, I would not dare to break the law and do what I am doing now. I'd find something else to do."
Superintendent: "To Tell You the Truth, the Police, the Procurator and the Court Are All in It Together"
Mr. Qin requested to see the prison procurator. "What do you want to tell him about?" asked the squadron leader Yao Yiping. 
"I want to report that you had denied me my rights to see a lawyer and to appeal my case. I also want to report that you are persecuting me and knowingly breaking the law," said Mr. Qin.
"We cannot let you see him. To tell you the truth, the police, the procurator and the court are all in this together," said superintendent Liu Gang. He continued, "The video surveillance here is directly feeding to Beijing Police Bureau. They can see everything in real time. You claim your personal health and rights are violated. All of these are recognized and consented by every level of the system. We are only implementing it."
Yao Yiping also told Mr. Qin, "The prison procurator knows everything we are doing to you. I had instructed those inmates to beat you. I am the one who is responsible."
Squadron Leader: "If You Want to See a Lawyer, You Need to Write a Confession First"
Squadron leader Yao Yiping took away the appeal that Mr. Qin wrote for himself, then later claimed that he did not receive it. When Mr. Qin asked to see his lawyer, Yao said, "I cannot let you see lawyers. If you want to see a lawyer, you need to write a confession first."
"I want to hire a lawyer to defend my innocence," replied Mr. Qin.
Yao said, "If you don't admit your guilt, you are not entitled to any legal rights or personal safety protection here at Qianjin Prison."
"This is a prison. How can you knowingly breach legal procedures by forcing me to admit guilt?" asked Mr. Qin.
"All prisons in China are like this. No one comes here without admitting guilt," said Yao Yiping.
Background
Mr. Qin had been detained for his belief in Falun Gong eight times in the past 22 years. The longest time he was detained was a five and a half year imprisonment in 2004. He was placed in solitary confinement, and subjected to brainwashing and forced labor. 
In his other previous detentions, he was shocked with electric batons on his face and subjected to long periods of sleep deprivation, with the longest duration of up to five months between October 2003 and May 2004. After this, he developed an irregular heartbeat leading to a cardiac arrest. Amnesty International issued an urgent action calling for Mr. Qin to be rescued in 2016.
After returning home from prison, Mr. Qin was still harassed by local police. Recently during the Zero-out Campaign, police again went to his home demanding that he renounce Falun Gong. When he pointed out that what they were doing was against the law, a policeman said, "How could our supervisor tell us to do something against the law?" 
Related reports:
Beijing Man Sentenced to 2.5 Years after 8th Arrest, Court Stalls His Appeal
Lawyers Defend Innocence of Beijing Man Tried for His Faith Following 8th Arrest
Highly Regarded Artist Arrested for Eighth Time, Whereabouts Unknown
Former Art Teacher Arrested a Seventh Time for Practicing Falun Gong
Beijing Art Teacher Mr. Qin Wei Again Sentenced to Forced Labor
Four Teachers in Beijing Sentenced to Forced Labor over 18th Party Congress "Security Concerns"
More than Ten Beijing Falun Gong Practitioners Arrested; Mr. Qin Wei Detained Again
All articles, graphics, and content published on Minghui.org are copyrighted. Non-commercial reproduction is allowed but requires attribution with the article title and a link to the original article.
Category: Accounts of Persecution