Falun Dafa Experience-Sharing Conference Held in London
Aug. 31, 2021 | By a Falun Dafa practitioner in the U.K.
(Minghui.org) The 2021 U.K. Falun Dafa Experience-Sharing Conference took place in London on August 29. Over 20 practitioners talked about how they have followed the principles of Truthfulness-Compassion-Forbearance in their daily lives, introduced Falun Dafa to people, and raised awareness of the persecution in China.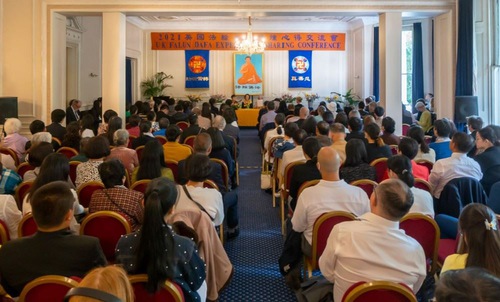 The 2021 U.K. Falun Dafa Experience-Sharing Conference was held in London on August 29, 2021.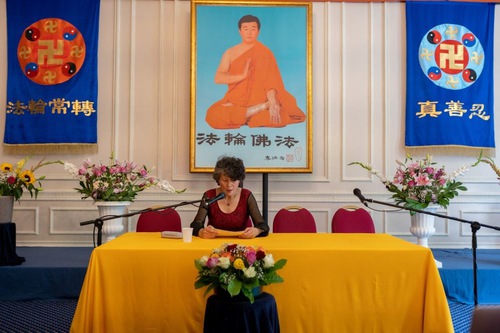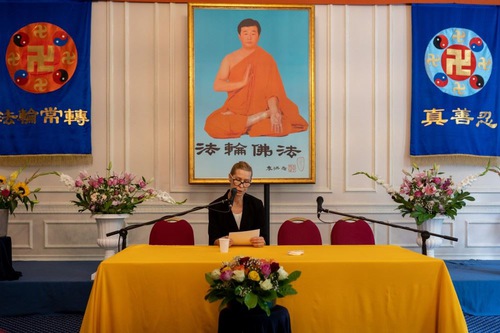 Practitioners talked about their cultivation experiences during the conference.
Clarifying The Facts to Classmates
Xuan, 18, began practicing Falun Dafa with her mother when she was a small child. She explained how she clarified the truth to classmates and teachers in high school about the persecution in China.
Xuan told one teacher her personal story, how due to their belief in Falun Dafa, Xuan's family was discriminated against and mistreated in China. Deeply moved, the teacher invited her to share the information with other students.
Xuan presented a detailed presentation and printed some materials in advance so that she could explain things clearly. During the presentation, she covered how the Chinese Communist Party (CCP) slandered Falun Dafa over the years. She relayed the tragedies countless families have experienced as a result. Her classmates were very touched. "It seems like something depicted in a novel but it's reality," one student said.
Xuan decided to include the information in her year-long independent project. She produced a documentary describing the harm children have suffered in the persecution. "Although they were not detained or tortured in prison like their parents, the lack of parental love and care put them in a unique situation filled with uncertainty, loneliness, and anxiety," she said.
Xuan explained that the tragedy is not just losing one's parents. In school, these children were bullied by other students and even teachers. Relatives may not be supportive and offer no help. With no income, they may have to move about. "It is hard to imagine how they could survive in China," Xuan explained. "Even if some of them managed to flee China, the painful childhood experience could be a long-lasting nightmare that accompanies them throughout their lives."
In this documentary, she described the experience of herself and three other young practitioners. To produce the documentary, she taught herself to use video-editing software, and she overcame many difficulties to complete the project. Her teacher watched the video several times and gave her the highest score.
Talking to People in Chinatown
Originally from Vietnam, Duong Nguyen started to practice in 2016 and began telling people about Falun Dafa in 2017.
He was intrigued and wanted to learn more about what motivated people to practice Falun Dafa when he read an article in which a practitioner in China was beaten by police for his belief. The practitioner had no resentment or hatred and only thought of saving the police officers who beat him. "I was really touched by that practitioner's courage and kindness," Nguyen recalled, "So I told myself: you have to check this out."
In the following six months, he spent hours reading articles on Minghui.org, including lectures by Mr. Li Hongzhi (founder of Falun Dafa) and experience-sharing articles written by practitioners. He read at least ten articles a day and made great progress.
That first evening, Nguyen was so moved that he wept. He said it was as if all the sentient beings in his dimension were crying with him. He decided to tell people the facts about Falun Dafa as well as the persecution in China. "In my heart I told Master that I have to do this to save sentient beings. I don't worry about any other things," he said.
Nguyen began going to Chinatown and talking to people about Falun Dafa and debunking the CCP's hate propaganda. One time when he did the fifth exercise, the sitting meditation, someone threw a firework at him. But Nguyen did not react. He explained, "I remembered some practitioners said that they would not stop doing the sitting mediation even if there were storms and lightning. So I knew I should continue. I did not even open my eyes. Later, that person [who threw the firework] came and apologized to me. He said he wanted to learn to practice Falun Dafa."
Compassion and Humility
Elena found Falun Dafa in 2013 when she was looking online for a way to improve her character. After looking into it further, she decided to learn Falun Dafa. "From the very beginning, I could feel a deep connection with Master, as well as his help and encouragement," she said.
It took a while for her to understand the concept of compassion. "I struggled a long time trying to figure out what it means," she explained, "It was hard for me to differentiate it from love." She said she could understand the term's superficial meaning but was unable to apply it when interacting with others. In her heart she asked Master for help.
A miracle happened several weeks later. One day as Elena was busy doing household chores, she suddenly saw a bright, golden light passing in front of her. "I could feel that my body, along with every cell of my soul, could sense the suffering of all beings, both large and small."
She was amazed and was overwhelmed by the enormous feeling beyond words. She did not know how long she stood there—it was as if time had stopped. "For the first time, my heart ached because of other people's pain. My mind was filled with unconditional love–compassion," she said. "I did not know what to do, and I cried. I was shocked by this. And I also felt very humble."
Looking Within to Improve Oneself
Liang works at a snack shop. After the pandemic broke out in early 2020, most of her coworkers took off, leaving only her at work.
Despite her busy schedule, Liang was able to talk with customers about the beauty of Falun Dafa, the harm of the CCP and its persecution of practitioners, and how to remain safe during the pandemic. Some Chinese tourists decided to quit the CCP organizations after hearing details of the CCP's crimes. Because of her excellence at work, the shop owner promoted Liang to manager.
When the business fully reopened, Liang found more opportunities to improve her character. Some conflicts between the owner and the other three female employees almost seemed inevitable. By following the principles of Truthfulness-Compassion-Forbearance, however, Liang learned to be considerate of others and put their needs first. Through looking inward for shortcomings, she always held herself to the requirements for a practitioner while clarifying the facts to people about Falun Dafa.
Other cultivation stories include cooperation during Shen Yun performances, media companies, and other projects. Some practitioners were moved to tears by these experiences and said they saw where they could do better in their own cultivation.
All articles, graphics, and content published on Minghui.org are copyrighted. Non-commercial reproduction is allowed but requires attribution with the article title and a link to the original article.
Category: Experience Sharing Conferences