New York: Practitioners Introduce Falun Dafa at Manhattan Street Festivals
Aug. 28, 2021 | By a Falun Dafa practitioner in New York
(Minghui.org) Two street festivals took place recently in Manhattan, one on August 14 at Sixth Avenue and another on August 21 at Eighth Avenue. Both were opportunities to introduce Falun Dafa (also called Falun Gong) to the public and raise awareness of the 22-year persecution of the practice in China. During each event, Dafa practitioners set up a booth, demonstrated the Falun Dafa exercises and talked about the benefits of this traditional mind-body cultivation practice with passersby. Some people learned the exercises and bought books. Others wanted to come to a local practice site and left their contact information.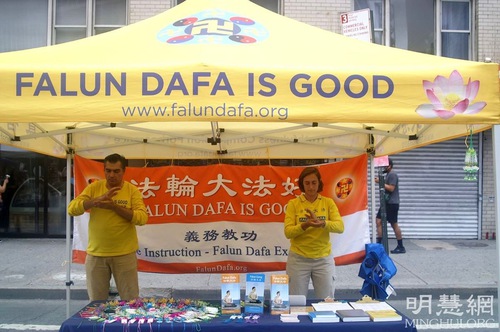 Falun Dafa practitioners demonstrate the exercises during a street fair in Manhattan.
Street festivals are held regularly in the summer season so local residents and tourists can enjoy a relaxed environment with no cars, bikes, or construction. In the busy urban life of New York City, the peaceful Dafa music and gentle exercise movements always draw many passersby. Several people said they felt calm after watching the exercise demonstrations or after doing the exercises themselves. 
Real Estate Owner: Strong Energy Field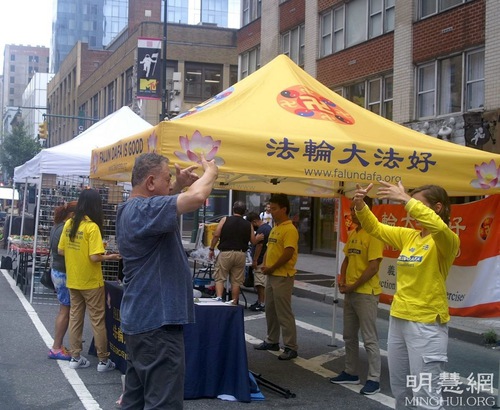 Joe Baner (left forefront) learns the second Falun Dafa exercise. 
Joe Baner owns a real estate firm in New York City. When he heard what Falun Dafa is, he immediately decided to learn the exercises. After learning the first four exercises, he said he could feel a strong energy field. He said his body also felt light and relaxed. 
Baner said he once saw a person surrounded by an aura. Afterwards, he began looking for methods to improve his mind and body. He was very happy to meet and talk to Falun Dafa practitioners during the event. 
He said, "It's hard to believe such a peaceful meditation would be suppressed in China. The brutality should end immediately." He commended practitioners for their efforts to expose the persecution. He left his contact information and said he would continue doing the exercises at home. 
College Student: More People Need to Know This
Janea Jarel is majoring in psychology at a university in New Jersey. She said she's had a strong interest in self-improvement since childhood, but this was the first time she heard about Falun Dafa. After talking with a practitioner, she asked if she could learn the exercises.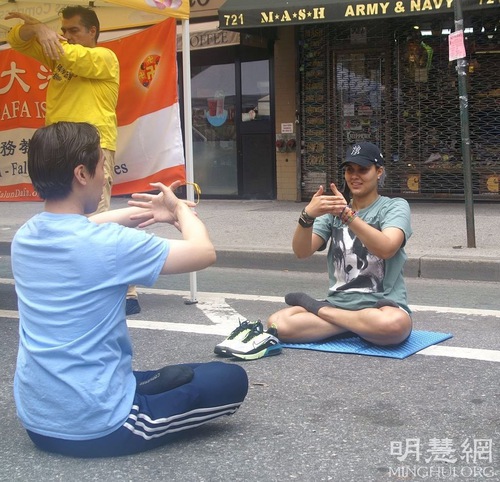 University student Janea Jarel learns the Falun Dafa exercises. 
The fifth Falun Dafa exercise is the sitting meditation. It requires crossing both legs in the "double lotus" position—something few people can do in the beginning. Even placing one leg on top of the other in the "single lotus" position can be challenging for beginners. But Janea was able to do the double lotus as soon as she tried it. She said as a child her family taught her to meditate. Although this was the first time she tried the Falun Dafa exercises, she could feel a strong energy flow throughout her body, which made her very comfortable. "This practice is amazing!" she exclaimed. 
Janea feels that Falun Dafa is so good, and that more people need to learn it. "It is wrong for the Chinese Communist Party (CCP) to interfere with this, let alone persecute practitioners," she said. She thanked practitioners for teaching her the exercises and wished them well. 
Martial Arts Coach: This Is What I Have Been Looking For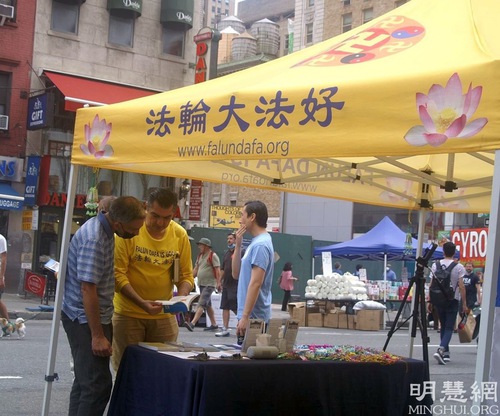 Martial arts instructor Salvatove Branciforte listens as a practitioner explains about Falun Dafa.
Salvatove Branciforte is a martial arts instructor and the owner of a martial arts studio. Having practiced martial arts for over 30 years, he also occasionally tried meditation. Because he never met anyone who taught true cultivation, however, he did not make much progress. When a practitioner introduced Falun Dafa to him, he was very excited, "This is what I have been looking for!" After purchasing two books, Zhuan Falun and Falun Gong, he said he would read them and learn to practice Falun Dafa.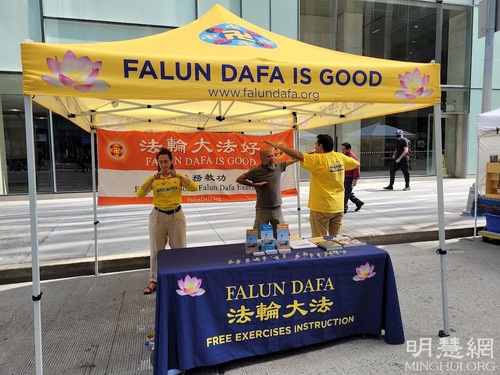 Massage therapist Felibe (middle) learns the first exercise.
Massage therapist Felibe lives in New Jersey. He said he'd seen practitioners doing the exercises before, and he was interested in learning them. As soon as he saw the Falun Dafa booth in Manhattan, he stopped by and began learning the exercises. "It makes me feel calm and it feels good," he explained. "I will for sure practice it, and recommend it to my friends and relatives."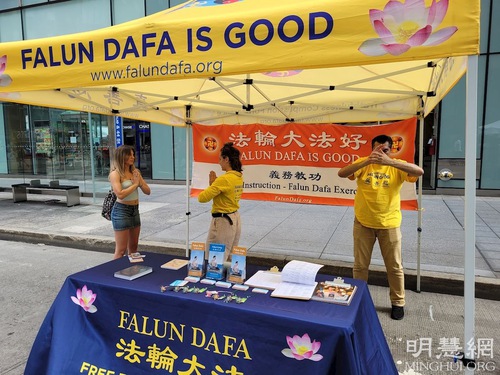 Hailey (left) learns the exercises from a practitioner. 
Hailey, a student, is interested in the exercises and Falun Dafa's principles of Truthfulness-Compassion-Forbearance. After her friends finished shopping at a nearby vendor's booth, they came back and watched her while she did the exercises. A practitioner gave each of them a paper lotus flower, and explained, "Just like a lotus that rises from the mud but keeps its purity, we practitioners elevate our mind nature despite the complicated environment around us." The students were very happy to receive the beautiful origami flowers and appreciated their story, and thanked the practitioners. 
Background: What is Falun Dafa?
Falun Dafa (also known as Falun Gong) was first introduced to the public by Mr. Li Hongzhi in Changchun, China in 1992. The spiritual discipline is now practiced in over 100 countries and regions worldwide. Millions of people have embraced the teachings—which are based on the principles of Truthfulness, Compassion, Forbearance as well as five gentle exercises—and experienced uplifted health and well-being.
Jiang Zemin, former head of the Chinese Communist Party (CCP), perceived the spiritual discipline's growing popularity as a threat to the CCP's atheistic ideology and on July 20, 1999, issued an order to ban the practice.
Minghui.org has confirmed the deaths of thousands of practitioners as a result of the persecution over the past 22 years. The actual number is believed to be much higher. More have been imprisoned and tortured for their faith.
There is concrete evidence that the CCP sanctions the harvesting of organs from detained practitioners, who are murdered to supply the organ transplant industry.
Under Jiang's personal direction, the CCP established the 610 Office, an extralegal security organization with the power to override the police and judicial systems and whose sole function is to carry out the persecution of Falun Dafa.
All articles, graphics, and content published on Minghui.org are copyrighted. Non-commercial reproduction is allowed but requires attribution with the article title and a link to the original article.
Category: Parades & Other Community Events