Falun Dafa Parade in Toronto, Canada: "Reject the CCP, Welcome Brightness"
Aug. 25, 2021 | By a Minghui correspondent in Toronto
(Minghui.org) Falun Dafa practitioners held a large scale parade in downtown Toronto on August 22, 2021. The parade's theme was: "Wake Up, Reject the CCP and Welcome Brightness." Many people thanked practitioners for bringing hope and goodness amidst the pandemic and they condemned the Chinese Communist Party's (CCP) brutal suppression of the spiritual practice.
Led by the Tian Guo Marching Band the two-hour-long parade started off at Queens Park near the Ontario Legislative Building and passed through the city center as well as Chinatown. Many people lined the route and videotaped and took photos. Drivers honked their horns to show their support. Many signed the petition to support the end of the atrocities and some asked where they could find practice sites to learn the exercises. One driver drove along the entire parade route while raising his hand with a big thumbs up and shouted: "Falun Dafa is good!"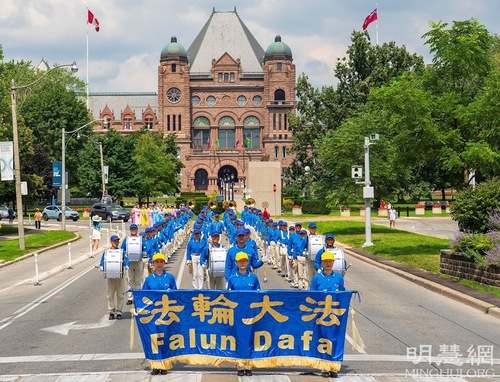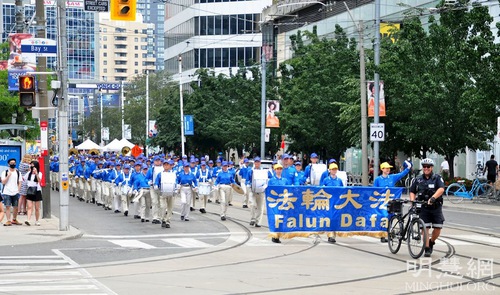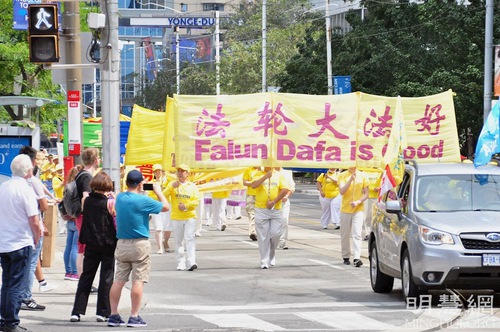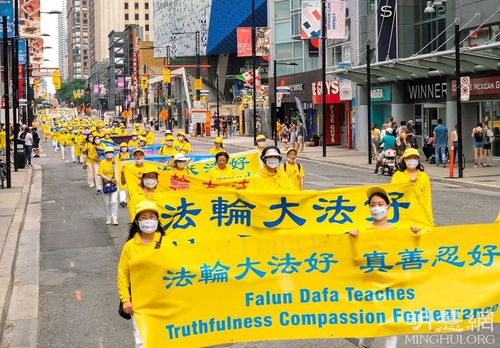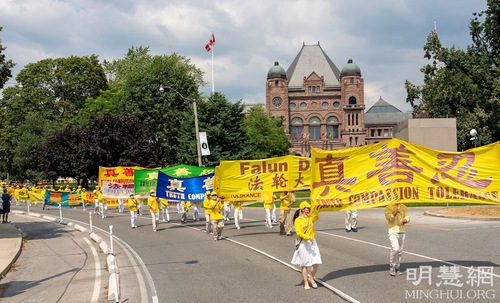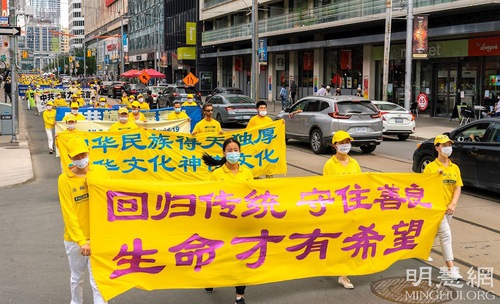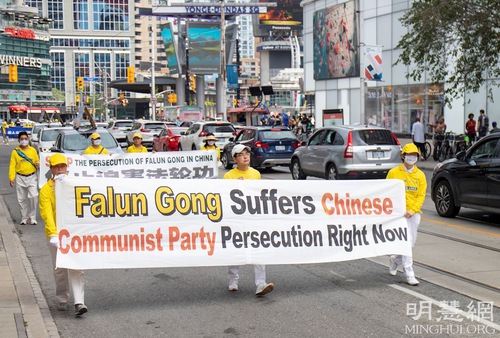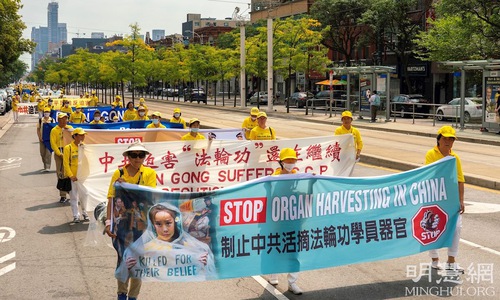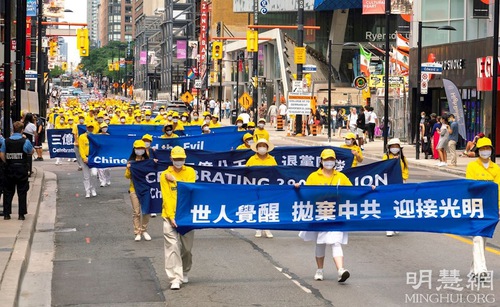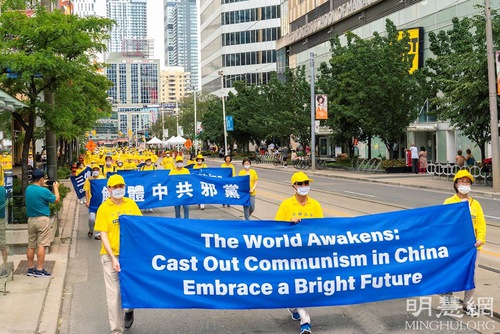 Practitioners held a grand parade in downtown Toronto on August 22, 2021.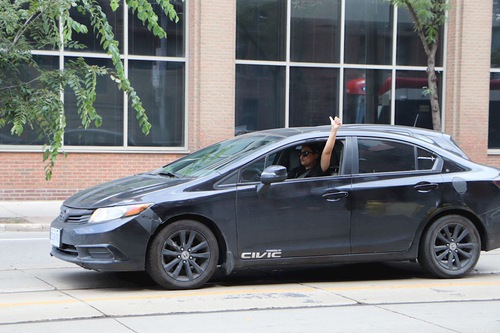 One driver drove along the entire parade route while raising his hand with a big thumbs up and shouted: "Falun Dafa is good!" 
Thank You for Bringing Goodness to People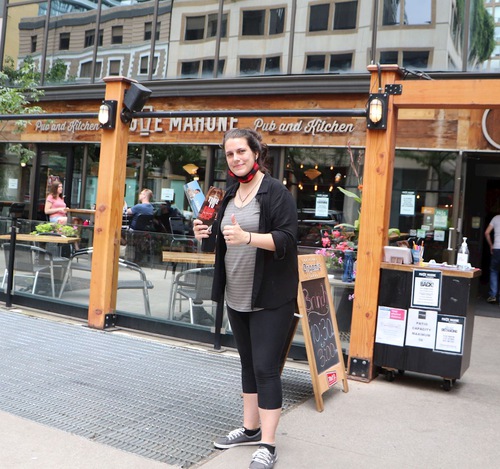 Sam thanked practitioners for bringing beauty to people amid the pandemic.
Sam is a manager at a high-end restaurant in downtown Toronto. The powerful music played by the Tian Guo Marching Band caught her attention. She recorded the entire procession with her mobile phone and kept waving to practitioners as they passed saying, "Very good! Excellent! Thank you!" 
After recording the entire parade, from the Tian Guo Marching Band to the waist drummers at the end, she smiled happily and said, "This parade is spectacular! I am grateful to them for bringing beauty to people during these special times. I am so glad I recorded everything. I will share this with everyone."
She continued, "Falun Dafa practitioners are wonderful. They use this way to let more people know what a beautiful practice this is, as well as the persecution they are experiencing in China so that more people can oppose this. I feel that they are full of wisdom and very brave. I support them!" Pointing to the Falun Dafa brochure in her hand, she said, "I will go to the website and find out more. I am interested in learning it."
I Want to Do More to Support You
Lisa Norton said that the parade was amazing.
Lisa Norton is a freelance writer who lives in Hamilton. She took photos non-stop with her camera and said, "This parade is amazing. It makes one want to watch it."
She said, "I know there is only one political party in China and that is the Chinese Communist Party (CCP). The Party is very evil. If people have any belief or a slightly larger organization emerges, they are very nervous. The CCP arrests these people and throws them into jail. They torture, beat and detain them even taking their organs by force and then sell them for huge profits. I have heard of all these brutalities. I will conduct further research into this persecution in China so as to be able to better support you."
"I Cheer for Falun Dafa!"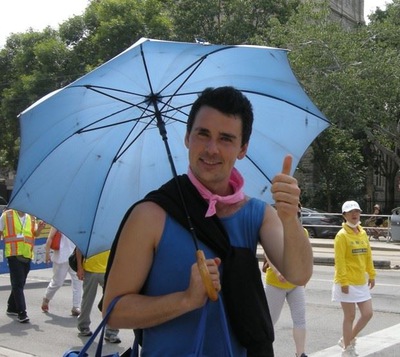 Alex Nicolas, a Toronto resident said in fluent Chinese, "You have done a wonderful thing! I cheer for you!"
Mr. Alex Nicolas who lives in Toronto can speak fluent Chinese. He struck up a conversation in Chinese with practitioners after seeing the parade.
He said, "I often see Falun Dafa practitioners. They told me about the teachings and what is happening in China. Therefore I know Falun Dafa is an excellent meditation practice. Sometimes I do the exercises with practitioners for a while. I hope practitioners in China can practice it freely. This is so important, I wish you all the best!"
"I know the CCP is terrible. They shouldn't suppress practitioners. They should give people freedom of belief. What you have done today with this parade is amazing! I cheer for you," he said, raising a thumbs up at the parade participants.
Chinese Quit the CCP
Anthony from China stopped to watch the parade while bringing his son shopping in Chinatown. He said, "I come from China but I went to college in Hong Kong. When I was in Hong Kong, I learned about the persecution in China. I also know that there are over 100 million practitioners in more than 100 countries worldwide. I know that the Tiananmen self immolation is fake." 
When practitioners asked if he had renounced his membership in the Party, he replied no and said he never joined the Party. When practitioners asked if he had joined the Young Pioneers, he said yes. When practitioners asked if he would like to renounce his membership in the Young Pioneers using his name, he immediately agreed. He accepted the brochure practitioners gave him, and thanked them.
Mr. Qiu from China is visiting relatives in Toronto for a few months. He said this was the first time he saw a parade by practitioners, and he kept photographing it. He said, "The values promoted by the CCP cannot be accepted in Western society. When I sent my child to study overseas, I never thought of letting him stay on until I too left China. I changed my views, as there are too many fake things in China." Practitioners explained what Falun Dafa is and told him about the quit the CCP movement. He said he had never joined the Party or its affiliated organizations. He thanked practitioners before leaving. 
I Must Sign the Petition to Support Ending the Persecution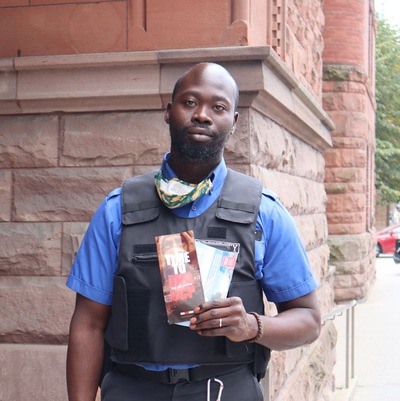 Tim said the parade was "awesome."
Tim who works as a security guard in a financial building kept taping the procession as practitioners walked past. He exclaimed, "This parade is awesome!"
After practitioners told him about the persecution in China, he said, "This is terrible! It is unbelievable that something like this is happening! Practitioners are detained, sentenced to prison and worse still, their organs are forcibly removed just because they practice cultivation to have a healthy body! Why are they treated so brutally?"
He said solemnly, "I will definitely sign the petition calling for an end to this. Furthermore, I will tell more people about the CCP's crimes. I support you!"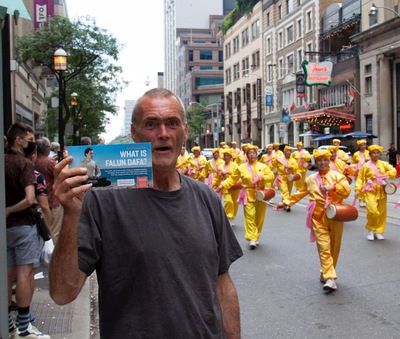 Glenn a Toronto resident takes a photo in front of the parade.
Glenn, a Toronto resident has been searching for a way to gain inner peace. He said, "I pray often daily but I usually don't feel at peace. When I saw the man meditating on the flier you gave me, he looked so serene, it made me curious to find out what Falun Dafa is." Glenn asked several questions and practitioners answered them one by one. When practitioners mentioned that the persecution is still taking place in China, he said, "I have never been to China and never thought something like this could be happening. You are free overseas, god bless you!"
I Hope to Help Practitioners Who are Persecuted
Ms. Mamon who took photos of the entire parade said, "I know that everything in China is controlled by the CCP. Many inconceivable things are happening there. The CCP controls the media, so people cannot hear the truth. We are concerned about this but don't know what to do. I hope I can let more people know about this and end the atrocities by sharing what I have recorded and heard. I hope to help Falun Dafa practitioners who are still enduring the persecution in China."
Lisa (right) said she will find out more about Falun Dafa.
Lisa took photos of the various sections in the parade. She accepted a flier about Falun Dafa and said she planned to find out more. She said, "Two years ago I went to China on holiday. I know the government controls everything in the country. People don't have true freedom."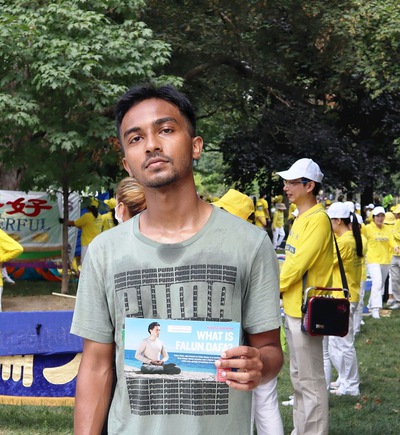 Mr. Khan from Bangladesh
Mr. Khan from Bangladesh said, "I don't think the CCP should persecute Falun Dafa practitioners. One look and I know they are peaceful people. They follow a righteous way. I also learned meditation before. I feel my mind is very focused when I meditate."
"I think these practitioners are wonderful people. They are only doing things to improve their health. I really don't understand why the CCP wants to persecute them by sending them to labor camps and torturing them. People should have basic human rights and freedom of belief," he said. 
All articles, graphics, and content published on Minghui.org are copyrighted. Non-commercial reproduction is allowed but requires attribution with the article title and a link to the original article.
Category: Parades & Other Community Events