Sweden: People Praise Falun Dafa During Activities in Malmö to Raise Awareness of The CCP's Persecution
Aug. 13, 2021 | By Falun Dafa practitioners in Sweden
(Minghui.org) Falun Dafa practitioners held activities on August 5, 2021, on Gustav Adolfs Torg in the city of Malmö. They demonstrated the exercises, distributed information about the spiritual practice, and collected signatures on a petition to end the persecution. Passersby were drawn to the scene of practitioners doing the exercises.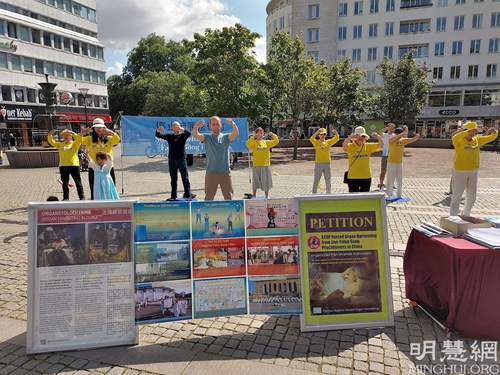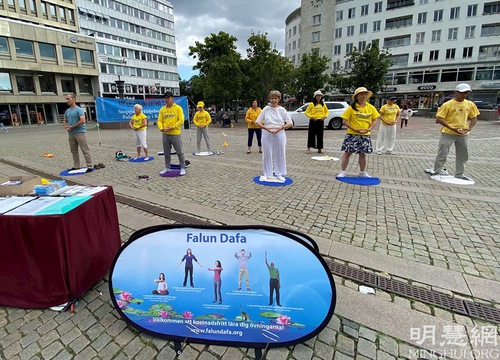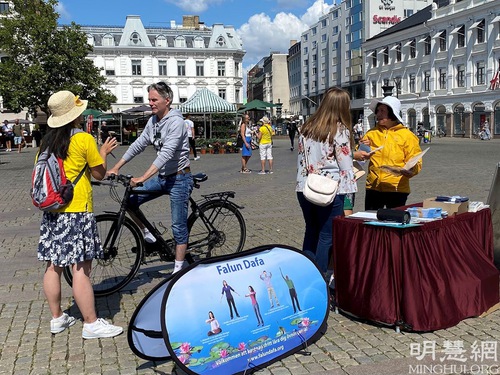 Practitioners held activities on Gustav Adolfs Torg in Malmö on August 5, 2021.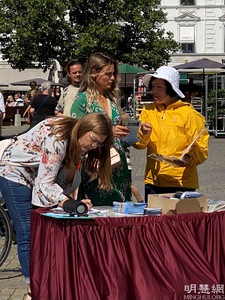 People sign a petition to show their support for practitioners' efforts to end the persecution.
Located just across from Copenhagen, Malmö is Sweden's third largest city. It has a comparatively large migrant population. With its many old, historic buildings and parks, as well as a dazzling array of shops, it is a popular shopping and tourist destination. There were fewer visitors in Gustav Adolfs Torg because of the pandemic, but a number of people came to watch practitioners as they demonstrated the exercises and wanted to learn about Falun Dafa and the persecution.
Keep On Going, God Will Bless You
An elderly lady stopped and watched practitioners demonstrate the exercise movements and read the information on the display boards. She also chatted with practitioners and signed the petition to support ending the atrocities. She hugged a practitioner and said, "Keep on going, God will bless you."
She explained that she is from Yugoslavia and personally experienced the Communists' persecution, so she has a deep loathing for Communist regimes. She learned about the suppression of Falun Dafa by the Chinese Communist Party (CCP) through social media. She said, "The CCP is very vicious. Many countries have betrayed their souls for economic gains, and show contempt for human rights. I support and admire you for standing up to expose the CCP's crimes."
When she learned what Falun Dafa is, she said, "I understand now, you believe in 'Truthfulness, Compassion, Forbearance'. Your righteousness has exposed the CCP's evil. Your courage comes from God and therefore you are not afraid."
We Need Falun Dafa in Our Country
An elderly man stood for a long time observing practitioners as they meditated. He looked envious and said, "I am old and probably not able to do the exercises like you." He was delighted when practitioners explained that it is very easy to learn and the practice is suitable for people of all ages. Many people throughout the world have benefited from the practice.
A young man from Africa watched practitioners demonstrate the exercises. He was very interested and asked several questions. When practitioners explained it is a cultivation practice that emphasizes Truthfulness, Compassion, Forbearance, he asked, "Can you send a practitioner to our country? We need Falun Dafa in our country!"
Words from Falun Gong Practitioners Who Participated in the Activity
Falun Dafa practitioners from different backgrounds and occupations participated in the activity and wanted to express their thoughts.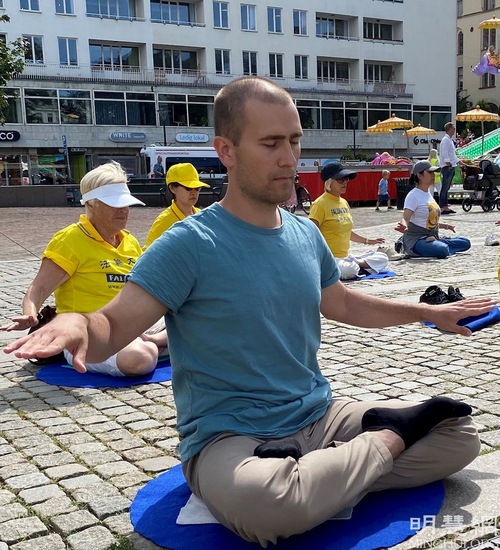 Falun Dafa practitioner Marco
Marco is a software engineer. Like other practitioners, he hopes to let more people in Southern Sweden know how wonderful Falun Dafa is and the truth about the brutal persecution in China. He also wants to say to Chinese citizens, "Cherish your traditional culture and say 'No' to the CCP."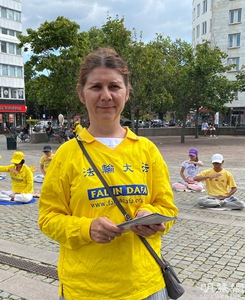 Cristina is a Falun Dafa practitioner who works in child education.
Cristina, a practitioner who works in child education, said, "It is very important to let people know the facts about how the Communist regime has persecuted people for so many years. I hope they can do something to change the world and voice their support for justice. Many people have shown their support for what we do."
Olivia is a young mother and brought her two daughters to take part in the activity. She said, "I am here to introduce the beauty of Dafa to locals in Malmö. Falun Dafa can strengthen people's health and it does not cost a single cent. It is so easy to learn that you can learn it yourself at home. Many people accepted our brochures gratefully and said they will read the information."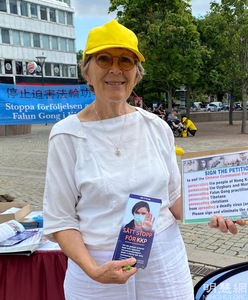 Falun Dafa practitioner Renée
Originally from the Netherlands, Renée has lived in Sweden for many years. She said, "I feel it is so important to be here to tell people about the persecution. Several women signed the petition after we told them about the CCP's brutalities. They came back with signatures from their friends."
All articles, graphics, and content published on Minghui.org are copyrighted. Non-commercial reproduction is allowed but requires attribution with the article title and a link to the original article.
Category: Parades & Other Community Events