Jilin Woman Arrested Nine Times and Given Two Labor Camp Terms for Her Faith
Aug. 10, 2021 | By a Minghui correspondent in Jilin Province, China
(Minghui.org) Ms. Wang Yajun of Changchun, Jilin Province, has been arrested nine times since the Chinese Communist Party (CCP) initiated the persecution of Falun Gong, a spiritual discipline also known as Falun Dafa, on July 20, 1999. She has also been repeatedly detained in a labor camp, detention centers, and a brainwashing center.
Below, in chronological order, is what Ms. Wang has endured.
On November 22, 2000, Ms. Wang was arrested in Yutian County, Hebei Province, when she was on her way to appeal for the right to practice Falun Gong in Beijing. The police confiscated all of her cash, 932 yuan. She was taken back to Mengjia Police Station in Changchun on November 29 and then transferred to Daguang Detention Center to serve 15 days in detention.
On January 4, 2001, Ms. Wang was ordered to go to Baiju Police Station and asked if she still practiced Falun Gong. When she said she did, she was given one year in Heizuizi Women's Forced Labor Camp. The labor camp guards beat her savagely and shocked her on her neck and hands with electric batons.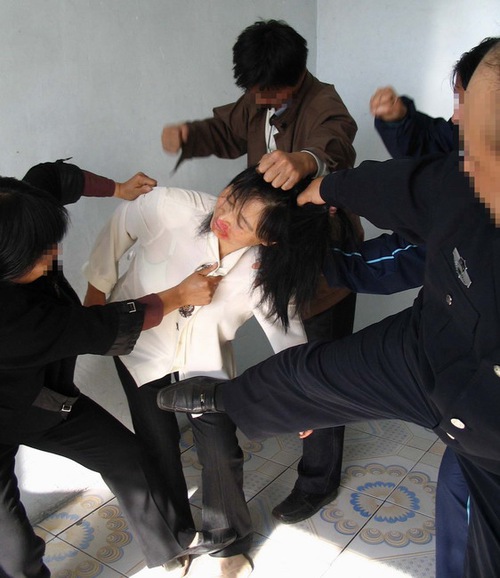 Torture Reenactment: Beating
On March 15, 2002, Ms. Wang was arrested at home by Baiju Police Station officers and taken to Changchun No. 3 Detention Center, where she was forced to sit on a hard wooden bed every day. It's not clear how long she was detained this time.
On May 16, 2007, five police officers, who pretended to be checking her water meter, tricked her into opening the door and arrested her. She was first held in the Changchun No. 3 Detention Center before being taken to Heizuizi Women's Forced Labor Camp. Her octogenarian mother was left at home alone.
In the labor camp, the guards instigated drug-offender inmates to beat her. She sustained severe injuries and was unable to move. She developed a serious physical condition a few months later. The guards denied medical treatment and also starved her. To protest the abuse, she went on a hunger strike and was force-fed.
The guards often tied her to a death bed and ordered the inmates to beat and kick her. Sometimes they stepped on her face or pulled her hair. She had a bleeding sore on her back, which then oozed pus and festered.
Ms. Wang's health further declined in June 2008. Because she could no longer do the forced labor, she was beaten and forced to stand facing the wall for three days. She couldn't walk on her own afterwards.
The guards often beat Ms. Wang at will. They also extended her term by 25 days even though she was unable to take care of herself.
On June 16, 2011, the residential committee approached Ms. Wang and asked her to help make a video showing how the communist regime cared for the elderly. Ms. Wang declined to help and said that nothing on the video would be true.
Shortly after, the police came and arrested her. Her Falun Gong books, her photo of Falun Gong's founder, the mat she used for the Falun Gong meditation, and her incense burner were confiscated. Four officers carried her to the police station. She was taken to the Weizigou Detention Center that evening and detained for 15 days.
On August 18, 2011, Ms. Wang was arrested and held in the Jilin Province Brainwashing Center for 35 days.
On July 17, 2012, Ms. Wang was arrested and detained in the brainwashing center for 15 days again. On November 1, her home was raided by three police officers, and all her Falun Gong books were confiscated.
Ms. Wang was arrested twice more, in July 2013 and the fall of 2013. She was held in the brainwashing center for one month each time.
All articles, graphics, and content published on Minghui.org are copyrighted. Non-commercial reproduction is allowed but requires attribution with the article title and a link to the original article.
Category: Accounts of Persecution