Renowned Legal Scholar: "I Stand With You in Your Fight Against Tyranny"
Aug. 1, 2021 | By a Minghui correspondent in Western Australia
(Minghui.org) Falun Gong practitioners in Perth, the capital of Western Australia, held activities on July 16 and 20, 2021 to commemorate those who have died in the Chinese Communist Party's (CCP) 22-year persecution of their faith.
A candlelight vigil was held on the evening of July 16 in the city center, Murray Street Mall, where dignitaries from all walks of life gave speeches expressing their support.
Legal Scholar: I Stand with You in Your Fight Against Tyranny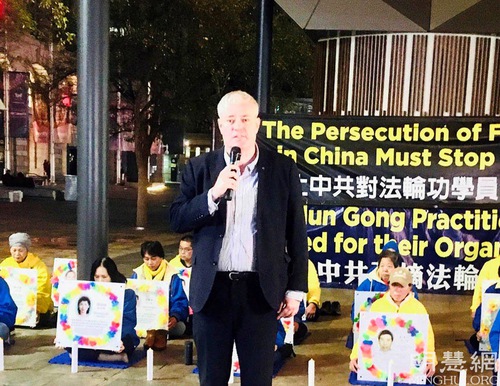 Dr. Augusto Zimmermann, a legal scholar, spoke at the candlelight vigil.
Dr. Augusto Zimmermann is a Professor of Law at Sydney's University of Notre Dame and one of the nation's leading advocates for free speech and religious freedom. He said in his speech, "We are here because we have a concern for the protection of inalienable rights." He also mentioned that the Chinese have a traditional understanding of natural rights, i.e mutual obligations, the right to revolt and dethrone a ruler if they have defied the Will of Heaven and no longer rule for the welfare of the people.
He said Falun Gong practitioners' fight for human rights and freedom of belief "is something that the Chinese people had inherited from their forefathers….. We have to fight against tyranny, to fight against oppression. I am on your side, the side of freedom, the side of the rule of law, and the side of justice."
Human Rights Lawyer: We Have to Stop This Genocide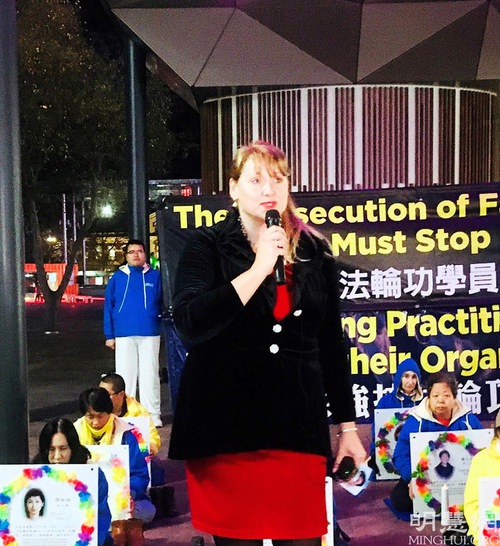 Dr. Andrea Tokaji, a human rights lawyer, spoke at the candlelight vigil.
Dr. Andrea Tokaji is President of the Christian Legal Society WA, a legal academic, and a human rights advocate. In her speech, she said that she understood a lot about communism as she and her family had fled from communist Romania and she is grateful to be given asylum in Australia.
Describing the situation in China for Falun Gong practitioners and other prisoners of conscience, she said that every day hundreds of thousands are persecuted because they believe or think differently from the Chinese Communist Party. She discussed the process of forced organ harvesting, in which people are detained without legal representation, have their blood sampled, and are kept until a match is found for a transplant recipient.
"This is government sanctioned genocide. This is an abhorrent human rights violation," Dr. Tokaji said.
She said at the end of her speech, "We have a responsibility as a free democracy to stand up for the rights of those in our region. If we do not stand against it, it will get worse and come here too."
Communist Regimes Place Zero Value on Human Life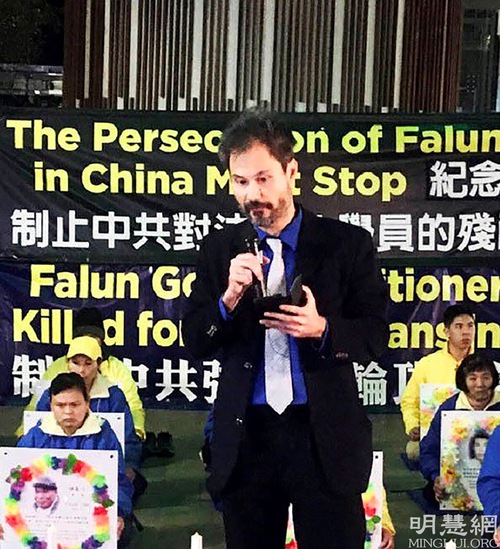 Tshung Chang, managing director of a publicly listed company, spoke at the candlelight vigil.
Mr. Tshung Chang, managing director of a publicly listed company, has 25 years of experience working in leading finance companies in Perth, Sydney and Hong Kong.
In his speech, he referred to the testimony of former surgeon and ethnic Uyghur Enver Tohti, who in 1995 was directed to remove the liver and kidneys from a person who was still alive, although shot in the chest by a police officer, calling it "the dawn of the organ transplant industry in China, where organs were illegally harvested from prisoners and used to supply a vast industry, including transplant tourism."
He also mentioned research conducted by the China Organ Harvest Research Center, indicating that over one million organ transplants have likely taken place in China since 2000.
"At the heart of these disasters lies the simple truth that communist regimes place zero value on human life," he said.
Activist for Human Rights in China: The CCP Failed in Its Suppression of Falun Gong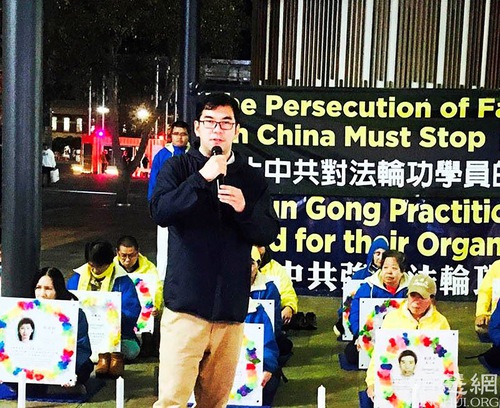 Richard Lue, activist for human rights in China, spoke at the candlelight vigil.
Richard Lue is an IT specialist with a Master's degree in engineering and an advocate for human rights in China. He established the Perth Anti-CCP Association in 2019.
He said, "We all know that Falun Dafa is a religious group that promotes a peaceful mind and healthy body and has nothing to do with politics." He referred to the CCP's ban on Falun Gong in 1999 and the brutal persecution and torture where "the CCP tried to transform Falun Dafa practitioners into believers of communist ideology" but could not succeed.
"The world has never done enough to stop China from doing its evil things," Lue said.
Practitioners Must Continue to Expose the CCP's Crimes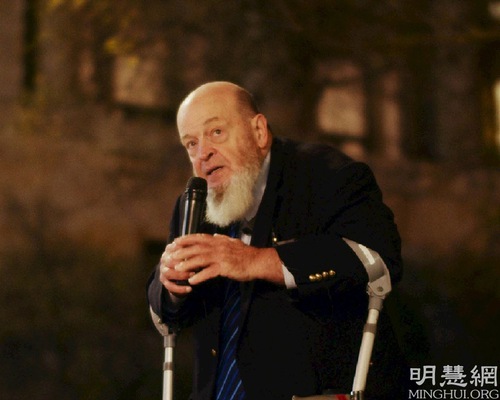 Michael Darby, an advocate for freedom, spoke at the rally.
Michael Darby is an advocate for freedom, a writer, former army officer and interpreter and actively participates in political campaigns. He also speaks and writes Mandarin.
He was glad that a Falun Gong practitioner who narrated her personal account of the persecution in China was able to live to tell her story in a free world.
He said, "One of the things they [the CCP] do is round up Falun Gong practitioners, throw them in jail and murder them for their organs.
"It is so important that we never cease to tell everybody how wrong the communist Chinese regime is," he said. "You must continue to expose the CCP's crimes. Falun Gong practitioners are all good people. Falun Dafa is good!"
Perth Residents Support Falun Gong
During the candlelight vigil, practitioners held wreaths with photos of those who were tortured to death by the CCP. Many people stopped to watch the vigil and take photos. They signed a petition calling for an end to the atrocities after learning of the brutality in the persecution.
School principal Tod said, "The principles of 'Truthfulness, Compassion, Forbearance' are helpful to the development of individuals and society."
Tod, a school principal, said, "I lived in China and started to follow the news about the persecution of Falun Gong from early on. The core principles of the practice– 'Truthfulness, Compassion, Forbearance'–are helpful to the development of individuals and society."
He was previously the principal of a language school in Shanghai and also lived in Wuhan. He said, "I have seen you [practitioners] in Hong Kong. I think we should support Hong Kong people in fighting for human rights."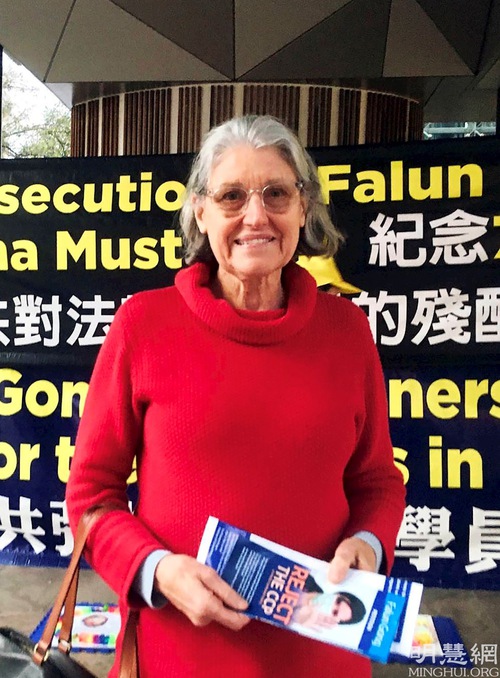 Janet said the CCP has made a mistake in persecuting its own people.
Janet learned about forced removal of organs from Falun Gong practitioners from a book many years ago and said she also knows about the CCP's persecution of Ugyhurs. "The regime tries to control people using force. They are wrong in persecuting their own people," she said.
She stood quietly and looked the photos of deceased practitioners on display. She said, "The regime does not want people to have freedom of thought. These are people from upper class society, and they were killed because of their belief."
Background: What is Falun Gong?
Falun Gong (also known as Falun Dafa) was first introduced to the public by Mr. Li Hongzhi in Changchun, China in 1992. The spiritual discipline is now practiced in over 100 countries and regions worldwide. Millions of people have embraced the teachings—which are based on the principles of Truthfulness, Compassion, Forbearance as well as five gentle exercises—and experienced uplifted health and well-being.
Jiang Zemin, former head of the Chinese Communist Party (CCP), perceived the spiritual discipline's growing popularity as a threat to the CCP's atheistic ideology and on July 20, 1999, issued an order to ban the practice.
Minghui.org has confirmed the deaths of thousands of practitioners as a result of the persecution over the past 22 years. The actual number is believed to be much higher. More have been imprisoned and tortured for their faith.
There is concrete evidence that the CCP sanctions the harvesting of organs from detained practitioners, who are murdered to supply the organ transplant industry.
Under Jiang's personal direction, the CCP established the 610 Office, an extralegal security organization with the power to override the police and judicial systems and whose sole function is to carry out the persecution of Falun Dafa.
All articles, graphics, and content published on Minghui.org are copyrighted. Non-commercial reproduction is allowed but requires attribution with the article title and a link to the original article.
Category: July 20 Events