Children of Falun Dafa Practitioners Mark 22 Years of Persecution and Commemorate Those Who Lost Their Lives
July 30, 2021 | By Liu Yang, a Minghui correspondent
(Minghui.org) Chen Fayuan, a 16-year-old high school student from New York, bravely spoke at the podium during a rally held in Washington, D.C., on July 16, 2021, to mark the 22 years of persecution of Falun Gong in China. She described what she and her family had gone through during the persecution.
"When I received the news about my parents being kidnapped, I was shocked and my body turned numb. Tears started to roll down my cheeks and I was devastated. I was scared, angry, sad, lonely, and depressed. I had all kinds of emotions running through my body and felt like I was lost," she said. "If I hadn't cultivated Falun Dafa, I would definitely hold grudges and resentment against those perpetrators and evil policemen. How could I ever forget the way they treated my parents and me?"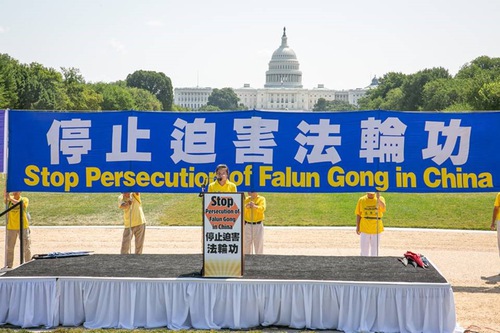 Chen Fayuan speaks at a rally in Washington, D.C., on July 16, 2021. 
The same evening more than 1000 Falun Dafa practitioners attended a candlelight vigil at the Washington Monument in D.C.. Before nightfall, practitioners lit up candles to commemorate the practitioners who were persecuted to death in China for practicing Falun Dafa. 
Xu Xinyang, 19, attends school in another state. She drove more than two hours to join her mother in Washington, D.C., so they could attend the candlelight vigil together. "My father was killed for his belief. I came here today to remember him," she said.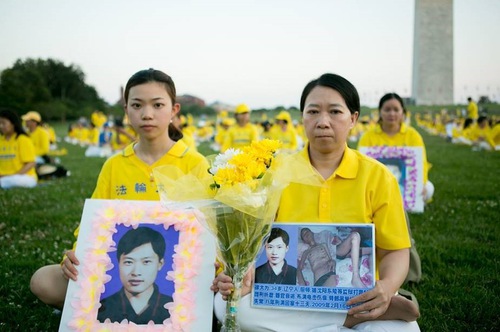 Xu Xinyang (left) and her mother Chi Lihua (right) hold photos of Xu Dawei who was tortured to death for his belief.
Xu Xinyang's father Xu Dawei was sentenced to eight years in prison for producing Falun Gong materials. By the time he was released from jail he had suffered a mental breakdown and was emaciated. He died less than two weeks later at the age of 34.
"Other people have fathers, but not me. When I look back, it makes me proud that my father did not give up his belief despite being imprisoned and abused for such a long time," she said. 
Looking at the portraits held by practitioners around her of other practitioners who were tortured to death, Xu said, "I had always thought I had suffered the most from the persecution. Today, seeing so many practitioners holding photos of the victims, there is a story behind every face—all of them were brutally tortured. Perhaps they suffered even more than me, except that today I have a chance to speak out and do something about it."
According to statistics from the Minghui website, 4677 Falun Dafa practitioners have been persecuted to death over the past 22 years. Countless practitioners have suffered the loss of family members and had their families broken. However, they have exhibited extraordinary strength and bravery when facing the evil. They firmly believe in "Truthfulness-Compassion-Forbearance." 
Unable to See Her Parents for 22 Years
Falun Dafa practitioners held a rally on Parliament Square in London, opposite the Houses of Parliament, on July 18, 2021. Yu Minghui, 34, was separated from her parents when she was 12 years old. Her father and mother were sentenced to 15 and 11 years in prison, respectively, for their belief in Falun Dafa. They were both badly tortured.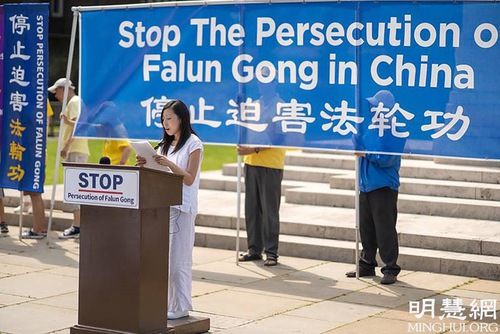 Yu Minghui exposes the CCP's brutal persecution methods that were used on her parents. 
"In 2016, my father was released. My parents were finally reunited after a 17-year separation. The day my dad was released from prison, I was so happy that I was able to talk to my parents on the phone. I thought I had a home again," she said.
"The good days did not last long, however. We discovered that the phone was tapped. There was an echo on the phone. Sometimes I could hear another voice and even another person could talk to me. This was like a police siren, reminding us that my parents were still living under surveillance. The persecution continues. An hour after I talked with my parents, they disappeared," she said.
"Before Christmas last year, my mother Wang Meihong was again illegally arrested. After being detained for five months, she was sentenced to four years in prison.
"The 22-year nightmare continues. I don't know when the persecution will end and when my family can live like normal people. But I also feel relieved in my heart, because, like other Dafa practitioners, my parents have a firm belief, which supports them to persevere."
This Persecution Should Not Have Happened
Falun Gong practitioner Huang Guohua worked in the glass processing industry before the persecution began. He had a promising future and a happy family. His wife Luo Zhixiang was a building designer at the head office of an agricultural development company in Guangdong Province. Mr. Huang and his wife, who was pregnant with their second child, were arrested for their belief in 2002. He endured nearly three years of illegal detention, and physical and mental torture before he fled China in 2004. His wife and his unborn child were killed by the CCP in 2002.
Luna, the daughter of Huang Guohua and Luo Zhixiang, is now residing in New Zealand. She was two years old when her mother and unborn sibling were killed. "I never really understood why I didn't have a mom while other children did," she said. "It was always a fact that I accepted as a child, but I never really understood its significance.
"I know from pictures that I had attended my mom's funeral as a toddler. It was not until I grew older that I understood that a large part of my family was gone… my mother and a younger sibling who I never got to meet. My dad told me a story of when I was three. I saw a mother hug her child on the bus and I suddenly started bursting out crying and asking why other kids had a mom when I didn't?"
The loss of her mother when she was so young affected her deeply. "Like so many other families affected by the persecution, I'm not the only one who's lost someone. Many Falun Gong practitioners have lost their children, their spouses, their parents, and extended family. The trauma stays with them, even years down the line, just like me. Though I can't bring my mom back, I can speak up and share my experiences, so people are aware, so something can be done about this. The persecution should have never happened in the first place. No one should have to die for their beliefs," she said.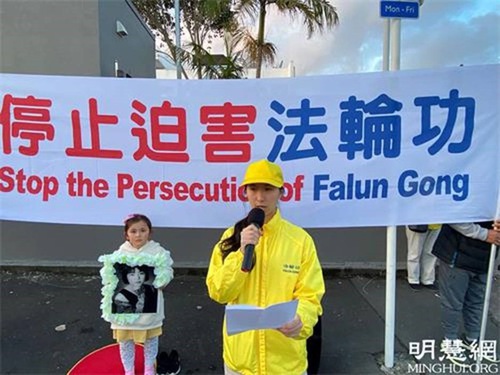 Luna condemns the CCP for killing her mother
San Francisco: We Need To Stop the Persecution 
Zhenni Zhang began practicing Falun Dafa in China in 1994. She said that after her sister and parents practiced for a few months, their chronic diseases disappeared. "I was immersed in the principles of Truthfulness-Compassion-Forbearance at a young age, and I was never lost," she said.
Ms. Zhang's mother was a university professor. She was abducted three times for practicing Falun Dafa, tortured, and then forced to retire without her pension. Her father was a researcher in an institute. He was also kidnapped, and his bank account was frozen. Her sister was dismissed by her workplace.
Seeing how the CCP slandered Falun Dafa and how its media continually publicized rumors and propaganda, Ms. Zhang decided to go to Beijing to appeal. She sent a letter to the regime to let them know how her family had benefited from practicing Dafa. 
"As a result, I was handcuffed and locked in a detention center. I went on a hunger strike for six days. After I was released, I was expelled from school and I could not complete my college education," she said.
Almost every Falun Dafa practitioner she knew was harassed, kidnapped, and detained. She had learned that two university professors she knew had been tortured to death. One of them was a professor of mathematics, and her husband had been sentenced to 12 years in prison. Their four-year-old daughter became an orphan.
"That was definitely the darkest period in my life," Zhang said. She said that CCP police continued to harass her family and threatened to kidnap them and take them to a brainwashing center. 
"We were forced to leave home," she said. "During those 11 years of displacement, every moment was spent in great pressure and fear. We didn't know what the police would do to us if they found us. We were worried that one day we would be seized again and would 'disappear.'"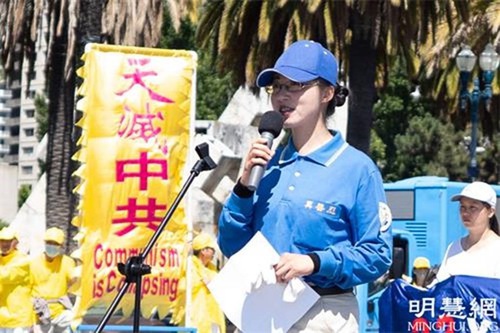 Zhang Zhenni addresses the rally in San Francisco, California.
Zhang Zhenni spoke at a rally held in San Francisco, California, to commemorate 22 years of persecution in China. She said that what she experienced was by no means exceptional. Many other practitioners present at the rally had relatives who were tortured to death in China. Some were tortured, and some almost had their organs taken.
The CCP has been persecuting Falun Dafa for 22 years. The cruel persecution and killing of innocent people continue in China. Now, more and more people are speaking out for justice. More than one million people have signed a petition calling for the disintegration of the CCP. And to date, more than 380 million Chinese people have withdrawn from the CCP and its affiliated youth organizations.
Zhenni Zhang called on people everywhere to work together to stop the CCP's persecution of Falun Gong.
All articles, graphics, and content published on Minghui.org are copyrighted. Non-commercial reproduction is allowed but requires attribution with the article title and a link to the original article.
Category: July 20 Events