Switzerland: Former Elected Officials Attend Falun Gong Activity to Show Support
July 28, 2021 | By Falun Gong practitioners in Switzerland
(Minghui.org) Lausanne is known as the "Olympic Capital" and is the largest and most populous city in the French-speaking region of Vaud, Switzerland as well as the world headquarters of the Olympics. It is also a well-known cultural center in Switzerland and the fourth largest city. The Prix de Lausanne, an international competition for young dancers regarded as the "world's best ballet competition" is held in Lausanne every year.
On July 22, 2021, Falun Gong (also known as Falun Dafa) practitioners came to Lausanne to continue their activities to draw attention to the 22 years of persecution by the Chinese Communist Party (CCP). This is their third stop in the French-speaking region after Geneva and Neuchâtel.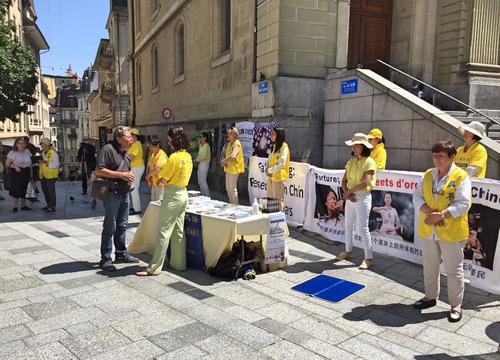 Practitioners set up a display, demonstrated the exercises, and introduced the practice to passersby.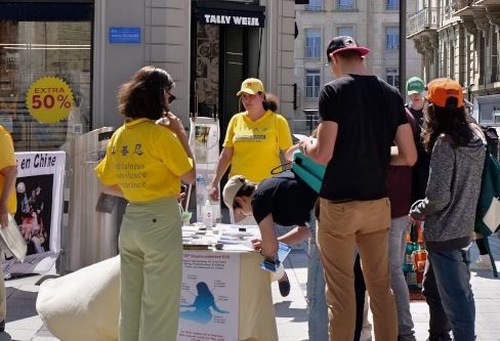 People wait to sign the petition calling for an end to the persecution in China.
Practitioners held activities at Place Saint-Laurent in the city center. The area is surrounded by the most popular and largest shopping malls, shops, restaurants and is the convergence point for 6 busy roads. Practitioners told local residents about the brutal persecution including the crime of removing organs while practitioners are still alive, which are sold for huge profits.
Daniel Brelaz, former mayor of Lausanne and Luc Re-cordon, and former member of the Vaud council attended the event to show his support. Passersby also stopped to learn more about the meditation practice. Several people said they hoped practitioners will continue to expose the brutalities in China.
Former Mayor of Lausanne Deeply Moved by Practitioners' Perseverance
Daniel Brelaz is an elected official of the Swiss Federal Parliament and was mayor of Lausanne for 15 years. He said that he was deeply moved by Falun Gong practitioners' perseverance in opposing the persecution. He said, "In some places, people are tortured not only for their beliefs but because they have a philosophy as well. This makes it all the more immoral. It is obviously unacceptable."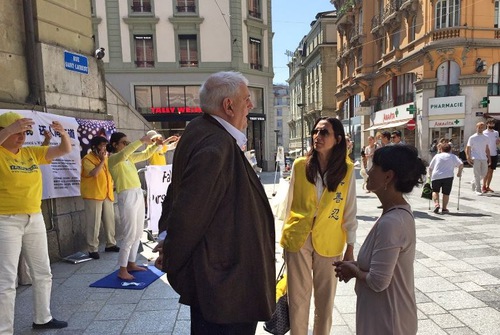 Daniel Brelaz (left), elected official of the Swiss Federal Parliament and former mayor of Lausanne spoke to practitioners at the information booth.
He also said that the principles of Falun Gong – Truthfulness, Compassion, Forbearance, "Is a form of life philosophy. It is the hope for all philosophies. They (Falun Gong practitioners) are working hard to improve their moral standards."
He thinks the resistance against the persecution "is destined to succeed one day and I hope this day will come sooner."
Former Federal Member of Swiss Parliament: The Persecution of Falun Gong Is the Most Shocking, Systematic Crime in Violation of Human Rights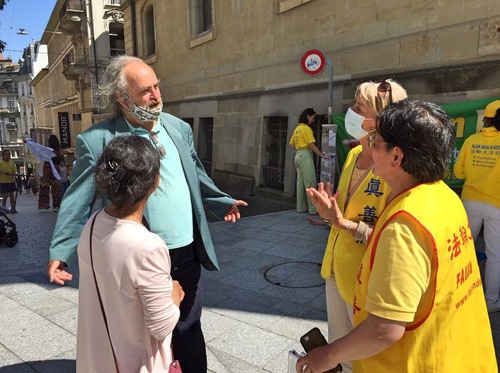 Luc Recordon, former federal member of the Swiss Parliament (in green suit) came to show his support for Falun Gong.
Luc Recordon, former Federal Member of the Swiss Parliament said, "From the time I was a Federal member of the Swiss Parliament, I knew a lot about this matter. I think this is indeed, in recent decades, the most shocking and systematic act against human rights."
He said that although he is no longer in public service, he still "is a loyal supporter of this fight" and "will remind my colleagues in the Federal Parliament of the severity of the issue." He said, "Falun Gong's principles of Truthfulness, Compassion, Forbearance happens to fit with my goal of perfecting myself."
Mr. Recordon wants to tell Chinese citizens, "Try not to let yourself be manipulated by this autocratic government that tramples basic human rights."
A Feeling of Compassion, Peace, and Tranquility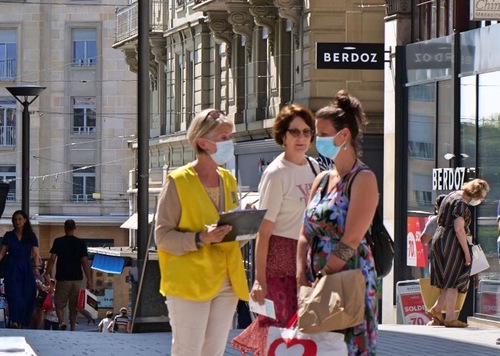 Ms. Solange (right) wished to know more about Falun Gong.
Ms. Solange who passed by the area said she felt a powerful, moving energy even before she saw practitioners doing the exercises. Touched, she walked closer to learn about it.
She said, "To me, this is the feeling of compassion, peace, and tranquility."
She said she believes without a doubt that the values of Truthfulness, Compassion, Forbearance "can raise the power of love. The more people do this, the more they can create wonderful energy, surpass and overcome negativity as well as everything that is wrong in this world."
Before leaving, she said she hopes "endurance, respect, kindness can replace power and greed. Take away everything that makes people think of only themselves, fight with one another and forget to help others. We should form a better world for future generations."
If You Want a Healthy Body, Look at What Falun Dafa Is About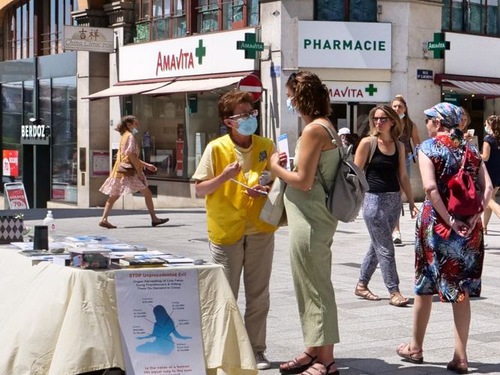 Ms. Melissa (right) listens as a practitioner explains what Falun Dafa is.
Melissa said she, "felt an abundance of kindness and peace" seeing practitioners doing the exercises. She said: "I think this (Truthfulness, Compassion, Forbearance) is the foundation of humanity, the fundamentals of being human. I also think this is what we need right now."
She signed the petition after learning about the CCP's brutalities including the forced removal of organs. She said, "This is completely unacceptable and must stop. This massacre must end."
"Those who are going through this in your lives right now, if you want a healthy body, I suggest you look at what Falun Dafa is about. I will go straight to a practice site," she said. 
Don't Give Up Hope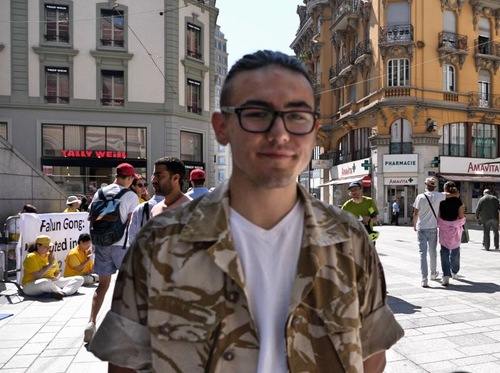 Miguel from Zurich 
Miguel from Zurich and his friend in Lausanne walked past Place Saint-Laurent. He said, "Some people are persecuted and thrown into jail simply because they practice a form of meditation, what a disgrace!"
He said, "Believing in Truthfulness, Compassion, Forbearance is completely right. This is a tough time now, but don't give up hope. People here will try their very best to help you."
All articles, graphics, and content published on Minghui.org are copyrighted. Non-commercial reproduction is allowed but requires attribution with the article title and a link to the original article.
Category: July 20 Events