Rally in Houston Marks 22 Years of Resisting the Persecution
July 17, 2021 | By Shu Jing, Minghui correspondent in Houston, Texas, USA
(Minghui.org) At a rally in Hermann Park on July 10, 2021, Falun Gong practitioners in Houston marked their 22-year-long journey of resisting the Chinese Communist Party's (CCP) persecution.
Practitioners gave speeches exposing the CCP's persecution and called for collective efforts to end the CCP's human rights atrocities.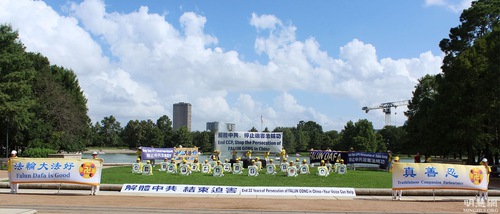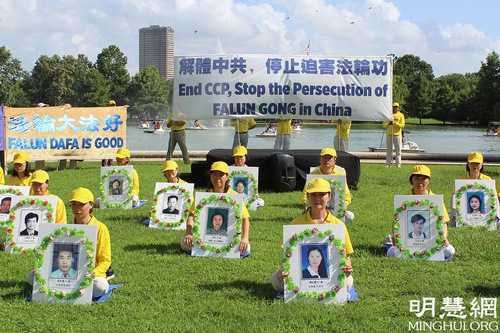 Falun Gong practitioners hold a rally in Hermann Park, Houston
Texas State representatives sent letters to commemorate the event, including Senator Larry Taylor for District 11, Representative Alma Allen for District 131, Representative Leo Pacheco for District 118, Representative Lyle Larson for District 122, and Representative Harold V. Dutton for District 142.
Representative Lyle Larson wrote, "The Chinese Communist Party's brutal ongoing attack for the last two decades on folks who practice Falun Gong is unacceptable and must end.
"Please know we commend your remarkable resilience and commitment to fight for equality and justice under these unconscionable challenges. Rest assured, we will continue to support efforts and legislation to ensure basic rights to folks around the globe."
Representative Harold V. Dutton wrote, "My advocacy for human rights and dignity of all people have always remained at the top of my beliefs and I encourage everyone to stand with you and me, only then will there be an end to the injustices being endured by the Falun Gong."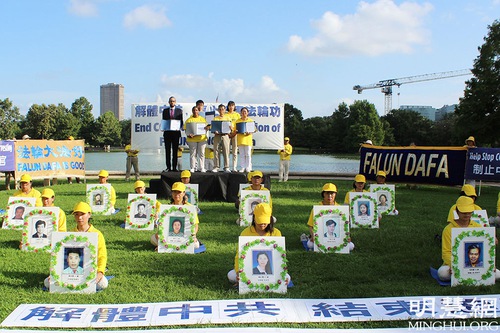 A Falun Gong practitioner reads letters of support from Texas State representatives
Mr. Song from the Southern USA Falun Dafa Association recounted Falun Gong's journey of rational and peaceful truth clarification to the people and governments of the world.
"More and more people have learned about Falun Gong and support Falun Gong. According to the Minghui website, Falun Gong has been introduced to over 100 countries in the world and has received over 3,000 proclamations and supporting resolutions," he said.
Wanda, a Falun Gong practitioner, spoke about the CCP's brutal persecution of Falun Gong practitioners who follow Truthfulness-Compassion-Forbearance. She said that Texas Senate Concurrent Resolution 3, which passed unanimously in the Texas Senate on April 15 and in the House on May 20, condemned the CCP's practice of involuntary organ harvesting.
She quoted a passage from the resolution: "The 87th Legislature of the State of Texas respectfully urge the United States Congress and the president of the United States to pass laws and adopt measures prohibiting collaboration between U.S. medical and pharmaceutical companies and any Chinese counterparts linked with forced organ harvesting, banning entry into the United States of those who have participated in unethical removal of human tissues and organs, and providing for the prosecution of such individuals."
Wendy, another practitioner, recounted the persecution she faced in China. "My husband and I were imprisoned several times. Our property was confiscated. We were tortured in custody. I was thrown into a brainwashing center in June 2007 just because I had called for the release of a fellow practitioner, Chen Man. I was badly beaten, deprived of sleep, and tortured in other ways. It was the most terrible seven months of my life!"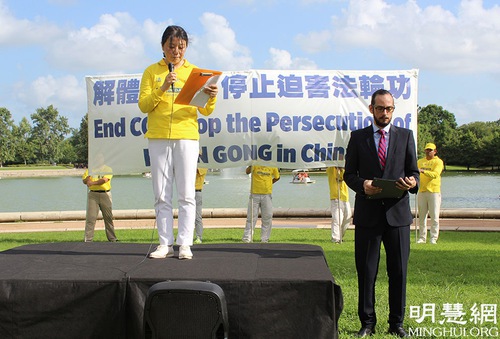 Wendy recounts how she was persecuted in China
Another practitioner, Ms. Tang, said, "During my visit to Guangzhou, China, in November 1999, I went to a gathering of more than 30 practitioners who had had to leave their homes to avoid further persecution. The police broke into our apartment and arrested us. We began a hunger strike to protest. Two days later, I was force-fed salty water. The illegal detention lasted 13 days."
Many passerby watched the rally, accepted introductory brochures about Falun Gong, and signed the petition calling for an end to the persecution. Some people gave practitioners thumbs-ups and even hugs and expressed their thanks for the practitioners' ongoing efforts. Some people were brought to tears by the practitioners who shared their experiences.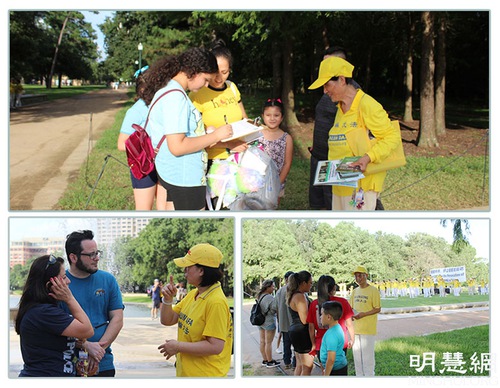 Passersby sign the petition to support Falun Gong
All articles, graphics, and content published on Minghui.org are copyrighted. Non-commercial reproduction is allowed but requires attribution with the article title and a link to the original article.
Category: Rallies & Protests