France: Parisian Believes Cultivating Truthfulness-Compassion-Forbearance Should be a Human Right
June 4, 2021 | By a Minghui correspondent in Paris, France
(Minghui.org) Falun Dafa practitioners gathered in front the Saint-Pierre de Montrouge church and at Place Colette in Paris during the last two weekends of May 2021. Practitioners demonstrated the five sets of exercises, introduced Falun Dafa and raised awareness of the ongoing persecution in China.
France is transitioning from its spring to its summer season and has entered its second phase of reopening. Many pedestrians were out walking on the streets. Many people stopped to talk to practitioners, sign the petition, and express their support to end the Chinese Communist Party's (CCP) persecution of Falun Dafa.
Locals at Saint-Pierre de Montrouge Support Ending the Persecution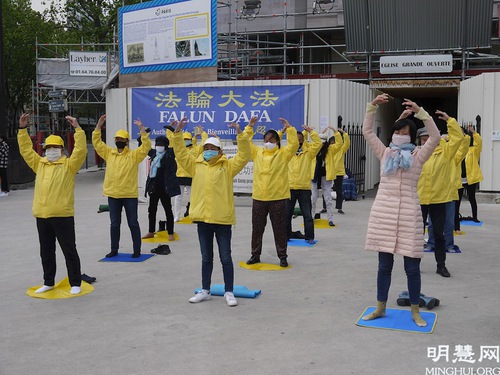 Practitioners demonstrate the five sets of exercises and introduce Falun Dafa to onlookers at the Saint-Pierre de Montrouge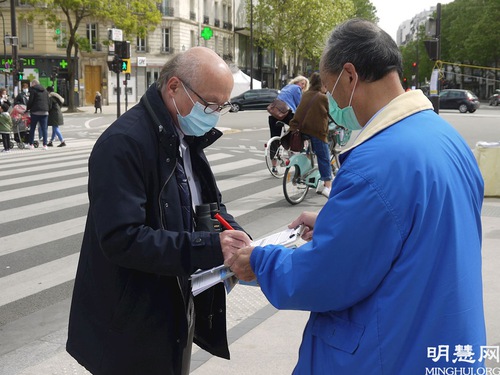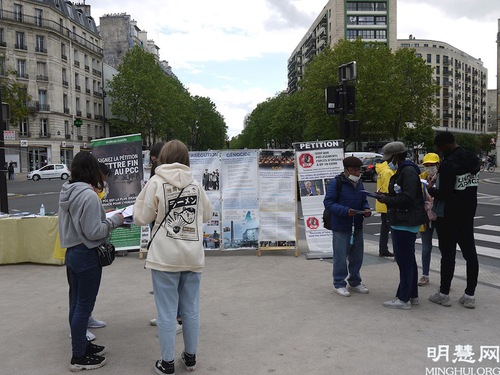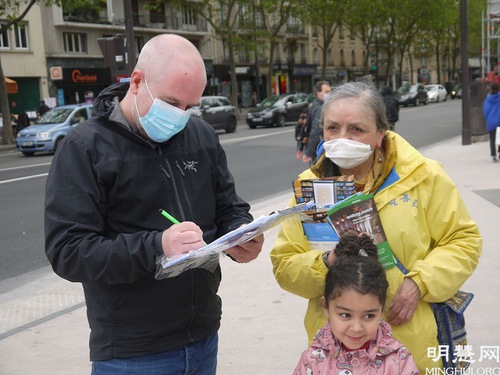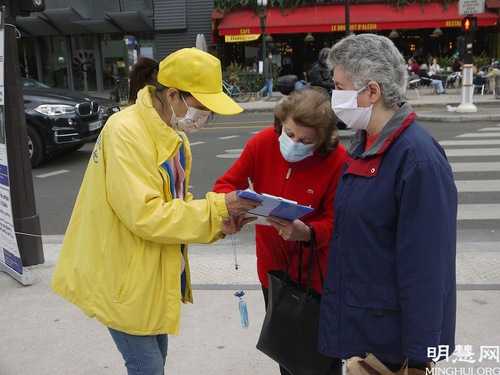 Passersby sign the petition to end the persecution in front of the Saint-Pierre de Montrouge on May 23, 2021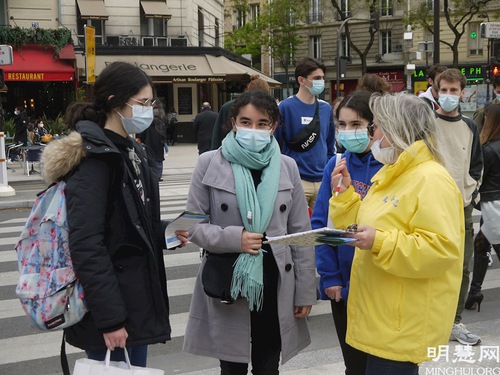 Practitioners raise awareness of Falun Dafa in front of the Saint-Pierre de Montrouge on May 23, 2021
Imene Lechhab is an investment manager who came to Saint-Pierre de Montrouge with her three-year-old daughter. She was shocked to learn about the persecution of Falun Dafa.
"To hear something like forced live organ harvesting is happening to Falun Dafa practitioners is unbelievable," she said. "This is only a group of people who are benefiting the society by meditating and practicing exercises. I had no idea that they are instigating a genocide and acts against humanity during the 21st Century. I am at a loss for words.
"Truthfulness-Compassion-Forbearance are principles that benefit our world. If everyone abided by these principles, we could become better people by improving our health, lifestyles and we could even change our planet. The way I see it, everyone in this world is of important value. Truthfulness-Compassion-Forbearance should be a basic right for humankind."
Joseline is a nurse who signed the petition. She said with frustration: "The CCP is like the Nazis. They are making profits out of everything. I cannot tolerate the CCP!"
Margot is a health industry reporter. She was saddened to hear that Falun Dafa practitioners are persecuted for firmly believing in their faith and are even subjected to organ harvesting by the CCP. "This is genocide," she said. "I don't understand why this hasn't been exposed on the international level. This is not right.
"I believe that the CCP is controlling part of France and has accomplices. They know everything, but they aren't saying anything. People have heard about persecution of the Uyghurs. They should also know about the persecution of Falun Dafa."
Margot also stated: "The CCP's economy is capitalism. With that said, when it enters into a liberal economy, it would be monitoring global populations and using financial oligarchs to seize control of natural resources and control of those who own these natural resources. Now people will enter into global surveillance. This is very dangerous."
A retired pilot found a photo of himself in front of Tiananmen Square in Beijing 30 years ago and showed it to Falun Dafa practitioners. He hoped that practitioners will persist until the very end and said that the CCP will not last very long.
Ms. Catalina, another passerby, praised practitioners for their bravery.
Voices of Local Residents at Place Colette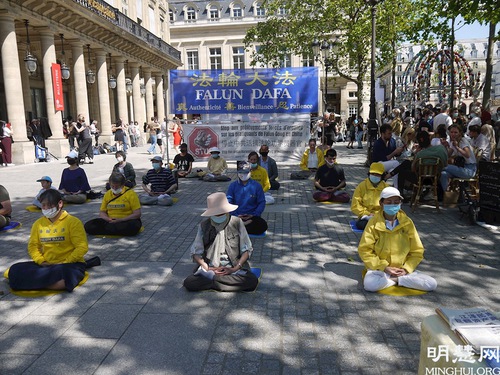 Falun Dafa practitioners demonstrate the exercises and raise awareness of Falun Dafa at Place Colette on May 30, 2021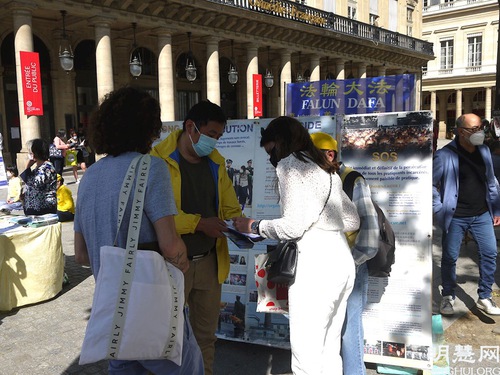 Local residents sign a petition to end the persecution.
Place Colette is located in the heart of Paris and is surrounded by the Théâtre du Palais-Royal, Place du Palais-Royal and the Louvre.
Catherine was a civil servant before she retired. She encountered Falun Dafa practitioners when she came to Place Colette. She spoke to practitioners with clarity and a sense of justice. "Whether it is in China or anywhere else, a persecution should not exist. Human beings are human beings and one should not be persecuted by another person. No matter how great that person thinks he is, he will end up in the dark abyss," she said.
Ahmet is an ecological engineering graduate. He spoke sternly after hearing about the CCP's persecution of Falun Dafa practitioners and the forced live organ harvesting. "This is something very serious," he said. "Young people and the whole world need to do something about these acts against humanity. They need to truly respect humankind and the universal values. They need to stop all forms of persecution against Falun Dafa practitioners."
"The CCP has committed an atrocious crime. It is good that you are holding activities like this. People aren't sensitive to issues like this, so you need to make them more sympathetic of this issue and stop the CCP's persecution," he said.
Slimane works in a prison and was chatting with practitioners for long time.
"This is very evil and should not be happening," he said. "Falun Dafa is a practice that cultivates oneself and practitioners are in no means interfering in the country. Letting them cultivate is no threat to the CCP."
All articles, graphics, and content published on Minghui.org are copyrighted. Non-commercial reproduction is allowed but requires attribution with the article title and a link to the original article.
Category: Parades & Other Community Events