Financial Director Sentenced to Two Years for Practicing Falun Gong
June 11, 2021 | By a Minghui correspondent in Guangdong Province, China
(Minghui.org) A Shenzhen City, Guangdong Province resident was sentenced to two years on April 21, 2021, for practicing Falun Gong, a spiritual discipline that has been persecuted by the Chinese communist regime since 1999.
Ms. Fu Xiaoli, 47, works at a foreign company as a financial director. She was arrested at home on February 29, 2020, after the police deceived her into opening the door by saying they were there to take her temperature. After the Nanshan Detention Center refused to admit her due to the pandemic, the police took her to the Nanshan Lockup, where she was handcuffed and shackled. She was also held at the Shenzhen No.4 Detention Center and Luohu Detention Center, before being taken to the Yantian Detention Center in early June 2020, where she has been held since.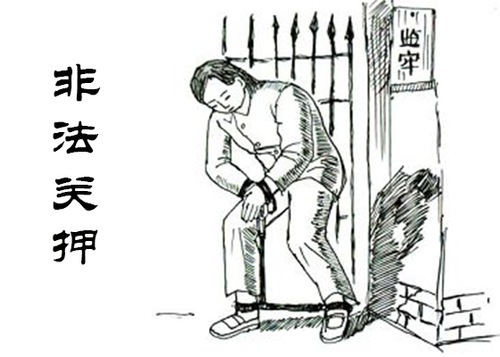 Torture illustration: handcuffed and shackled
Ms. Fu was tried by the Yantian District Court on October 28, 2020. The judge sentenced her to two years on April 21, 2021. She appealed the verdict on May 3, 2021.
Mind and Body Elevated from Practicing Falun Gong
Since she was 12, Ms. Fu suffered from neurasthenia and severe insomnia. When she was preparing for the graduate school entrance exams, she developed rheumatism in her legs, after spending long nights studying in the classroom without a heat supply in the winter. 
In March 1999, while working on her Master's Degree in management in Beijing, she was introduced to Falun Gong. Only a few days into the practice, her insomnia was gone and she slept soundly. Her memory was better and her mind was more clear. The rheumatism that had been tormenting her on gloomy days also disappeared.
When she attended a job fair in Shanghai in 2001, she bought a five-yuan lunch (a little less than one dollar) one day. On her way home, she realized that she'd forgotten to pay for her lunch. She decided to go back the next day to pay the money.
It was raining all day the next day. Her friend said, "It was such a little amount of money and you didn't stiff them on purpose. Don't bother with it." But she still decided to go, since she is a Falun Gong practitioner. It would cost her four yuan to ride the bus. Since she was stretched for money, she walked for over an hour instead. She paid the five yuan, which was her budget for one day's food.
Persecuted for Her Faith
Because Ms. Fu refused to renounce Falun Gong, she was fired from her lecturer position at Zhengzhou University in Henan Province and later a company in Beijing. Her husband also divorced her and took all of their savings.
During detention in late 2004, Ms. Fu was subjected to non-stop torture aimed to force her to renounce Falun Gong. She was deprived of sleep for weeks. When she felt sleepy, the guards poured cold water on her to wake her up. They also wiped stimulating essential oil in her eyes. She was constantly beaten and handcuffed. Sometimes the guards forced her to stand for long hours and sometimes they slapped her in the face hundreds of times a day. 
Other torture she was subjected to included being pinched and pulling her hair. Her body was constantly covered with bruises and injuries. The injuries caused her pain in her lower jaw and difficulty chewing. Her feet and legs were severely swollen and she was unable to put on her shoes. 
The guards starved her by giving her a tiny steamed bun and some pickles for each meal. She was also forced to watch videos demonizing Falun Gong. When she stayed firm in her faith, the guards arrested her parents and detained them with her, in order to pressure her to give up Falun Gong.
All articles, graphics, and content published on Minghui.org are copyrighted. Non-commercial reproduction is allowed but requires attribution with the article title and a link to the original article.
Category: Accounts of Persecution