New York: Falun Gong Practitioners Celebrate World Falun Dafa Day
May 6, 2021 | By a Falun Gong practitioner in New York
(Minghui.org) It was a lovely spring day on May 1, 2021. Falun Gong practitioners assembled in Kissena Corridor Park in Flushing, New York, to celebrate the upcoming 22nd anniversary of World Falun Dafa Day and to wish the founder of the practice, Master Li, a happy birthday.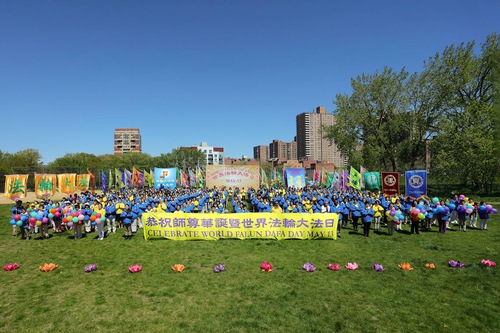 Falun Gong practitioners gathered in Flushing, New York, on May 1, 2021, to wish Master Li a happy birthday for May 13.
Colorful flags swayed in the wind, contrasting against the green grass. A huge sign that read, "May 13 World Falun Dafa Day," was flanked by two banners on either side with the words, "Wishing Master Happy Birthday on World Falun Dafa Day," and "Falun Dafa is Good, Truthfulness, Compassion, Forbearance is Good." Practitioners of different ethnicities, men and women, young and old, and neatly dressed, called out together: "Wishing Master Happy Birthday! Falun Dafa is good! Truthfulness, Compassion, Forbearance is good."
Yi Rong, president of the Falun Dafa Association, said, "Over the past 29 years, Falun Dafa has brought the people of the world healthy minds and bodies. The practice has also contributed to the stability of society and brought tremendous benefits. We celebrate World Falun Dafa Day and hope the practice will shine a light in every corner in the world, bringing beauty and peace."
"We hope everyone can embrace 'Truthfulness, Compassion, Forbearance'. We also hope that the persecution in China will end soon, and that practitioners in China can practice cultivation freely. Amid the pandemic, we hope that people can remember 'Falun Dafa is wonderful, Truthfulness, Compassion, Forbearance is wonderful' and avert calamity," Yi Rong said.
Veteran practitioners who have been practicing for more than two decades attended the celebration, as did newcomers who started only a year ago. Several young mothers came carrying their babies. A family of four took the train and arrived two hours before the start of the event. Everyone cherished the opportunity to wish Master a happy birthday and express their gratitude.
Family of Four Generations Practice Dafa
Li Juan, 31, has a Master's degree. She began to practice at age nine and considers herself very fortunate. "I grew up immersed in the grace of Dafa. I benefited a lot both physically and mentally. Words cannot express how wonderful it feels improving my character in Fa-rectification cultivation. I am very grateful," she said.
Li Juan's grandmother and mother both practice Falun Dafa as well. Li Juan is now guiding her son to practice, and he is learning to recite "Falun Dafa is good." Her family, which now spans four generations, is grateful to practice Falun Dafa.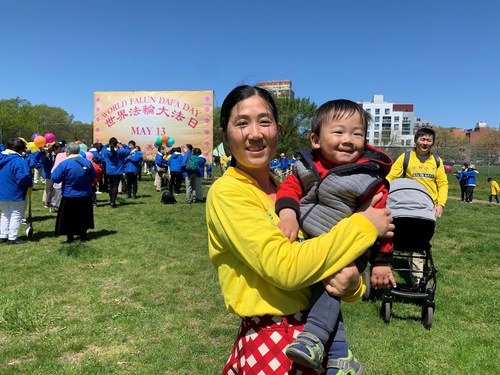 Li Juan and her child take part in the celebrations.
Li Juan had a difficult labor while giving birth to her son a year ago. She kept reciting "Falun Dafa is good," and a miracle happened. Her baby was born without the need for surgery and both mother and child were fine. "My son was born safely and in good health because I recited 'Falun Dafa is good.' I brought him here to thank Master," she said.
Li Juan also shared that she follows the teachings of Master Li in her work and life. She found that her wisdom was unlocked through doing things without pursuit and looking at areas where she could improve her character. "Self reflection has helped me find the answer to all my problems. The principles of Dafa have made me optimistic and positive in life. I work hard at my job," she said.
Quit Smoking and Alcohol Through Practicing Dafa
Tyrone, a project manager at an Internet company in Manhattan, expressed his gratitude to Master. He started practicing Falun Gong in 2000 when he was in his twenties. A friend told him that his karma could be transformed and bad things removed through the practice. He thought this was wonderful, and what he had been looking for. "We went to a book store, bought the book, and began to practice," he said.
Falun Gong practitioner Tyrone
He understood and could better discern between good and bad after practicing Falun Gong. His health went through a huge transformation as well. "I gave up smoking and drinking at once. I never became ill. I became kinder and more peaceful inside," he said.
His family supports his practice, especially after seeing how much he changed. "All of them witnessed the beauty of Dafa. My parents say, 'This is my amazing son'. I told them to adopt the principles of Truthfulness, Compassion, and Forbearance. My wife took up the practice as well."
Applying the Principles of Dafa in Educating Children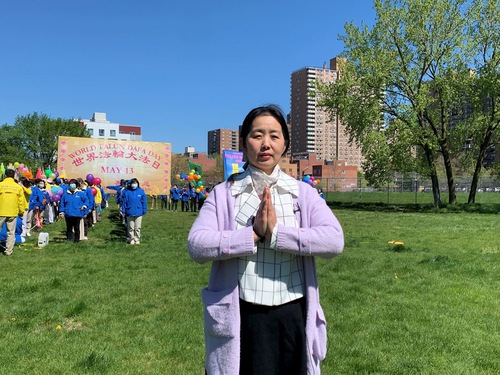 Wan Yulian's family became more harmonious after she followed the teachings of Dafa in her daily life. Her child is also obedient and has good character.
Wan Yulian, a practitioner from Beijing, said she used to have a bad temper, and often felt that others were at fault, and she was not. "Dafa taught me to reflect on my shortcomings. I took this approach and my relationship with my mother and husband improved," she said.
The changes in her child are especially apparent. "Master told us we should be rational in teaching our children. I often tell my child about the teachings of Dafa regarding how to be a good person. I didn't expect that my child would accept it so readily."
Her son isn't developing bad habits, has stopped playing computer games, and apologizes instead of covering things up if he does something wrong. Her son once said, "Mom, I'm wrong. I should tell the truth and not lie. I won't do it again." Her son is able to control himself after realizing what is the right thing to do.
All articles, graphics, and content published on Minghui.org are copyrighted. Non-commercial reproduction is allowed but requires attribution with the article title and a link to the original article.
Category: Dafa Day Celebrations