Sydney, Australia: Falun Dafa Practitioners Thank Master Li For His Benevolence and Wish Him a Happy Birthday
May 19, 2021 | By a Minghui correspondent in Sydney
(Minghui.org) On the occasion of the 22nd World Falun Dafa Day which falls on May 13, 2021, practitioners gathered in Belmore Park, Sydney to express their gratitude.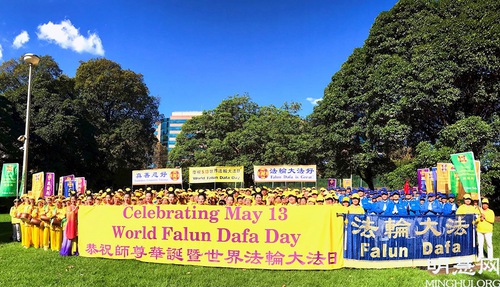 Practitioners gathered in Belmore Park Sydney on May 13, 2021, to celebrate World Falun Dafa Day. The date coincides with Master Li's birthday and they wished him a happy 70th birthday.
The Teachings of Dafa Has Made the World a Better Place
Caroline began practicing three months ago. She said, "One day, I saw a sign about free Falun Dafa classes. I thought it must be the wonderful Buddha school of qigong my friend told me about previously. After practicing for around two weeks, I felt wonderful." It made her want to introduce the spiritual discipline to those around her.
Caroline who recently began to practice Falun Dafa thanks Master for introducing the teachings.
After listening to Master Li's lectures, Caroline realized one must treat others with kindness and tolerance. In doing so, one will become happier and healthier. She said, "From Master Li's teachings, I know I should cultivate forbearance and be kind to people. Conflicts will be resolved and it makes my body and mind healthier. I became more confident and honest. I also felt many bad things taken away from my body. Now my husband and children have also begun to practice Falun Dafa."
When she learned about the persecution of practitioners in China for their faith, she said, "I feel very sad. I hope everyone can see how wonderful Dafa is and know the truth about the persecution."
"I want to send sincere wishes to Master Li on his birthday and thank him for teaching the Fa. It has made the world a better place. The lives of many people have become better through following 'Truthfulness, Compassion, Forbearance'."
Health Improved after Practicing for Two Months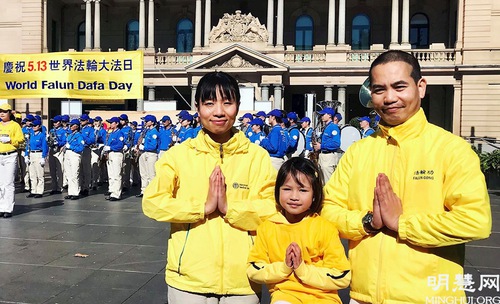 Huynh Thi Ngan Ha and her family drove 500 km to Sydney to attend activities celebrating World Falun Dafa Day.
Huynh Thi Ngan Ha from Vietnam said, "On the occasion of World Falun Dafa Day, I want to express my gratitude to Master Li Hongzhi. Master's compassionate salvation has helped me in every aspect. Happy Birthday, Master!"
Huynh Thi Ngan Ha is pursuing post-graduate studies in the University of New England (UNE) in Armidale, NSW. To thank Master, her family drove 500 km to Sydney to attend the celebrations. She recounted how she began to practice Dafa. A classmate introduced the practice to her at the end of 2016. However, she read information vilifying Falun Dafa on the Internet and did not practice. "My two-year-old daughter had a high fever a few days after arriving in Australia. She was hospitalized for a week. Compared to Vietnam, the hospital rooms in Australia are clean with complete facilities and ample care. I thought, 'No matter how luxurious and up-to-date the medical facilities are, the body is injected with or connected to electronic devices, it must suffer the same hardship. If that is so, are people who live in developed countries any happier?'"
She said, "I was unable to concentrate on my studies because I had to take care of my daughter. I began to have health issues. My husband and I took turns coming down with the flu for several months in a row, coughing and feverish." Fortunately, her classmate told her about Falun Dafa again at the end of 2017. When she told her classmate what she read on the Internet, her friend cleared up her misconceptions and shared her personal experiences. Upon realizing how good it is, Huynh Thi Ngan Ha began to listen to the recorded lectures every day and learned the exercises.
"Around two months after practicing, not only did my health improve, many questions I had from childhood were answered through reading the main book Zhuan Falun and other lectures. I subsequently introduced the book and the practice to many relatives and friends. My husband, parents, sister and several friends, as well as coworkers, now practice Falun Dafa. I successfully obtained my Ph.D.
Kidney Problems Resolved Through Practicing Dafa
Ms. Lisa Li credits Falun Dafa for resolving her kidney problems.
Ms. Lisa Li worked in a major hospital in China. She suffered from kidney inflammation. Her father-in-law, who is a kidney specialist in a well-known hospital, said, "If a woman has kidney inflammation, it will lead to kidney failure and there is no treatment for it." Working in the hospital she had access to the best medicines but nothing could cure her problem. On top of that, she had other ailments including gynecological diseases and migraine headaches. She suffered endless pain.
After moving to Australia, in 1999, someone told her that practicing Falun Dafa could improve one's health. She was indoctrinated by Communist ideology and did not believe in anything spiritual. She doubted miracles would happen. But she read Zhuan Falun after her friend strongly recommended that she give it a try. Her health improved immediately.
She said, "I hadn't started practicing yet. I only read Zhuan Falun and my illness was gone. It was a miracle!"
Complete Transformation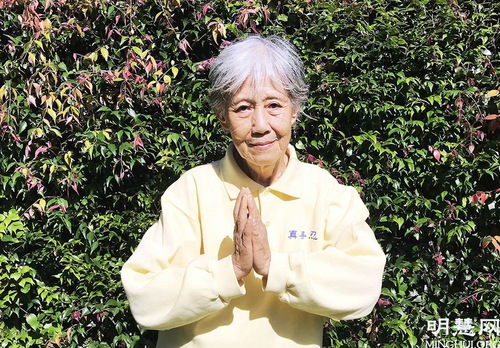 Ms. Yue Changzhi thanks Master Li for his compassionate salvation.
Ms. Yue Changzhi who is in her 80s was formerly an engineer in the Second Institute of China Aerospace Science and Technology Corporation. She began to practice Falun Dafa in 1996 while living in Beijing. She said, "Falun Dafa has changed me from the outside to the inside. I learned to be kind and considerate. My life was completely changed. I will forever be grateful to Master for his compassionate salvation. I will practice cultivation diligently and follow Master back to my true home." 
All articles, graphics, and content published on Minghui.org are copyrighted. Non-commercial reproduction is allowed but requires attribution with the article title and a link to the original article.
Category: Dafa Day Celebrations