Celebrating World Falun Dafa Day: Korean Practitioners Give Thanks to Master
May 18, 2021 | By a Falun Dafa practitioner in Korea
(Minghui.org) Falun Dafa was introduced by Mr. Li Hongzhi in Changchun, China on May 13, 1992, and is now practiced in more than 100 countries and regions around the world. May 13, 2021 marks the 22nd World Falun Dafa Day and the 29th anniversary of Falun Dafa's introduction.
Since its introduction to Korea, Falun Dafa has won praise and respect from people from all walks of life. As part of their annual World Falun Dafa Day celebrations, Korean practitioners recounted their spiritual journey and gave thanks to Master Li Hongzhi for his compassionate salvation. They also wished him a happy birthday.
Former Oil Refinery Director Changes His Hot Temper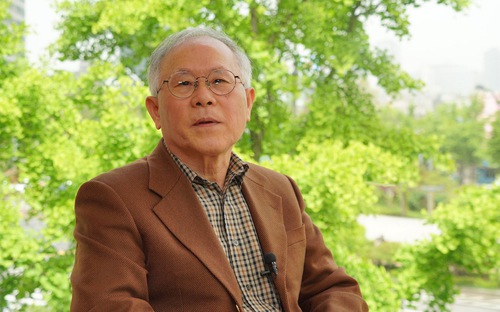 Hee-Dong Kim, former managing director of SK Energy's Ulsan Refinery
"Today it has been 225 days since I started practicing Falun Dafa, and I have read Zhuan Falun 48 times," said Hee-Dong Kim.
August 26, 2020 was an unforgettable day for 70-year-old Hee-Dong Kim, former Managing Director of SK Energy's Ulsan Refinery. It was the day he began practicing Falun Dafa. Because of the many positive changes he experienced after he began practicing, he says that day was also a major turning point in his life.
Kim said, "Before I began practicing I was very impatient. I was often angry and calculating. Now I consider having conflicts paying back my karma. I no longer get angry or complain. I feel good."
SK Energy is the largest integrated energy and chemical company in Korea, and when Kim was an executive, he liked to vent his anger. When important decisions needed to be made and his staff members shifted responsibilities and argued with each other, he usually lost his temper. If someone was offensive or behaved unpleasantly, he would give them a hard time.
His impatient personality also manifested at home. He did not listen to his family—instead he insisted that his family listen to him. He also jumped to conclusions just as he did at work.
Kim said, "There is a Korean saying, 'Listen to women.' I listen to them now. I don't get angry anymore, and I quit drinking. After I changed so much, my family all know that Falun Dafa is good."
Before practicing, he experienced several close calls with death, including a gas explosion. He said, "Those were moments of life and death, and I seemed to get through them successfully. Now I realize I survived so I could practice Falun Dafa in the future. If I have one regret, it's that I didn't practice earlier."
He has become both regular and disciplined in his daily life. Every morning, he wakes up and reads Zhuan Falun and then practices the standing Falun Dafa exercises. After lunch, he hikes for four hours while listening to Master's lecture recordings. After dinner, he sits in meditation and then reads the teachings more.
He feels that watching TV is time wasted, so he no longer watches TV. "When I was in college, I would often go to a temple to practice cultivation, but I thought it was just a formality, not a real practice. Now I practice Falun Dafa."
Kim loved to climb mountains, especially in the rain and snow, to enjoy the scenery. However, he injured his right knee. Due to the pain, he could not even climb up stairs, let alone mountains.
"Did you see me climbing the stairs just now? Before last August, this was something I could never dream of. Before, I needed to take the elevator or escalator and couldn't go up the stairs. Now I can hike for four hours a day, thanks to Falun Dafa."
After Kim Hee Dong let go of his attachments, he became healthier. He said, "I think if more people come to cultivate, what a blessing it would be for humanity. I hope Master will live a long and healthy life and spread Falun Dafa to more people in the world."
Judge: Falun Dafa is the Only Hope in Confusing Times
Judge Kim Song of the Seoul Administrative Court
Thirty-nine-year-old Judge Kim Song of the Seoul Administrative Court said, "As a judge, the most important thing is to listen carefully to what others have to say. In this process, it is necessary to constantly put aside my ego in order to remove my preconceptions to the greatest extent possible. It is a process of letting go of self-righteousness and arrogance and becoming humble. I originally thought I was smart and I was complacent. As a practitioner it was a blessing to be able to let go of that feeling."
Judge Kim Song listens to opposing sides every day and withstands considerable pressure. She makes decisions based on law and conscience, and says she has gained from practicing Falun Dafa the important mindset needed to make fair decisions.
"If judges carefully listen to the cases, the rulings will improve. Self-cultivation has a great impact on developing this mindset. Whether or not a grievance is well expressed, I have a passion to spend time and energy to understand it. This is only possible through cultivation to improve my character."
Cultivation provides her great support not only in the workplace but also at home. She has not once argued with her husband since they got married. Because of her patience, she has never gone toe-to-toe with him even though he occasionally loses his temper. She endures it in silence. Their children bear a striking resemblance to their mother, who is good at enduring conflicts.
She said, "Isn't there a saying that it's better to teach by example? It's better to show children through our actions than to simply say to your child, 'Don't fight.'"
Having a wife who is very patient and lives by her own firm moral standards, Kim Song's husband says, "It's like I saved the country ten times in my past life." (This expression is often used in Korea to illustrate that one is blessed to be married to such a good wife.) Kim Song insists on educating their children in traditional concepts and teaching them to restrain their words and actions from within. "The children read the traditional Three Character Classic and Disciple's Rule and watch Shen Yun performances so that traditional morality penetrates deep into their hearts and they learn self-restraint."
Judge Kim Song began practicing Falun Dafa twenty years ago when, in her early twenties, she majored in physics at the Korea Institute of Science and Technology, one of the country's top institutions. When she realized the limitations of physics, she decided to take up the spiritual discipline without hesitation.
"Physics is a puzzle that takes a lot of effort to put together, and the physics of the universe is a very small part of the universe, even though it is also put together with sophisticated and difficult mathematics. The moment I finished reading Zhuan Falun, I felt that what I had been studying in school was very small. Through Zhuan Falun, the parts that I didn't understand about the universe became understandable."
She stop being competitive. "Falun Dafa teaches people to think about others before oneself. I realized that this is what I had been looking for."
"Before the practice, I felt uneasy about the future, and I was always struggling. I felt like I was living a terrible life and would occasionally go to the temple and cry. After cultivation, there was truth, kindness and patience in my heart, as if I had a guiding light. Right and wrong became clear, and the strength to resist the world's degenerate standards and not get caught up in it emerged."
She said she wants to thank Master Li on Falun Dafa Day, "I have two young children and always get caught up in the business of everyday life. On this special day, I want to express my deep gratitude to Master Li Hongzhi, who always help us get back on our feet no matter what. Although it may seem that these are times of lawlessness, I believe that Falun Dafa is the only hope in the world in such a muddled time."
Lawyer: Infinite Gratitude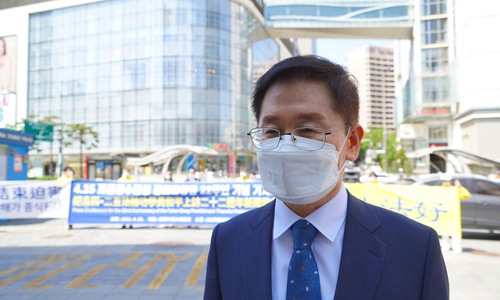 Park Jun-hwan runs an independent administrative office
Park Jun-hwan, who used to work for the Korea Legal Aid Corporation and currently runs an independent administrative office, started practicing Falun Dafa in October 1999. Prior to that, he had to undergo frequent tests because of high blood pressure and liver function. One day while meditating, he felt his feet being penetrated by some kind of force, and then he felt some bad substances leaving his body at a rapid pace. When he stood up, he felt more relaxed than ever and walked as lightly as if he were about to fly.
He also experienced the phenomenon of his body being purified several times, as described in Zhuan Falun. "I knew that this was purifying my body, so I never thought of going to the hospital. These are my personal experiences, and I know that everything Master said in the book is true."
Park said, "Some people are very hurt and emotionally vulnerable because they don't get the results they expect in legal issues. Therefore they are rude. Before I began practicing Dafa, I felt hurt and responded emotionally. However, after I practiced, I was able to do my best to understand these people who needed help. I tried not to hurt their feelings and learned to ignore their aggressive attitudes. Because of this, many people like to seek counsel from me."
On World Falun Dafa Day, Park said no words can express his profound gratitude to Master. "Master let me know the path I should take and guided me with infinite compassion and kindness when I did not do well because of my human attachments. I will practice even more diligently."
All articles, graphics, and content published on Minghui.org are copyrighted. Non-commercial reproduction is allowed but requires attribution with the article title and a link to the original article.
Category: Dafa Day Celebrations